Crispy Garlic Rosemary Chicken Thighs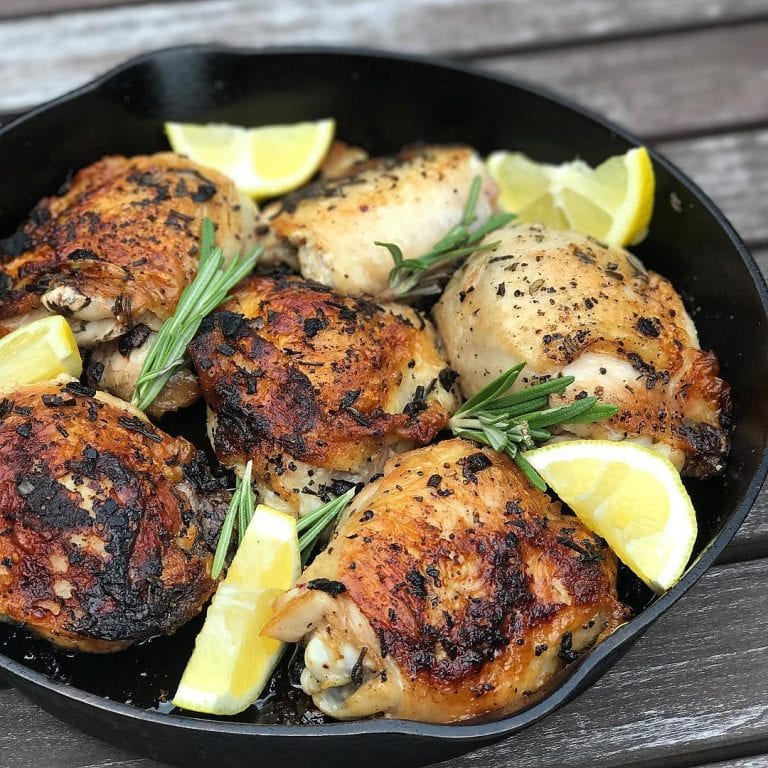 Can we just take a minute and mourn all the chicken skin I avoided for at least 15 years of my adult life? Sigh. All those years of boneless, skinless chicken breasts because heaven forbid I actually eat fat. It's seriously SO sad. But don't worry, I'm making up for a lot of lost time. So there's this grocery store pretty close to my house. I live on the military base up here in Alaska, but the closest store where I can get high quality meat is in a shady neighborhood right outside the gate. (Military peeps -- why oh why are the areas outside of every base so incredibly sketchy???) Anyway, it doesn't draw the most affluent of clientele, but it carries really great stuff. So I pretty much get all my organic, free range and grass fed meats for 50% off because they have to get rid of it before it goes bad. Y'all -- I buy ALL of it because hello, it's cheaper than Costco! My freezer is ridiculous. So that's how I ended up with a bunch of bone-in chicken thighs with the skin. And I was determined to make that skin crispy! Because if you're going to eat chicken with the bones, then you want it to feel like fried chicken, AMIRIGHT?! I worried about two things with this recipe -- burning the garlic and dodging the splattering hot oil. But, that garlic just turns into crispy goodness, and I ordered a splatter screen on Amazon while the chicken was cooking. Because it was either that or miraculously grow longer arms before I cook this again. This is a dream if you're doing Whole30! Crispy chicken that has a ton of flavor and makes you feel like you're diving into a bucket of Colonel Sanders' specialty. Serve it up with some roasted new potatoes and something green. And make sure to have extra napkins on hand because this chicken is SO juicy!
Ingredients
6-8

bone-in chicken thighs with skin

Oil

I use avocado oil or coconut oil

6-8

garlic cloves

chopped (one per chicken thigh)

3-4

T

of fresh rosemary

chopped

Sea salt

Cracked pepper

Fresh lemon

cut into slices
Instructions
Season both sides of chicken thighs generously with sea salt and pepper. Set aside.

Place chicken in a bowl with some of the oil and all of the garlic and rosemary. Stir to coat.

Drizzle and heat oil in cast iron skillet or pan over medium high heat.

Place chicken thighs in skillet, skin side down. Leave and let cook for 15 minutes. (This would be a really good time to use a splatter screen!)

Turn chicken thighs over and cook for an additional 10-15 minutes. (I'm a cut into it and make sure it's done kind of girl, but you're looking for a temp of 165 degrees.)

Remove from heat and squeeze lemon juice on top of chicken.

Let sit for about 5 minutes and then serve.