Honey Roasted Sweet Potatoes & Brussel Sprouts with Bacon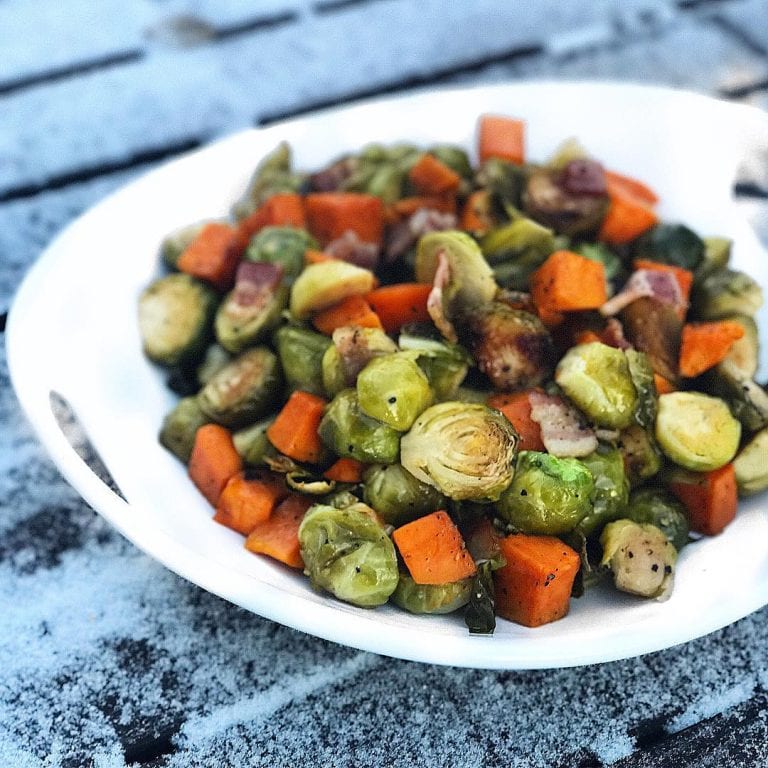 This is the easiest thing to make. EVER. We eat a variation of this every week, with whatever vegetables we have. Sweet potatoes, carrots, parsnips, brussel sprouts, beets, broccoli, whatever! It's a great way to sneak vegetables into your kids' diets, and the little bit of honey makes them even more palatable. And then bacon makes everything better, right? Plus it gives you more fat ... and I'm always a fan of adding fat to our diets. As for having this at Thanksgiving, do your thing. You can make it with just the sweet potatoes if you don't like to mix your veggies. You can even skip the bacon. We love brussel sprouts, and I insist on sneaking in more green veggies whenever possible. Plus, we do NOT do the traditional green bean casserole because I. CANNOT. Never have, never will. Cooking the bacon in the with the veggies for baking gives it more of a chewy texture. So if you want crispy, pan fry it on the stove while the veggies are cooking and then just sprinkle it on top of your finished dish! YUM.
Ingredients
1 1/2

pounds

brussel sprouts

trimmed and halved

2

medium sweet potatoes

cubed

5

slices

bacon

cut into small pieces

Raw honey

Oil of choice

I use avocado

Sea salt

Cracked pepper
Instructions
Preheat oven to 400 degrees.

Combine brussel sprouts and sweet potatoes together in baking pan. (I use a jelly roll pan so veggies can spread out and cook more evenly.)

Drizzle with oil and raw honey, and top generously with sea salt and pepper.

Stir to combine.

Place bacon pieces on top. (If you prefer your bacon crispy, I would pay fry it and sprinkle it on top after veggies are roasted.)

Roast for 40ish minutes, stirring halfway through. Vegetables should be fork tender.