Gluten Free Berry Tart with Shortbread Crust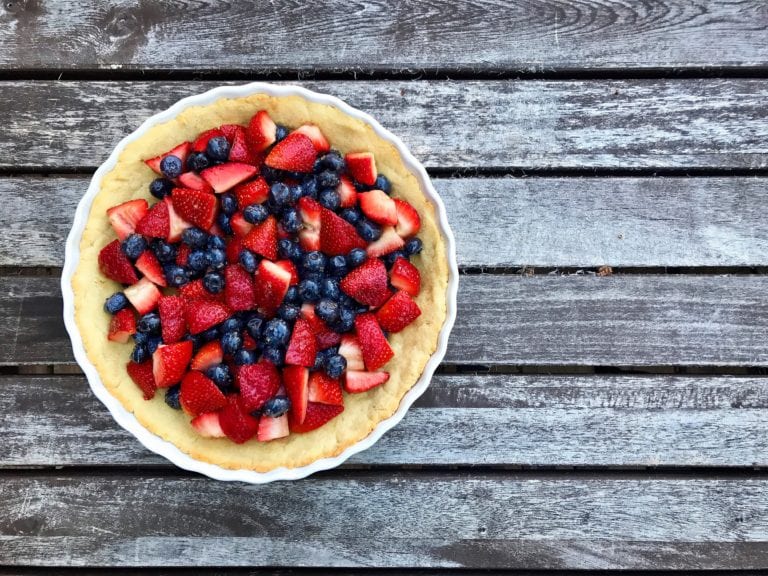 Sometimes it takes me 3 or 4 (or 17) times to get a recipe right. And then occasionally, you have those magical moments where you throw some ingredients together and it comes out OHMYGOODNESS SO YUMMY AND PERFECT on the very first try. And you guys, the shortbread crust for this berry tart is one of those unicorn recipes. Pretty sure I'm going to be using it in a lot of upcoming creations! Ok, here's the deal on this berry tart. You can make it Paleo if you use coconut oil instead of butter. But if you do eat butter, then use butter! It's a shortbread crust, so hello -- BUTTER. You can also toss the berries in coconut sugar if it needs to be strict Paleo. It's still going to be delish. I know berry tarts typically have a yogurt or cream filling, but there's something really simple and nice about just using fresh berries. Despite the buttery crust, this is a really light dessert that is oh so satisfying for that sweet tooth without being a gut bomb. If you need something more, top it with whipped cream (or coconut cream) or go crazy with some vanilla ice cream. Lastly, if you want that first slice to be served up perfectly, you're going to want to use a true tart or springform pan where you can remove the sides. Otherwise, it's a bit challenging to get that crust to slice without falling apart. But as my husband said after he took his first bite ... "Who cares what it looks like after you take the Instagram pic?" I love that man. He gets me.
Combine almond flour, coconut flour, and sea salt in mixing bowl.

Add beaten egg, melted butter, and maple syrup. Mix with spoon until combined.

Press into greased tart pan (or pie dish, 8x8 square pan, 8-inch springform pan). I use a small piece of parchment paper to make it as even as possible! Try to press it up the sides of the pan, too.

Use a fork to pierce the crust in a few places.

Bake in the oven at 350 degrees for 15-17 minutes or until cooked through and edges are starting to brown.

Remove from oven and let cool.

While shortbread crust is baking, wash and cut berries if needed. Toss in a bowl with the raw cane sugar and let sit for the sweetness to develop.

Once crust is cooled, pour berries into pan and spread out.

OHMYGOODNESS. Isn't it so pretty??? Feel free to add some whipped cream or vanilla ice cream. I mean, it can't hurt.