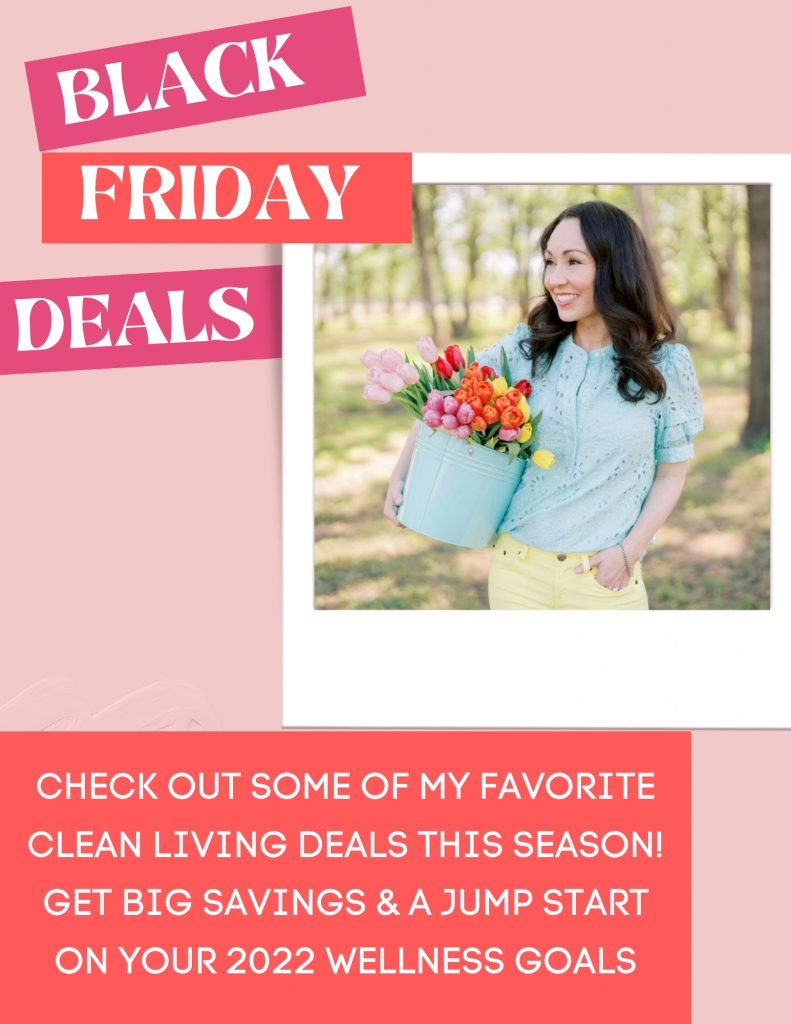 Here are my favorite clean living deals to save you money and help you live a more well balanced life! These are the companies and products I use in my own home and for my family, as well as the ones I am willing to put my name behind.
BEAUTYCOUNTER — Clean beauty and personal care products. Beautycounter is the leader in the clean beauty industry and the gold standard IMO.
—> Get 20% off site wide + FREE shipping on orders of $50+. My top 3 holiday sets are the Smooth & Bright Duo, Clean Swipe Hyaluronic Lip Balms, and the Best in Clean Heroes.
PRIMALLY PURE — Clean beauty and personal care products. Small company who continues to impress me with quality and commitment to being clean.
—> Get 20% off + FREE shipping with the code AMANDAK20.  My favorites are the deodorant (Charcoal is great for men and boys, and Lemongrass is my personal fave), Dry shampoo (for light and dark locks), Tinted Lip Balm, and the regular lip balms.  The Spa Sets are also perfect for holiday gifts!
BATHORIUM — Clean beauty bathing products, perfect for the bath lover. Their products are 100% free of GMOS, toxins, fillers, artificial colors, artificial fragrances, and synthetic chemicals. 
—> I absolutely LOVE the Crush products! I recommend any of the gift sets, especially the Crush Gift Set. and the Crush Large Bag Gift Bundle. But every year I take advantage of their Black Friday Exclusive 3KG Crush Soak Bulk Bag! It's $50 instead of $225, like WOW!  Eucalyptus Apothecary is my all time favorite bath soak and the best for sore muscles.
COTE SHOP — Safer and cleaner nail polish, all of côte's polishes are created free of the major toxins and allergens that are often associated with nail polish: formaldehyde, dibutyl phthalate (DBP), toluene, camphor, formaldehyde resin, TPHP, xylene, ethyl tosylamide, parabens, and gluten.
—> Get 30% off polishes and treatments through November 29th.
ZOYA — Safer and cleaner nail polish that are Big 10 Free, Vegan Friendly, Breathable, and Natural.
—> Buy one, get one free on all their polishes through November 29th with the code SHOP.
TECH WELLNESS — Mindful living in a Digital World. I love this company because they are committed to helping us find a balance with technology, which is such a challenge.
I'm grabbing the EMF free headphones for all of us because i am very much against wireless AirPods, much to my teenager's frustration.
—> Save up to 35% on Tech Wellness products through November 29th, no code needed.
SOMAVEDIC — Devices to mitigate the negative effects of EMF radiation and oxidative stress.
I bought the Medic Green Ultra for our home during last year's Black Friday sale because this is the time for the biggest savings!
—> Use my link and enter the code BLACKFRIDAY to get 20% off.
GEMBA RED — Effective red light therapy at an affordable cost. It can help with chronic joint pain, slow to heal wounds, wrinkles, hair loss and acne. as well as psoriasis, improved circulation and better immune function.
I love my Gemba Red light panel and I'm getting a couple of the red light lamps for evening hours.
—> So much on sale, and you can get an extra 10% off with the code AMANDA10.
VIBRANT BLUE OILS — Essential oil company founded by a fellow NTP with a focus on healing and supporting the body. for healing.
I am a HUGE fan of the parasympathetic oil!
—> Get 25% off site wide through November 29th. My recommendation is the Essential Wellness Kit with five powerful blends to boost your healing! The Essential Wellness Kit™ helps reduce stress, calm inflammation, enhance sleep & modulate your immune system, increasing your body's capacity
EQUILIBRIA — A CBD company dedicated to helping women find balance in their lives in the face of stress, discomfort, and chronic conditions.
If you haven't given CBD a try, now might be the time to give it whirl for a big discount.
—> Get 30% off sitewide plus enter the code "mywellbalancedlife" to get an additional 15% off, through November 29th. I personally really like the Daily Softgels in extra strength for all-day balance. But the company also has dosage specialists to help you find what your body needs.
RISEWELL — Safer oral health care. If you are using a safer toothpaste that does not have fluoride, you want to make sure it has hydroxyapatite for tooth mineralization.
I LOVE this Hydroxyapatite Toothpaste and Alkalizing Mouthwash! But FYI, my kids do NOT like the kids' toothpaste. Just the regular.
—> Get 15% off site wide with the code SAVE15.
FORCE OF NATURE — Safer cleaning products for the home, and this EPA registered disinfectant kills 99.9% of germs: Staph, MRSA, Norovirus, Influenza A, Salmonella, and Listeria.
Not exactly the most exciting Black Friday purchase, but you can get it for a great price!
—> Get 40% off + free shipping on the bundles. Just use the code HOLIDAYSALE with the link below.
DROPPS — Cleaner and sustainable cleaning pods for the dishwasher and laundry.
We use these daily and they're super affordable!
—> Get 30% off with the code BF2021
*Please know that if you choose to shop through any of my links, I may earn a small commission off the sale. But also know that my reputation and integrity are of the utmost importance to me—anything you see on this list has been researched well and receives high performance ratings from myself and my family. I want the best for all of us and won't compromise my reputation for the sake of making a buck. Ever.