Safer Beauty Product Blueprint
A Guide To Help You Navigate The World of Safer Products and Create A Healthier YOU!
Radiant beauty is as much about what you put ON your body as it is about what you put IN it.
It's time to switch to products that support your good health! Skip the guesswork and expensive trial-and-error process when switching to safer products.
The Safer Beauty Product Blueprint teaches you:
EXACTLY which ingredients you should avoid
which products are as safe as their labels claim
how to quickly and easily prioritize your product swaps for the best results without blowing your budget
PLUS you get:
templates to help you identify and prioritize the products you want to replace
a product guide full of safer product choices
access to a a supportive community of women on a similar journey
We all know how important eating right and exercising is for creating and maintaining good health. But you may not realize that the products you use ON your body and IN your home are equally important for your health.
Would it surprise you to know that your SKIN is the largest organ in your body? And the products and chemicals that come into contact with your skin (good and bad) can be absorbed into your bloodstream in as little as 26 SECONDS?
If you're putting good things on your skin, that can be a very good thing. However, if the products you're using are full of harmful chemicals and toxins, that could be really detrimental to your health.
Unfortunately, most people don't learn about these things until damage is done and their health starts to fail. 
That's exactly what happened to me six years ago! And it started me on this amazing journey of research and changes to restore my health.
I'll be honest, it hasn't always been easy… and that's why I'm so committed to sharing my journey, what I've learned, and the products that have helped me… so you don't have to go through an experience like that.
You might be thinking, "All right… I understand the importance of using safer products… and I'd like to make a change, but WHERE DO I START?"
Don't worry, I've got you covered!
My Safer Beauty Product Blueprint guide will walk you step-by-step through everything you need to know so you can start making safer choices about the products you use and purchase right away.
Am I saying you have to change ALL your products at once?
Uh… NO! Because switching all of your products at once would be overwhelming and ridiculously expensive. INSTEAD… I show you how to phase out the products you want to change… starting with the most toxic ones first… so you see results quickly without breaking the bank!
Some people are afraid to make these kinds of changes because they can seem so overwhelming… especially if you're trying to do it alone. That's why I break it all down into actionable steps you can take at your own pace and invite you to join my Facebook group where you'll be surrounded by a community of women who are on this journey too.
This Is What The Step-by-Step Blueprint Covers:
Getting Started
Important Things To Know About the Health & Beauty Industry

Overview of the Safer Beauty Product Blueprint
Toxic Ingredients You Should Avoid That Are Commonly Found In Beauty Products
Learn exactly which ingredients are linked to health issues so you know which products to avoid.

Make safer buying decisions immediately
Misleading Terms Commonly Used By Manufacturers & What They REALLY Mean
Learn the TRUE meaning behind the terms that manufacturers use to advertise a product's safety.

Know which products are as safe as their manufacturers' claims.
How To Prioritize Your Product Swaps To Get The Best Results On Your Budget
Ensure you achieve the greatest health benefits by replacing the most toxic products first

A prioritized list helps you plan your product replacements so you stay within your budget
Product Guide Full of Proven Safer Products
No hours spent searching for safer products

No buying products that don't work as advertised

No wondering where to get your products affordably

Save money and time with my time-tested list of favorite safer products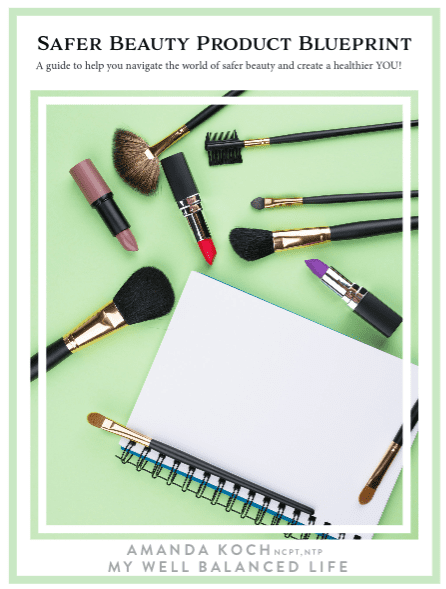 PLUS, You'll Get These Additional Materials & Resources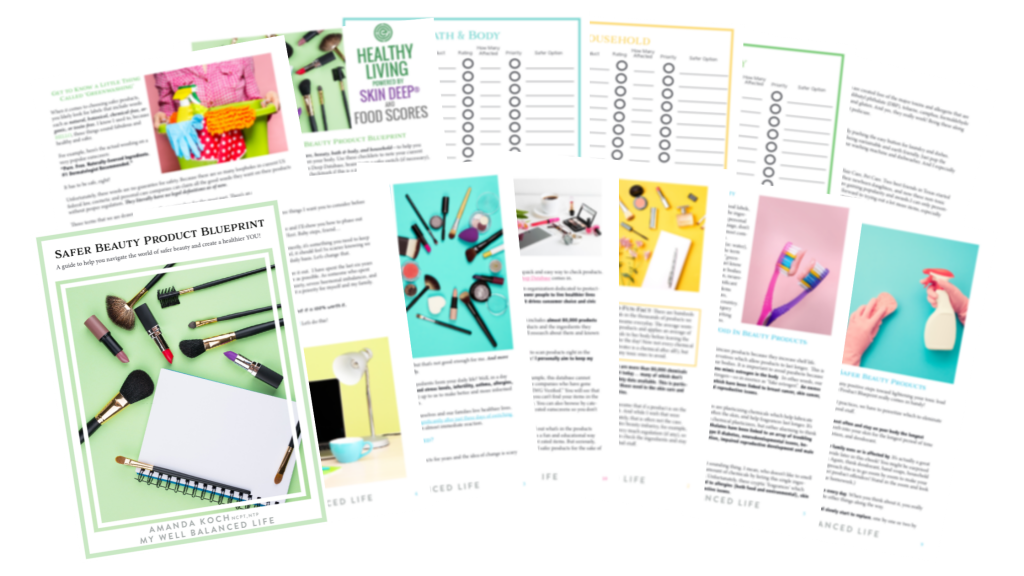 Product Inventory & Swap-Out Priority Worksheets
Skincare

Beauty

Bath & Body

Household
Additional Resources
Access to an amazing community of women who are on a similar journey
Emails with helpful tips, healthy recipes, product reviews, and more when you join my email list
This guide has been a lifesaver! I knew I needed to make changes, but I felt so overwhelmed by all of it. I honestly didn't know where to start. Amanda's Safer Beauty Blueprint really gave me everything I needed to start swapping all of our products to safer options. And the bonus is that my daughter's skin is so much better!
To be honest, I didn't want to read this because it's a topic I wanted to ignore. But my mother bought this ebook for me and I'm so grateful she did! All of the info is super easy to understand and equipped me with the tools to make better choices. I love that Amanda puts an emphasis on small steps that add up to big change — she doesn't use fear tactics or tell you to change everything at once. She knows her stuff and is totally refreshing and realistic.
This is way more than just an informational ebook! It's also a workbook and product guide all wrapped into one. It's one thing to just read about the need to switch to safer products, but Amanda provides worksheets so you can really make a plan to change out the toxic stuff in your house. And the recommendations are BOMB. I have purchased several things she recommended, and I absolutely love everything! 
I didn't realize how many harmful ingredients were in our personal care products. I was shocked to discover that the lotions I've been using on my kids are full of so much junk, even though they were recommended by our pediatrician. Since going through Amanda's guide and getting rid of a ton of our stuff, I feel so much better about what we are using on our bodies. And my son's eczema is gone! Amazing!
Download the Safer Beauty Product Blueprint for only $37!