When it comes to safer skincare, we actually have quite a few options from which to choose these days. We can make our own products at home, choose from one of the many safer skincare companies out there, or fall somewhere in the middle with a minimalist routine like Dr. Bronner's and a jar of organic coconut oil. But the world of cosmetics is a bit more challenging when we want to find which options are safer and sustainable.
For women who live their lives devoted to being healthy and wise with money, it can sometimes seem contradictory or wrong to spend money or space on makeup. I mean, should makeup even be a part of your life? Is it frivolous or wasteful?
That's definitely a personal decision, but I wholeheartedly believe no woman should ever feel guilty for wanting to wear cosmetics. If it makes her feel happy or gives her joy, I say go for it.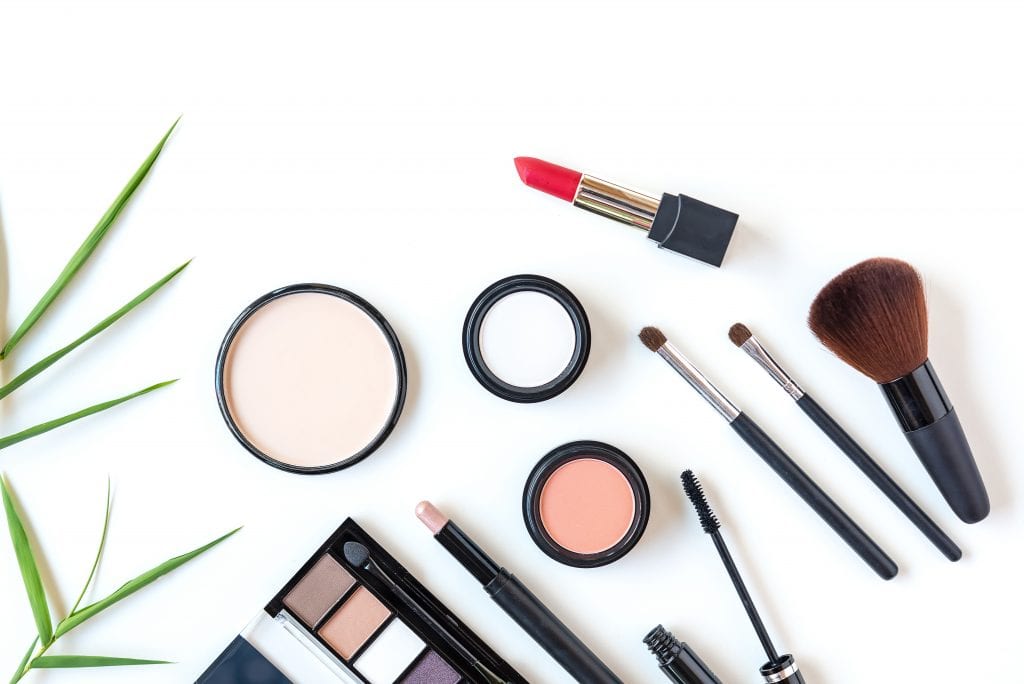 As a 44-year-old mother of two who is always running in a gazillion directions, I really enjoy wearing some makeup on most days. Concealer is my best friend; a bit of blush and lip gloss puts some color on my washed-out skin; and mascara keeps people from asking me if I'm under the weather. (Seriously, why do people do that??? Just don't.) To be honest, I just feel better about myself when I take those five minutes in the morning to put a few products on my face, and it also results in me being more productive. So how can I incorporate makeup into my life without compromising my health or feeling wasteful?
Because of
my own struggles with infertility and multiple miscarriages
, I've been on the hunt for safer products for several years. It's SO important for people to understand that
the products we put on our skin have an impact on our health and can affect fertility
.
Many people assume products allowed to be on the shelves of stores in the U.S. must be safe, but unfortunately, that is not the case. When it comes to safety and regulation, the personal care industry is light years behind the food industry. There is barely any regulation of this multi-billion dollar industry which continues to grow at an unbelievably rapid rate. We also cannot be duped by the
greenwashing of so many products
— using words on labels that seem healthy (such as "natural") but actually have no regulation whatsoever and can be used by any company on any product. Instead, it's up to us to do the research and seek out safer options.
And you know what? There are cosmetics companies out there doing the right thing who totally have our backs when it comes to safety and sustainability. Many companies are committed to this mission, going way above and beyond anything required to keep our health a priority. 
—-> Here are 6 things I look for in companies when I'm searching for cosmetics which fit in with my commitment to health and wellness:
Transparency In the Beauty Industry
Companies in America are not required to disclose all the ingredients which are used in their products. I mean, WHAT? If a company refuses to tell me what their products are made of, I think it's a serious red flag. Just as I want to know exactly what is in the food products I buy, I want to be able to look at a label on mascara and know what's in it. The good news is that there are companies which are committed to using safer ingredients are more than willing to disclose ALL of their ingredients without having to really search for them. These standup companies make their ingredient lists easily accessible on their websites and/or packaging. Nothing is hidden, because there is nothing to hide. These companies also have very detailed information about which products are gluten-free, vegetarian, vegan, etc. We all have our specific needs and standards, and it's important for companies to make this information readily available to us.
Ingredient Selection
This topic is two-fold in my opinion. Not only do I want to know which ingredients are used in products (see transparency), I want to know which ingredients are NOT being used. Safer cosmetic companies are typically very straightforward about the ingredients purposely avoided for safety reasons. Since the United States only bans 30 ingredients from personal care products for being possibly harmful and toxic to our bodies (compared to the European Union's list of 1400 ingredients), this shows how these companies are going to lengths much greater than required by law to make safer cosmetic products. 
Ingredient Sourcing
Once you know all the ingredients are disclosed, it is really important to know WHERE those ingredients are sourced from. Color cosmetics (and especially mineral makeups which are often touted as safer) have the potential to contain several heavy metals. Heavy metals are inherently in the earth, and that is often where many of the colors in our cosmetics come from. There have been several reports which have emerged recently with makeup marketed to children containing asbestos and lead. Needless to say, that's pretty frightening! Sourcing responsibly is incredibly important for the safety of our makeup products. Companies that are dedicated to sourcing will go so far as to obtain their own testing to ensure that heavy metal levels are well below the legally allowable amounts.
Commitment to Safety & Testing
The FDA does not require products to be tested for safety before hitting the shelves. This is completely baffling to me! If I owned a company that sold makeup products, you bet I would have them tested to make sure they were safe for people to use. And thankfully, many companies feel the same way. Seek out the companies who take efforts to test their products for safety and are forthcoming with the methods they use to test them. One easy way to find companies that are committed to safety and testing is to look for the EWG Verified certification on the Skin Deep Database. These companies have been awarded this certification for being committed to transparency, avoiding ingredients of concern, and using safer manufacturing practices. 
Sustainability
Packaging and commitment to minimizing waste is a really big deal to me, too. Do they use recyclable materials? Does the company take measures to protect the environment? Do they use nano-particles? This is typically fairly easy information to obtain with a quick Google search or website investigation. And if a company is doing this, they are definitely going to let you know or make the info easy to track down. One designation which really sets some companies apart is the recognition of being a B Corps. If you're not familiar with these accreditations, B Corps is to business what Fair Trade certification is to coffee or USDA Organic certification is to milk. B Corps are for-profit companies that meet rigorous standards of social and environmental performance, accountability, and transparency. These companies are committed to people and the planet, then profit. 
Quality Skincare and Beauty Products
Let's face it. If we are going to spend money on cosmetics, we want them to be high performing. Unfortunately, many products that line the shelves in the personal care departments of our natural health stores aren't that great in terms of quality. But it is possible to find products which are safer and high performing! Take the time to read reviews from real people like you and me — I always find those to be extremely helpful when determining if products are high in quality and performance.