What's the over/under on the word "maskne" getting added to the dictionary this year?
Maskne, or mask acne, happens when sweat, dirt, skin oils, and bacteria get trapped on the skin while wearing a mask.
Whether you support the idea of masks or not, they are very much a reality in 2020. If you are in a profession or situation which requires you to wear a face covering many hours of the day, then you really know the struggle. Add in summer heat (and humidity in a lot of places), and your skin is probably revolting. So what's a person to do?
—->Make sure to read all the way to the end to find out how to get my recommended Maskne Treatment Trio for a discounted price. And I'll also tell you about my favorite mask that is really great to minimize breakouts and skin irritation … plus it's super comfy!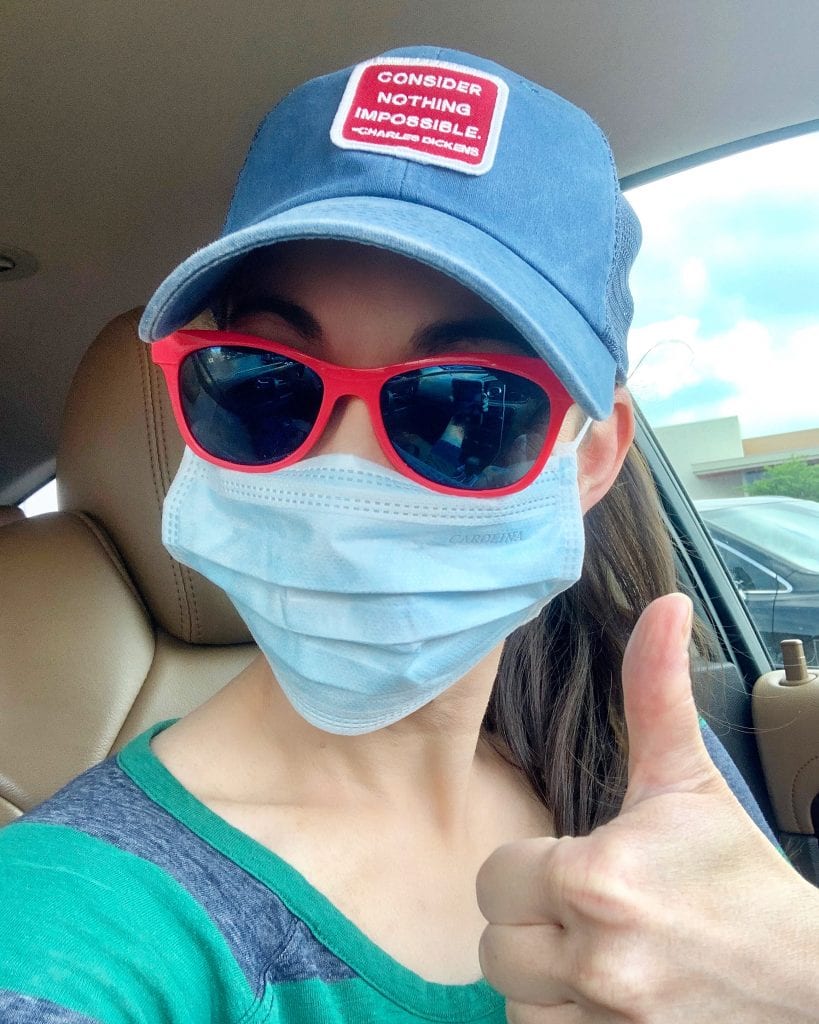 Here are 4 things you can do to minimize maskne and take good care of your skin:
Wash your mask everyday.
If you are wearing a reusable cloth mask, you really need to wash it after every period of extended use. Sweat, makeup, dirt, oil, germs, and probably more stuff that we don't even think about can accumulate under your mask while you wear it. So unless you wear a disposable mask, run it through the washing machine every day. Better yet, keep a few on hand and keep the cleans ones in a sterile space. And please make sure to use a safer detergent that is free from synthetic fragrances! Many laundry detergents are filled with toxic chemicals and fragrances which can add to skin breakouts and irritations. I recommend using Dropps laundry detergent pods or Branch Basics concentrate.
Wash your face nightly with a quality cleanser.
This is not the time to blow off washing your face! After all those hours of wearing that mask, you need to cleanse your skin well and let it breathe. And don't just use that random bar of soap you got from a recent hotel stay –invest in a quality cleanser with clean ingredients. I actually do a double wash every night. First, I use Beautycounter's Counterstart Cococream Cleanser to get all the dirt and grime off of my face. Did you know that you should massage your cleanser into your skin for a full 60 seconds before washing it off? It's true! Then I follow it up with the Countertime Lipid Defense Oil Cleanser for a deep cleansing of the skin, which is truly like a little spa treatment. I never thought I would love an oil cleanser, but it smells divine and leaves my skin feeling so soft and clean.
Minimize makeup while wearing your mask.
So I have to say that I do miss wearing lipstick. I've made the mistake of swiping lip gloss on before heading out of the house, and then I have to wipe it right off to put my mask on. In all seriousness though, it's best to minimize your makeup if you're spending hours wearing a face covering. That enclosed space can really get hot and sticky when you mix the summer weather with sweat and your warm breath. So maybe ditch the heavy makeup and just wear something light to give your face a finished look and a boost of self-confidence. I know I always feel better when I put on a few basics, so Beautycounter's Flawless in Five is perfect for these times. Definitely get the Brow Gel and the new Skin Twin Foundation!
Use clean beauty products that detox, treat, and soothe your skin.
Now let's talk about which safer products help to detox, treat, and soothe that irritated skin … I like to call it the Maskne Treatment Trio.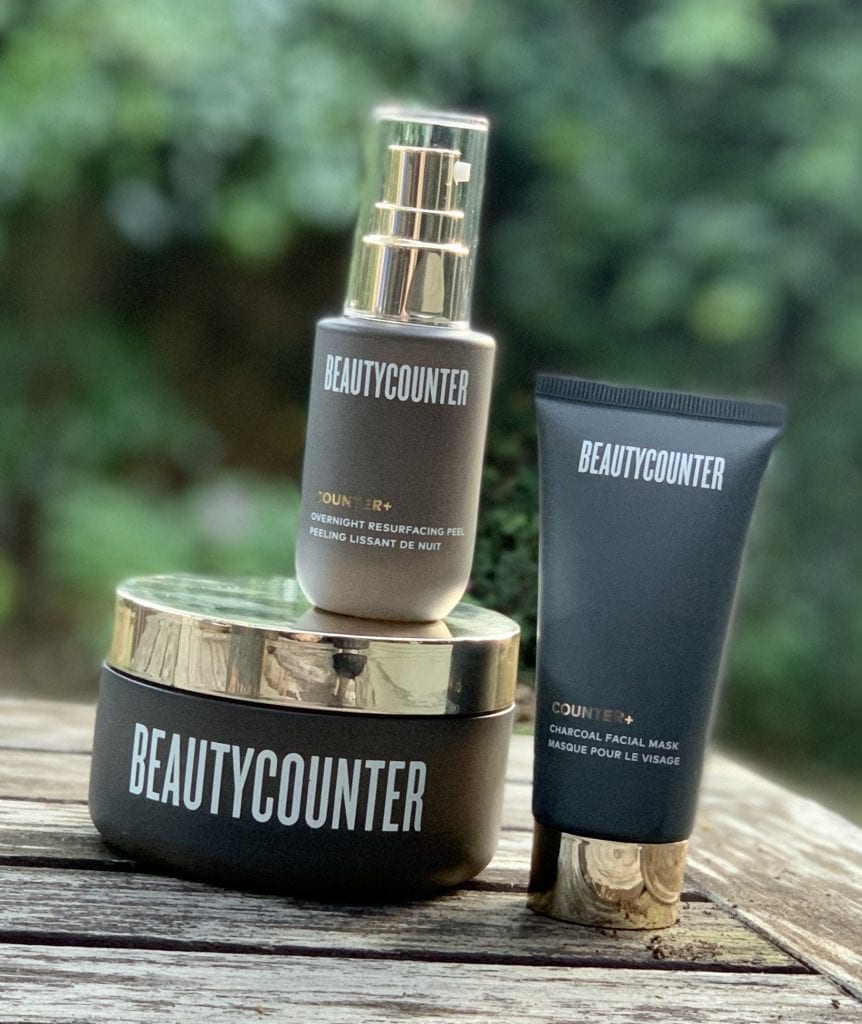 This is the trio of clean beauty products that countless people have recommended over the past few months. We are talking front line workers, nurses, doctors, and medical staff. I know we have all seen pics of these selfless people with the visible marks and irritation on their skin from constant mask wearing, and apparently these three items have proven to be incredibly helpful.
After all those hours of wearing a mask, the skin underneath can get extremely congested. Beautycounter's Counter+ Charcoal Facial Mask does a great job of detoxing the skin without overdrying it. Activated charcoal purifies and balances, absorbing excess oil and drawing out impurities, while salicylic and lactic acids aid in a gentle exfoliation. You can even spot treat with the mask, only putting it on the lower half of your face which is affected by mask use.
Exfoliation is so important to keep skin healthy, and chronic mask wearing can cause lots of buildup and dead skin to accumulate. My favorite way to keep my skin clear and renewed is with Counter+ Overnight Resurfacing Peel … or what I call "the lazy person's exfoliator." Featuring a proprietary multi-acid complex, this leave-on peel improves skin texture and boosts clarity without irritation or over-drying and clears away dull surface cells. And get this — all this goodness happens while you sleep! Just put it on at night after you wash your face and top with a good moisturizer. You will wake up with brighter and happier skin!
*Note: I would not use the charcoal mask and the peel on the same days. It's just a lot for your skin, which is most likely already a bit angry from being covered up so much. Alternating these two products every other day is your best bet!
Lastly, you want to use something to soothe and calm your skin. Hands down, I believe the best product for this is Beautycounter's Lotus Glow Cleansing Balm. This is a multi-tasker kind of product, as it can be used as a cleanser, moisturizer, overnight hydrating mask, or soother for burns, eczema, or dry skin. Doesn't that sound like a bit of heaven? So after you have cleansed, detoxed, and treated your skin, take a tiny pea-sized amount of this balm, warm it up in your hands, and massage into your skin. If your skin could talk, it would say AHHHHHHHH — it feels that good!
BONUS ITEM! Sometimes, you just gotta reach for something to go to battle agains those angry pimples. Instead of using the traditional Oxy that can be really harsh on the skin, opt for Beautycounter's SOS Acne Spot Treatment. A teeny bit goes a long way! Just use a q-tip to dab a little on your spots … this little tube will last forever.
—-> And if you're still looking for a mask that's comfortable AND doesn't add to your skin issues, I highly recommend the Remedywear Washable Face Mask from Yoro Naturals. They are made with cotton TENCEL that is soft and cool to the skin, and zinc is actually embedded into the fabric which helps to fight bacteria and germs on the inside and outside of the mask. Plus the company is committed to sustainability and has 3rd party testing, both of which I believe are extremely important. Good news! The masks are available in kids and adult sizes and currently in stock. Use the code BETTER10 to save 10%.
---
Moral of the story? Maskne is real, so let's be proactive to take care of our skin. And let's use safer products while we're at it, because our bodies don't need to be fighting excess toxins at the same time.
—-> If you want to purchase this Maskne Treatment Trio of Beautycounter products, the company is offering 20% off to new clients through August 10th AND the opportunity to snag the charcoal mask and peel for FREE! That means you can get all three of these products for $87 plus free shipping as well as a free 60-day return policy. With regular use, this investment should last you at least 3-4 months.
Shop my Beautycounter here! Just add the Cleansing Balm to your cart (along with any other items), then add the Band of Beauty membership for $29. You will see the free gifts pop up in your cart! These are the travel sizes of the charcoal mask and the peel. Keep in mind that the membership is strictly rewards — no required purchases and no autoship ever.
YOUR SKIN WILL BE SO HAPPY.