Muffins… is there any better way to start the day?
I. Love. Baked. Goods. Cake, cookies, muffins, donuts, scones … they are my thing. I'm having a bad day? Give me a cake pop and it turns my world around. Baked goods are the way to my heart, y'all.
And that's a problem when you're trying to eat a nutrient-dense, whole foods diet.
But I found something that totally satisfies my cravings!
If you haven't had a variation of blender muffins before, they will ROCK YOUR WORLD. You're welcome in advance.
What Are Paleo Muffins?
Paleo muffins are muffins that are made with ingredients allowed on the Paleolithic (Paleo), caveman, or stone-age diet – a diet that limits foods like dairy products, legumes, and grains in order to prevent obesity, diabetes, heart disease, and other diseases linked to unhealthy diets.
So these muffins are made without adding flour (because flour is made from wheat, which is a grain), oil, or refined sugar.
Think of them as a healthier version of muffins!
I know you're thinking that these Paleo muffins can't possibly be that good if there's not any kind of flour, oil. or refined sugar in them, but I promise you … they are amazing! Like so good you have to stop yourself from eating all of them at once.
How To Make Paleo Muffins
Normally, when making muffins, you would have to combine the dry ingredients. Set them aside. Then mix the wet ingredients. Then fold the dry ingredients into the wet mixture. Then pour the batter into some muffin pans and bake until done… and wind up with a kitchen full of dirty dishes!
Well not with this recipe! My Easiest Paleo Muffins EVER recipe uses a blender technique so it only takes four steps and just a handful of dirty dishes so cleanup is a breeze!
Step One
Add all ingredients, except chocolate chips, to blender and blend.
Step Two
Pour batter into muffin tin lined with paper muffin cups.
Step Three
Sprinkle mini chocolate chips over top of muffins.
Step Four
Bake and enjoy!
A single batch makes about a dozen mini muffins or 6 regular sized muffins. And, I'm telling you right now, double this recipe. If you don't, you are totally going to be bummed out when you sink your teeth into the first one.
Feel free to experiment with the nut butters and toppings. All of the nut butters work well, and I've used dried fruit, fresh fruit, and nuts as toppings.
Someone gave me this basic recipe a while ago, so I don't know where to give any credit. And I wish I did because these muffins have changed my life. Thank you, thank you, paleo blender muffin creator:-)
*DISCLAIMER — I am not, nor will I ever be or claim to be, a recipe creator. I just like to find yummy stuff that's easy to make and share it with you guys.
How To Store Paleo Muffins
If you took my advice and made a double batch of these muffins, you may have leftovers and be wondering how to store them.
Place them in an airtight container and store them in the refrigerator for up to one week.
The Easiest Paleo Muffins EVER!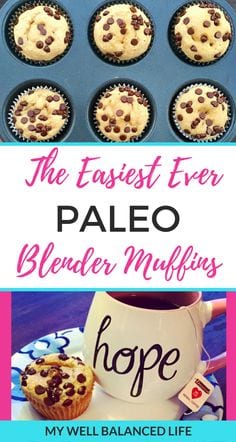 Delicious, healthy muffins without all the mess. You're seriously going to love this blender method for making yummy Paleo muffins.
Ingredients
1/2

cup

nut butter

my favorite is cashew!

1

medium ripe banana

1

egg

1/2

tsp

vanilla

2

tbsp

maple syrup

1/4

tsp

baking powder

Enjoy Life mini chocolate chips

FYI - technically not Paleo because of the cane sugar
Instructions
Put all of the above ingredients (except the chocolate chips) into a blender.

Blend. (You can just as easily use a mixer but that just means more dirty dishes.)

Pour into mini or regular sized cupcake pan. (I recommend using cupcake liners!)

Sprinkle the tops with mini chocolate chips. (This is optional but COME ON.)

Bake mini muffins for 8-10 minutes at 400 degrees.

Bake regular sized muffins for about 15 minutes at 375 degrees.

That's it.
Nutrition
Serving:
80
g
Calories:
258
kcal
Carbohydrates:
18.87
g
Protein:
5.87
g
Fat:
18.74
g
Saturated Fat:
6.265
g
Polyunsaturated Fat:
3.182
g
Monounsaturated Fat:
8.234
g
Cholesterol:
103
mg
Sodium:
84
mg
Potassium:
320
mg
Fiber:
3
g
Vitamin A:
91
IU
Vitamin C:
1.7
mg
Calcium:
49
mg
Iron:
3.49
mg