Y'all, I love love love lemon anything. So while I already have a recipe for a Gluten Free Iced Lemon Loaf, I had some requests to make one that is nut-free. So not only did I make that happen, but I managed to make it super simple AND add blueberries … because that seemed like a no brainer.
This is the kind of cake you want to have on hand when you just really and truly NEED a sweet treat. And instead of reaching for a store bought cookie that's not even that good, you get to enjoy a slice of this delicious homemade baked good instead. There's really no comparison, you know? 
Quick reminder that you can totally make this dairy free as well by using coconut oil and a dairy-free milk. My favorite milk for baking is full-fat coconut, you just can't beat the creaminess.
And just a note — I made this in a smallish loaf pan, just 8×4. You will have to make adjustments if you choose to use a larger pan or if you want to make them into muffins. I have no doubt whatever you do, it will be all kinds of yummy. Enjoy!
Gluten Free Lemon Blueberry Loaf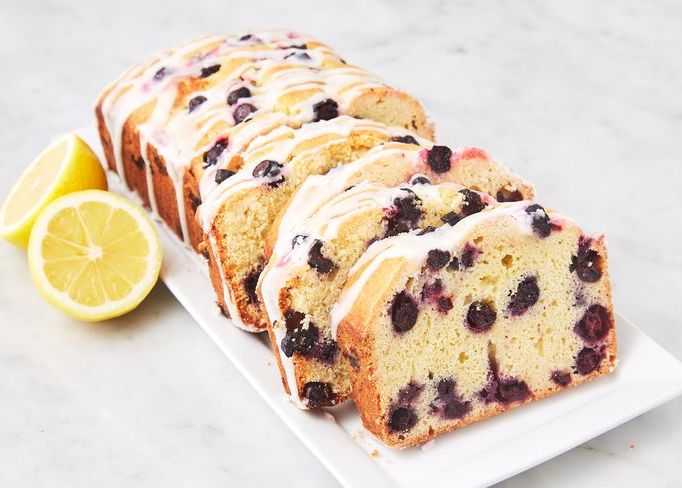 A very simple loaf cake with tons of yummy flavor! You definitely want to have this baked good on hand for those times when you totally need a sweet treat. You know what I mean, right?
Ingredients
1

cup

gluten free 1:1 flour

my fave is King Arthur

1

tsp

baking powder

1

pinch

salt

1/3

cup

organic sugar

2

eggs

4

tbsp

melted butter

can use coconut oil

1/4

cup

milk

use any regular or dairy free milk

1

tsp

lemon juice

1

tsp

lemon zest

1

cup

blueberries

save a few to put on top
Lemon Glaze
1

cup

powdered sugar

2

tbsp

lemon juice

for thinner glaze

1

tbsp

lemon juice

for thicker glaze
Instructions
Preheat oven to 375 degrees.

Grease an 8x4 inch loaf pan with butter or melted coconut oil, or line the pan with parchment paper for easeir removal.

In large bowl, combine melted butter and sugar and beat until smooth.

Add eggs and beat until well blended.

Add lemon juice, lemon zest, and milk. Mix again until batter is smooth.

Combine dry ingredients (gluten free flour, baking powder, and salt) and then add to batter. Beat until batter is very smooth.

Fold in blueberries, but make sure to save a few to put on top! Gotta make sure it's pretty, right?

Pour batter into loaf pan and bake for about 40 minutes. Toothpick inserted in center should come out smooth, and sides should begin to pull away from sides. Top will be golden and cracked.

Let cool for way longer than you want to wait. Trust me on this.
Lemon Glaze
Prepare lemon glaze by mixing powdered sugar and your choice of lemon juice amount together. Use a fork and mix until smooth.

Thinner glaze can be drizzled on top of loaf. Thicker glaze will require a spreader or spatula.

Garnish with lemon slices and blueberries if you wanna be a little extra.