Alright, let's get this settled right here and now. This is not cornbread. There is no actual corn in it. But I'm telling y'all — this stuff tastes like sweet cornbread! I don't know how or why, but I'm 100% confident in sharing this goodness and encouraging you to try it with your next batch of chili.
This recipe is also used in my Gluten Free Mini Corndog Muffins (which are to die for if I do say so myself), and they can be made into cornbread muffins, too. Just pour the batter into a regular or mini sized muffin pan and adjust the baking time as needed. But don't tell anyone it's not real cornbread. Or that they're gluten free. Let's just see if they notice …
Gluten Free Cornbread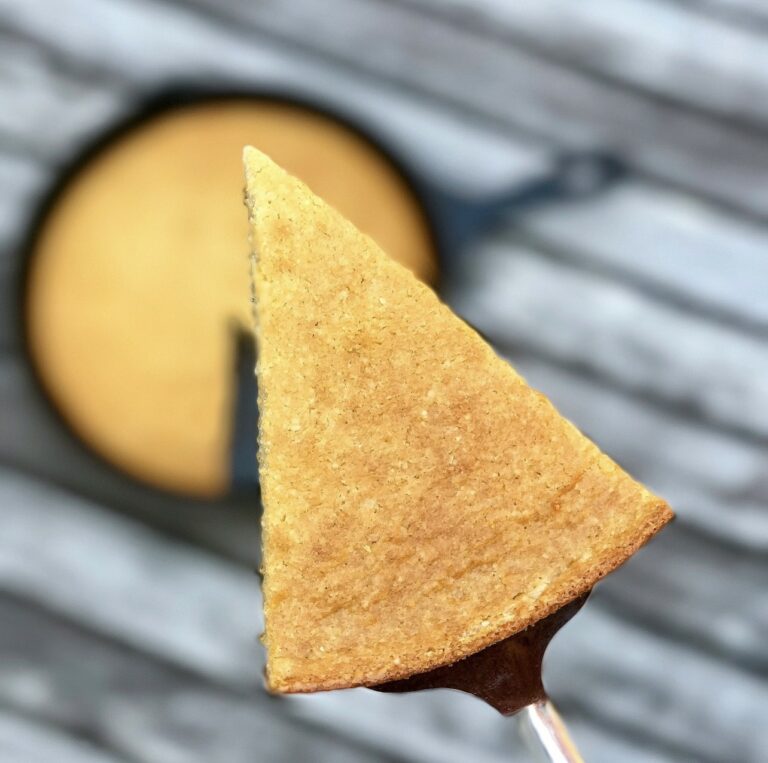 A twist on traditional cornbread -- a gluten and corn free version that is the perfect side to any soup or chili.
Ingredients
1

cup

gluten free flour

1/2

tsp

baking soda

1/2

tsp

baking powder

1/4

tsp

sea salt

1/2

cup

butter, melted

(or one regular stick)

1

tbsp

milk or milk alternative

1/2

cup

sour cream

1/4

cup

maple syrup
Instructions
Preheat oven to 375 degrees.

Combine flour, baking soda, baking powder, and salt in a bowl.

In separate bowl combine melted butter, milk, sour cream, egg, and maple syrup. Blend with mixer.

Add in flour mixture and blend into wet ingredients until smooth.

Pour and spread cornbread mixture into a seasoned 10-inch cast iron skillet (or comparably sized dish coated with cooking spray or melted coconut oil).

Bake for about 20 minutes or until edges brown and a toothpick inserted comes out clean. Keep in mind a smaller baking dish may require extra cooking time.