Gluten Free Chocolate Peanut Butter Brownies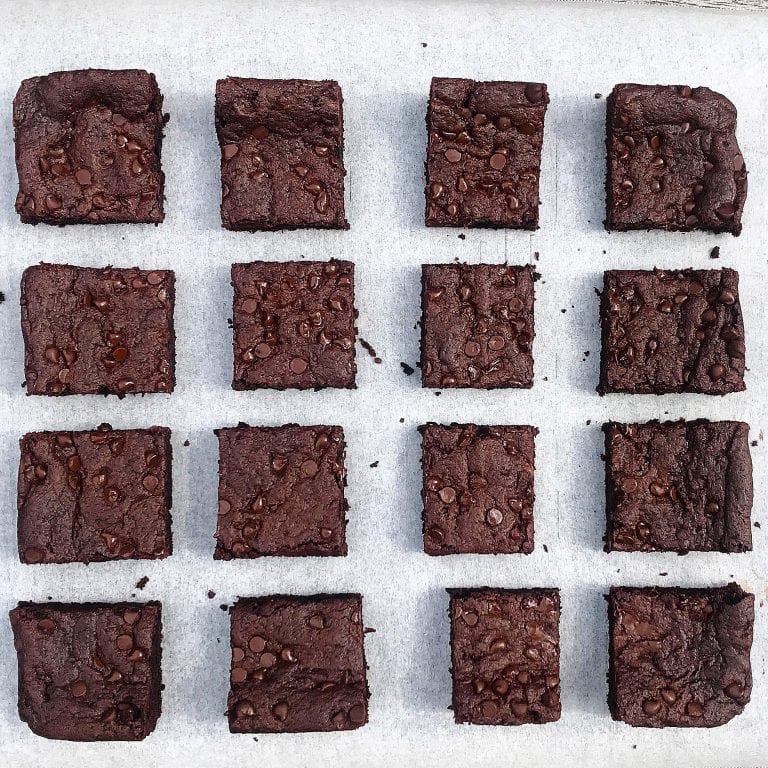 Y'all, it's chocolate and peanut butter. What else is there to say? One of the awesome things about this recipe is you most likely have all these ingredients in your kitchen right now. Staple ingredients thrown together that result in total yumminess. This is also one of those recipes that people devour and just can't believe there isn't any flour in them. And I don't know why, but that makes me SO HAPPY. I really advise using the parchment paper as a liner and taking that extra step of refrigeration time before slicing these babies up! Especially if you want to surprise people with the whole "oh hey guess what these are gluten free AND grain free AND dairy free AND refined sugar free brownies" thing. Muahahahahaaaaa (that's my evil laugh).
Ingredients
1

cup

peanut butter

I use smooth

1/3

cup

maple syrup

1

egg

2

tbsp

ghee or melted coconut oil

1

tsp

vanilla

1/3

cup

cocoa powder

1/2

tsp

baking soda

Chocolate chips

I use Enjoy Life
Instructions
Mix together the peanut butter, maple syrup, egg, ghee/coconut oil and vanilla in a bowl. I like to use a mixer because the peanut butter is a bit tough to stir by hand.

Stir/mix in the cocoa powder and baking soda. Mixture will be on the thick side.

Pour batter into a 8x8-inch square baking pan coated with oil/spray or lined with parchment paper. (I prefer parchment paper for easier removal from the pan!) Because the batter is thick, you can use a spatula to press it into the corners and even it out.

Sprinkle chocolate chips on top.

Bake at 325 degrees for about 20-25 minutes. I prefer mine on the softer and gooier side, so i always go for the shorter baking time.

Remove from pan (yay, parchment paper!) and let cool before cutting into squares. I like to put them in the refrigerator for about 30 minutes before cutting because the brownies slice so well this way!