Tis the season for cozy soups that fill up your belly and make you want to curl up on the couch in front of the fire…
But who am I kidding? I eat soup year round. 
To be honest, I created this recipe because I needed a reason to try out a new brand of gluten free pastas I've had my eye on. It's amazing how much better gluten free pastas have gotten over the past few years! There are so many good options now, which is such a treat. I'm not a huge pasta person but if I'm gonna eat it, it better be good.
Tortellini is one of my favorite pastas — it's super versatile and can be used in soups, casseroles, and traditional dishes.
I do love hearty soups, ones that double as a meal and are chock full of filling ingredients. And let me tell ya — this one does not disappoint!
It was a hit with my family and I hope it is with yours, too!
Gluten Free Italian Sausage and Tortellini Soup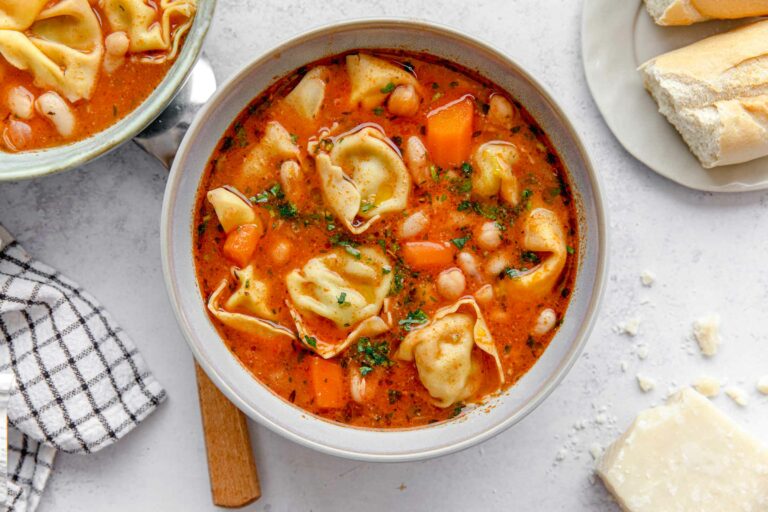 This Italian Sausage and Tortellini Soup is such a warm and comfy meal for those chilly winter days. Add a little fresh sourdough and you are set!
Ingredients
1

drizzle

Avocado oil (or oil of choice)

1

Small onion, chopped

1

tbsp

Garlic, chopped

1

pound

Italian sausage

2

14.5 oz cans

Fire roasted tomatoes (chopped)

1

8 oz. can

Tomato sauce

4

cups

Bone broth

1 1/2

tsp

Italian seasoning

1

tsp

Salt

1

9 oz. package

Refrigerated gluten free tortellini

2

cups

Baby spinach
Instructions
In large soup pot or dutch oven, heat oil over medium heat.

Add chopped onion and garlic, then saute for about 5 minutes.

Add crumbled sausage and cook until done, about 5 more minutes

Stir in roasted tomatoes, sauce, bone broth, and Italian seasoning

Bring to a boil and then add in tortellini.

Reduce heat and simmer until tortellini is cooked through

Stir in spinach and cook until slightly wilted, about 3 minutes

Season with salt & pepper and serve!