Yay or nay on lemon desserts? I absolutely love all things lemon. My grandmother made the most divine lemon pies when I was growing up, so one bite takes me back to those sweet days of my childhood. I remember sitting at her formica counter late at night, eating a piece straight out of the icebox (she never called it a refrigerator!) I'm pretty sure I could eat an entire pie all by myself, even when I was 5 years old.
As you know, I love a simple recipe that I can whip up in a short amount of time. And while the process of making these lemon bars is rather quick, the finished product requires a level of patience that is almost unbearable! We all know a warm or room temperature lemon bar is nothing compared to a properly chilled one. They have to be cold to reach the ideal level of consistency and sweetness. I'll be honest — the only way I can stand it is to make them right before bed, pop them in the refrigerator, and go to sleep. Otherwise I'll obsess about them all day long! So just suck it up and let those suckers chill. Plus, lemon bars for breakfast are kinda perfect.
Gluten Free Lemon Bars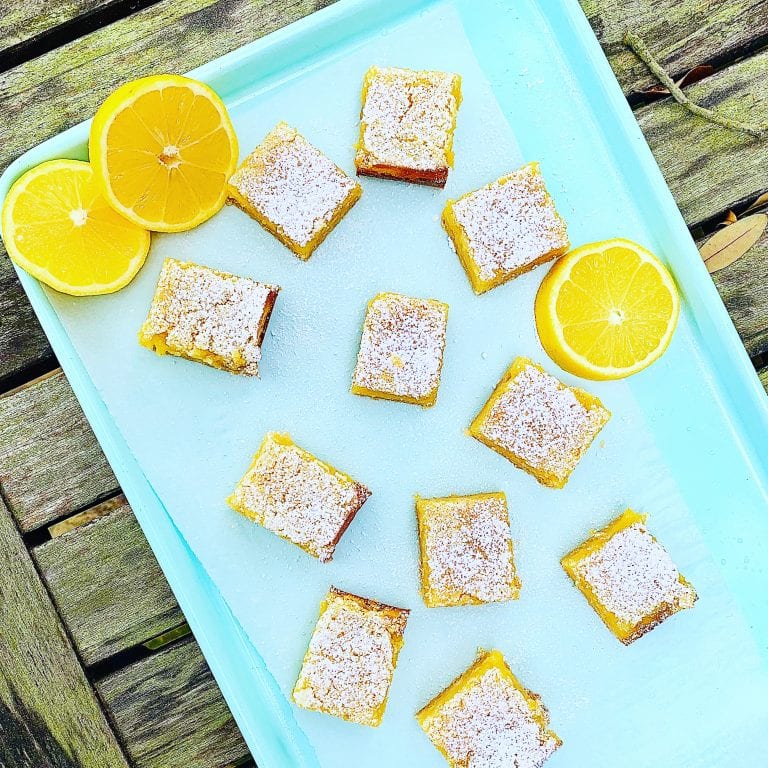 This gluten free lemon bar recipe is a simple and delicious way to satisfy your sweet tooth during the warm weather months!
Ingredients
Shortbread crust
1

cup

almond flour

1/3

cup

coconut flour

1/4

tsp

sea salt

1

egg, beaten

1/2

cup

melted butter

or coconut oil

3

tbsp

maple syrup
Lemon filling
2

eggs

1

egg yolk

1

cup

organic sugar

1/3

cup

freshly squeezed lemon juice

2

tsp

finely grated lemon zest

1/2

tsp

vanilla

1/4

tsp

baking powder

2

tbsp

gluten free flour

Powdered sugar for topping
Instructions
Shortbread crust
Combine almond flour, coconut flour, and sea salt in mixing bowl.

Add beaten egg, melted butter, and maple syrup. Mix with spoon until combined.

Press into greased 8×8 square pan. I use two pieces of parchment paper which I cross and put on top of the greased pan. This allows the paper to stick and makes for easy removal!

Use a fork to pierce the crust in a few places

Bake in the oven at 350 degrees for about 15 minutes, or until cooked through and edges are starting to brown. Don't overcook as it will bake more with the lemon filling.
Lemon filling
While crust is baking, prepare lemon filling.

Combine eggs, egg yolk, and sugar. Beat on medium speed until mixture is a light yellow color, about 2-3 minutes.

Mix in lemon juice, lemon zest, and vanilla.

Sprinkle baking powder and gluten free flour on top, then mix gently until blended.

Pour lemon mixture over hot shortbread, then return to oven and bake 18-20 minutes. Top will be crackly and fairly set, but will thicken even more while cooling.

Let cool on wire rack completely.

For optimal consistency and slicing, refrigerate for at least two hours but preferably overnight. Cut with a sharpened knife and wipe blade in between slices.

Top with sifted powdered sugar before serving.