Gluten Free Oatmeal Chocolate Chip Cookies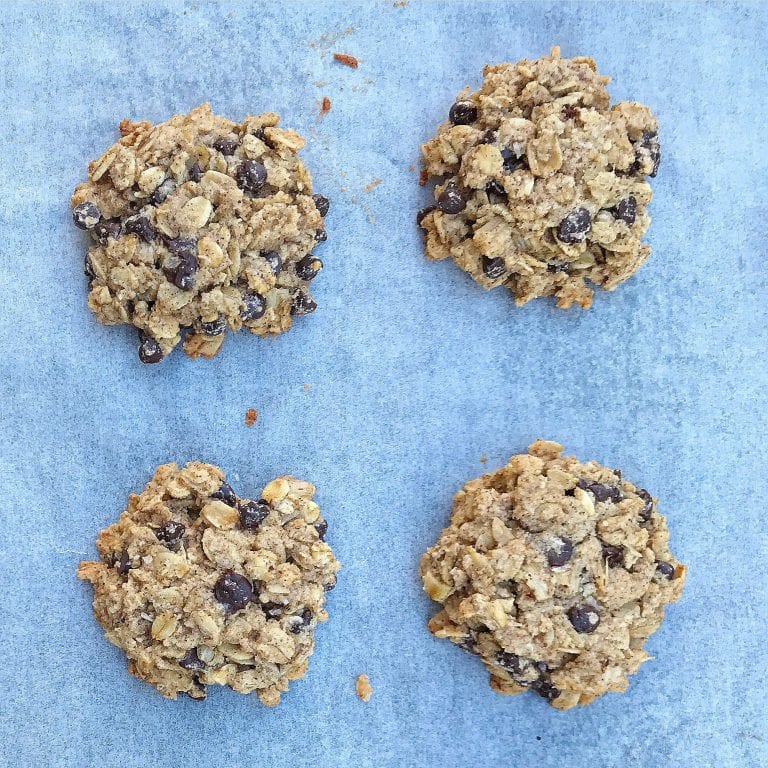 You guys, this is the first time I've ever attempted to create a cookie recipe. Don't get me wrong -- I love cookies. I just don't make them all that much. Because I'm kinda lazy. Cookies take so much more time and precision! I mean, you have to refrigerate the dough, make sure the cookies are all the same size, separate them properly on the cookie sheet, make multiple batches, put the cookie sheets in the freezer in between batches so the cookies don't spread too much from the heat, wait just the right amount of time before setting them on cooling racks, etc. Oh wait. Turns out I'm not lazy, I'm crazy uptight and particular about cookie baking. Shocker. And yeah ... since I know that about myself, I usually don't bake cookies because I know how painful I am and I just can't deal. But today, I wanted cookies. Oatmeal chocolate chip cookies to be exact. This was a creation based on what I had in the pantry, so they are gluten free, dairy free, and refined sugar free. Well, except for the chocolate chips. Y'all, oh my goodness gracious they smell heavenly. Like I could totally be wearing an apron and be that mythical Pinterest mom who has fresh cookies made when the kids come home from school. Wait. Do I even own an apron???
Ingredients
2

cups

gluten free oats

1

cup

fine almond flour

1/4

cup

shredded coconut flakes

unsweetened

1/2

tsp

sea salt

1 1/2

tsp

cinnamon

1/2

tsp

nutmeg

1/2

cup

maple syrup

1/4

cup

coconut oil

melted

1

egg

beaten

1/2

cup

Enjoy Life mini chocolate chips
Instructions
Preheat oven to 350 degrees.

Combine the dry ingredients (except chocolate chips) in a bowl.

Combine maple syrup, melted coconut oil, and egg. Add to dry mixture and mix until throughly combined.

Stir in chocolate chips.

Refrigerate dough for about 30 minutes. (You can skip this, but it makes the dough easier to manage ... 'cause it's pretty sticky.)

Place rounded tablespoons of dough onto a baking sheet with parchment paper. (Your fingers will get messy but it's totally worth it.)

Bake at 350 degrees for about 17-20 minutes. About halfway through the baking time, use the bottom of a glass to flatten the cookies a bit.

Let cool completely, otherwise the cookies will fall apart. They will harden to perfection during the cooling time.

Y'all, these are GOOD. Enjoy!