Gluten Free Overnight Oats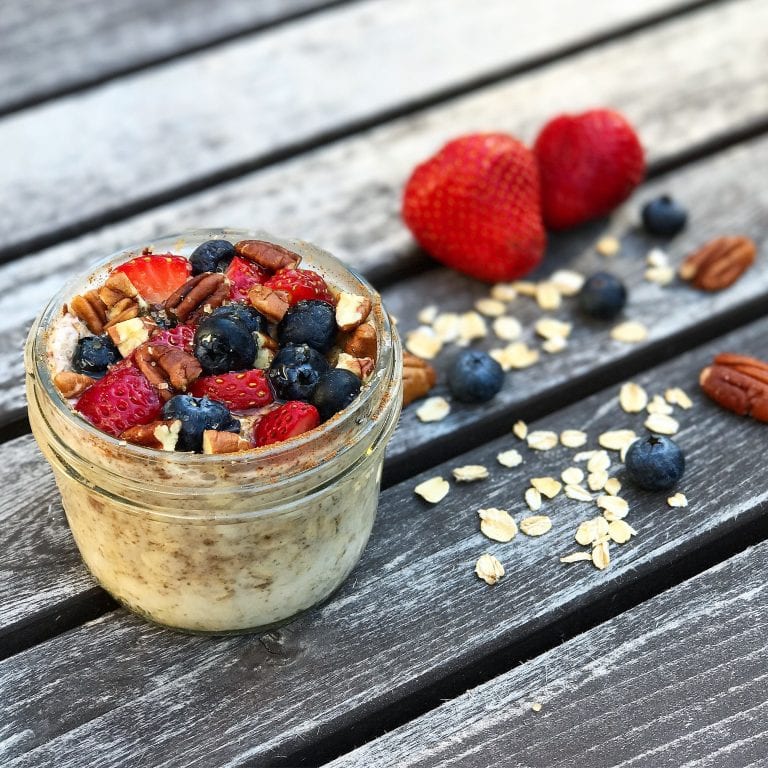 I know it's weird, but I love oatmeal. Not the instant kind in the little brown packets, but the real deal thick stuff with lots of toppings. And I love ordering it at an upscale breakfast place because it comes out with all the little containers of nuts, fruit, brown sugar, maple syrup, and real cream. Fancy place oatmeal is my jam. When I was in college until about the time I had my older son, I would go to breakfast with my Dad every trip I made home. We would go to Le Peep, order the French roast coffee, chat about the amazing menu, and then order oatmeal ... with a side of extra crispy bacon for my Dad. And then we would talk for hours about any and all crazy plans I had in mind for my future endeavors. How I wish I had done that more in the past decade or so, but life got busier and the grandkids became more of the priority. But I'll always think of my Dad when I make or eat oatmeal. So anyway, this stuff is yummy! No wonder everyone's been raving about it. I just want to give everyone a heads up -- if you do not make the effort to add fat and protein to this meal, it is an easy way to throw your blood sugar levels way out of whack. Without the fat and protein, this is just a big load of carbs and sugar that would have been touted as super healthy in the 90s. I personally add full fat coconut milk, collagen peptides, and some raw nuts to mine. You can heat it up, but I typically eat mine cold and it's delicious! And since we almost always have cooked bacon in our fridge, I like to have a piece of that on the side as a little morning shout out to my Dad. I miss him.
Ingredients
1/2

cup

gluten-free rolled oats

I use Bob's Red Mill

1/2

cup

milk or milk alternative

I ALWAYS use full fat coconut milk!

1-2

tablespoons

maple syrup

honey, or other favorite natural sweetener

1/2

scoop of Vital Proteins collagen peptides

1/4

tsp

of spices

cinnamon or pumpkin pie spice are my faves

Toppings of choice: berries

fruit, nuts, seeds, nut butter, chocolate chips, more sweetener, etc.
Instructions
Place oats, milk, sweetener, spices and collagen peptides in container and gently mix to combine. (I use small mason jars for convenience!)

Cover and place in refrigerator overnight.

Remove from refrigerator and uncover. Heat if desired.

Add toppings of choice and devour!