Gluten Free Skillet Blueberry Crumble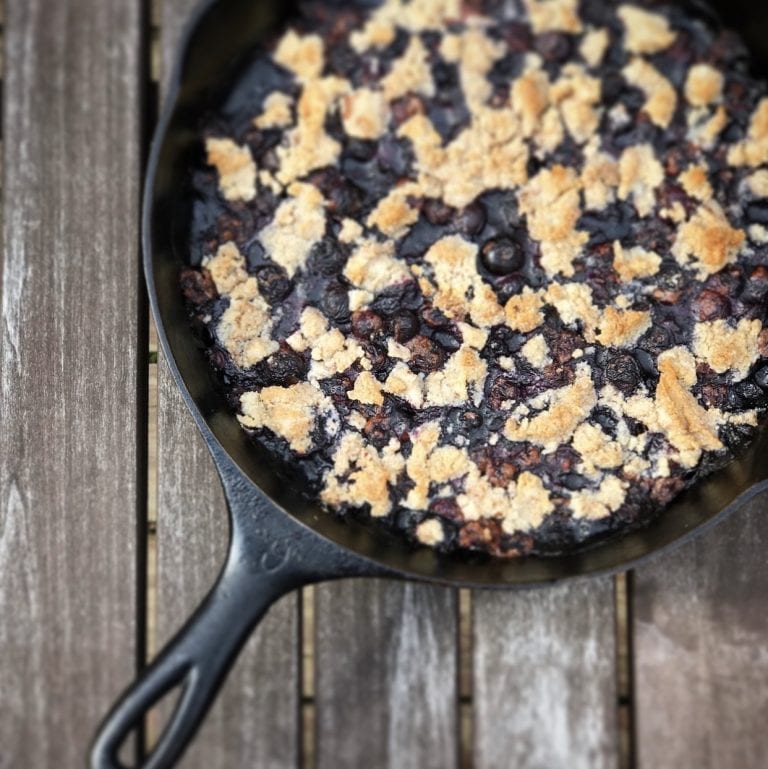 I don't know about you guys, but baking in a cast iron skillet makes me feel way legit in the kitchen ... and makes me want to wear an apron. Just your everyday reenactment of the Pioneer Woman at work in her amazing kitchen on the ranch. This recipe can't decide if it wants to be strict paleo or full up gluten free. Kinda like me. So the blueberries are tossed in gluten free flour and real cane sugar, but the crumble is made with almond flour, coconut oil, and maple syrup. Decisions, decisions. When it comes to blueberry pie or cobbler or crumble, I need a 2:1 ratio of berries to crust. The berries need to have a big presence, with just a bit of that buttery crust to balance out the sweetness of the fruit. So this recipe is about perfect for me! And I just caught my 12-year-old eating spoonfuls out of the skillet with one hand and giving me a thumbs up with the other, so the kids will love it, too. This smells like country kitchen heaven and is perfect for those 4th of July festivities! Show up with a skillet of blueberry crumble and a gallon of vanilla ice cream and you will be a total hit. Maybe wear an apron, too.
Ingredients
For the filling:
1

pound

fresh blueberries

2

T

gluten free flour

1/4

cup

organic cane sugar

Juice from half a lemon

1

tsp

vanila

1/2

tsp

cinnamon
For the topping:
1

cup

almond flour

2

twists of a sea salt grinder

1/2

tsp

cinnamon

2

T

coconut oil

melted

2

T

maple syrup
Instructions
Preheat oven to 375 degrees.

Mix filling ingredients together until blueberries are well coated with the flour mixture.

Pour berry mixture into a seasoned cast iron skillet (or 9 inch pie pan/8 inch square baking dish).

Add topping ingredients together and stir until mixture resembles cookie dough.

Drop spoonfuls of topping over berries and spread out as evenly as possible.

Bake in oven at 375 degrees for 25-35 minutes. Berries should be bubbling and topping should be browned!

Serve by itself, over Greek yogurt, or vanilla ice cream. Enjoy, y'all!