Grain Free Chocolate Birthday Cupcakes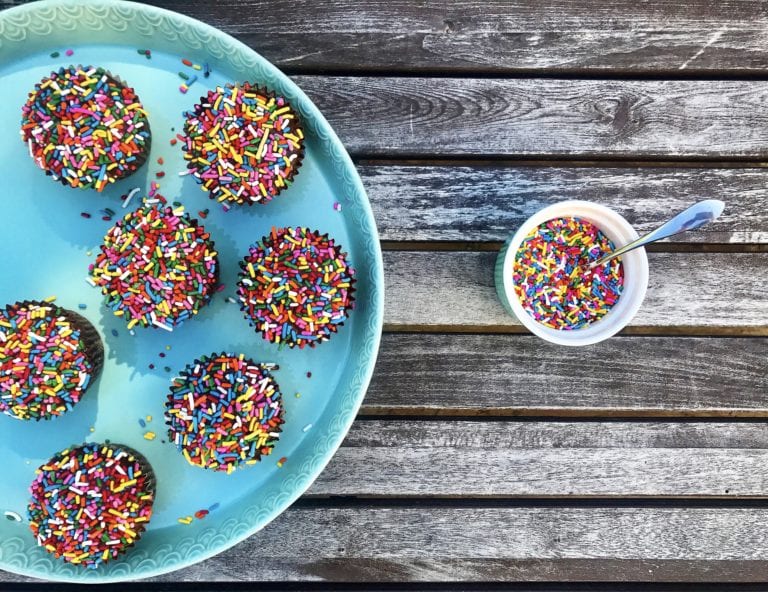 So these don't have to be birthday cupcakes ... but they're definitely delicious and pretty enough for a celebration! You know, sometimes you just really need a cupcake. And not one of those healthy tasting cupcakes -- the REAL DEAL. So that's what I set out to do ... make a cupcake that has the taste and texture of a good old fashioned cupcake. And I think these are pretty darn close! A few things about this recipe. The espresso powder is optional, but I promise it gives that chocolate a really rich and decadent taste. It's totally worth it. Also, you can add more maple syrup (or other sweetener if you would like) ... but I like my cupcakes slightly sweet with a really sweet icing on top. And lastly, dipping the cupcakes in the melted chocolate makes them absolutely beautiful! They don't need any other toppings ... but sprinkles make me happy. And they make the cupcakes more legit, especially for birthdays.
Ingredients
1 1/2

cups

fine almond flour

1/3

cup

arrowroot powder

2

tbsp

coconut flour

1/2

cup

organic cocoa powder

1

tsp

espresso powder

1/2

tsp

baking soda

1/2

tsp

sea salt

4

eggs

1/3

cup

melted butter

ghee, or coconut oil

3/4

cup

maple syrup

1/4

cup

full fat coconut milk

Dash of vanilla extract
For chocolate icing:
1/2

cup

chocolate chips

I use Enjoy Life

1/2

tablespoon

coconut oil

*Sprinkles are a fun topping! I like Color Kitchen Foods for a safer option.
Instructions
Place parchment paper liners in muffin tins (this recipe usually makes me about 15 cupcakes).

Add dry ingredients together in bowl (almond flour, arrowroot powder, coconut flour, cocoa powder, espresso powder, baking soda, and salt.

In large bowl, add eggs, melted fat, maple syrup, coconut milk, and vanilla. Use mixer to combine well.

Add dry ingredients to wet and mix until smooth. You might need to taste the batter at this point to make sure it's ok ...

Fill lined muffin cups with batter about 2/3 full.

Bake at 350 degrees for 18-22 minutes, or until toothpick inserted comes out clean. (I'm always a fan of the lower baking times). Remove from oven and let cool completely.

FOR THE GLAZE: Melt chocolate chips and coconut oil in double boiler over medium heat. Stir often and remove from heat when chocolate is smooth. Let cool for about 5 minutes.

Take each cupcake and turn upside down, then swirl it around to coat the top in the chocolate. Let chocolate drip off before flipping right side up.

Add sprinkles if desired. Don't wait too long before doing this because the icing will begin to harden. The upside to this is the sprinkles stay on really well!

Time to celebrate!