Grain Free Double Chocolate Loaf Cake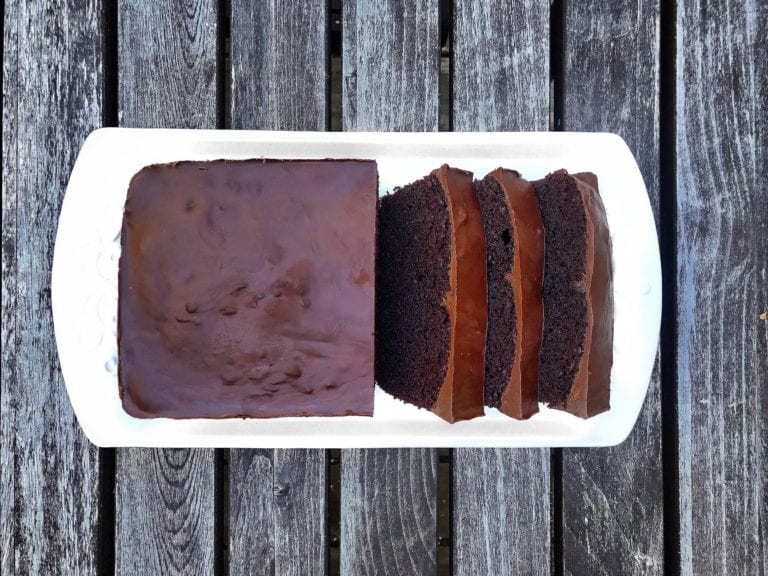 I'm not gonna lie, I like all the pretty baked goods in the glass cases at Starbucks. And aside from those little mini vanilla scones (OMG I love those!), the loaf cakes are my favorites. I've already created a paleo version of the pumpkin loaf, and this is my take on the Double Chocolate Loaf Cake. This recipe isn't difficult at all, but you do have to be a little patient when it comes to letting the icing cool in the refrigerator. But it's SO worth the wait! It slices up so beautifully and no one will ever guess that the cake is actually gluten free, grain free, and dairy free. And just a reminder that the majority of the sweetness comes from the icing -- you can add more sweetener to the cake but I don't think it needs it. I really need to invest in those little brown paper sleeves that Starbucks uses to serve their treats ... maybe have my logo put on them. Whaddya think???
Ingredients
1 1/2

cups

fine almond flour

1/3

cup

arrowroot powder

2

tbsp

coconut flour

1/2

cup

organic cocoa powder

1

tsp

espresso powder

1/2

tsp

baking soda

1/2

tsp

sea salt

4

eggs

1/3

cup

melted butter

ghee, or coconut oil

3/4

cup

maple syrup

1/4

cup

full fat coconut milk

Dash of vanilla extract
For the chocolate icing
1/2

cup

chocolate chips

I use Enjoy Life

1/2

tablespoon

coconut oil

*You can double these ingredients for a thicker icing on top
Instructions
Properly grease your loaf pan, this is so important! I melt 2-3 tablespoons of coconut oil and swirl it around in the loaf pan to make sure the bottom and sides are well coated. Use a napkin to get any nooks and crannies. Pour out any excess.

Add dry ingredients together in bowl (almond flour, arrowroot powder, coconut flour, cocoa powder, espresso powder, baking soda, and salt.

In large bowl, add eggs, melted fat, maple syrup, coconut milk, and vanilla. Use mixer to combine well.

Add dry ingredients to wet and mix until smooth.

Pour batter into greased loaf pan.

Bake at 350 degrees for 40-50 minutes, or until toothpick inserted comes out clean and edges are starting to pull away from sides of pan. (I'm always a fan of the lower baking times). Remove from oven and let cool completely.

FOR THE ICING: Melt chocolate chips and coconut oil in double boiler over medium heat. Stir often and remove from heat when chocolate is smooth. Let cool for about 5 minutes.

Pour melted chocolate over top of loaf cake. Use spatula to make sure all surface area is covered. No worries if it slips into the sides! It actually makes the cake prettier AND tastier.

Put loaf cake in refrigerator until icing hardens. This usually takes mine about 2 hours or so.

Remove cake from refrigerator and carefully remove from pan. Even though the icing is a bit hard, the cake should slice easily. Store in refrigerator.