Grain Free Thanksgiving Dressing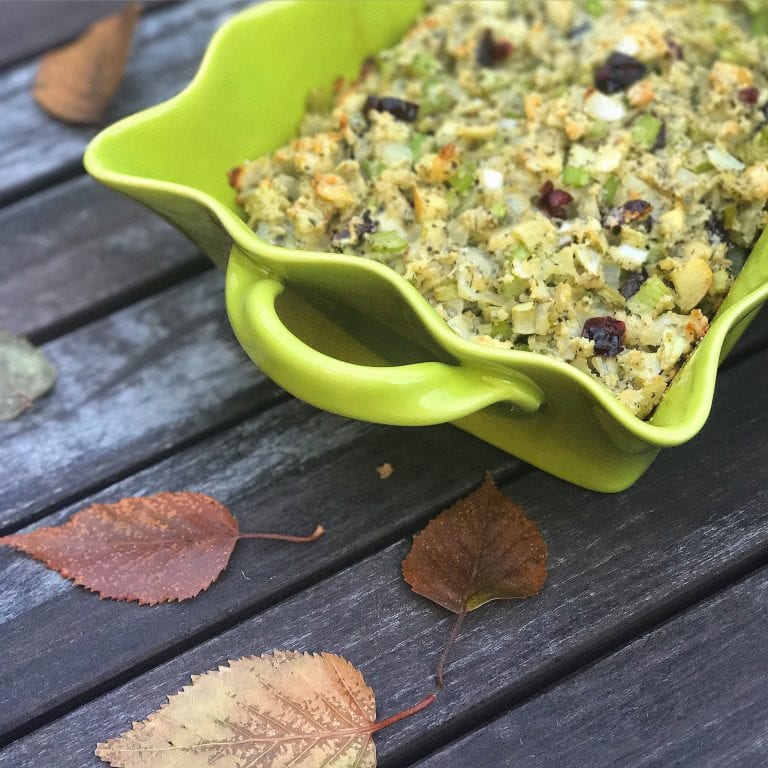 If we're talking actual Thanksgiving dinner (not the dessert portion because pumpkin pie has my heart), my FAVORITE part is the dressing. I go for the southern kind -- cornbread, sage, lots of celery and onion. My Grandma Lupe made the best! Not dry, kinda sticky, tons of sage, lots of cornbread. If it weren't terrible for me, I would eat Stove Top Stuffing on a regular basis. (Gah! That stuff was money.) There are a few things that will concern you when you glance at the ingredients. Why so much celery and onion? Apples, really? Where is the chicken broth? How can almond flour taste like cornbread? Y'all, I don't have answers to these questions. I just know it's flippin' delicious and the perfect grain-free substitute for your favorite cornbread dressing. (And if you're wondering about the cranberries, I had to sneak them into the Thanksgiving meal somewhere.) The hardest part is the chopping, so enlist some family members to take care of this for you. The rest is cake. Or pumpkin pie. And seriously ... WHY oh WHY do we only make this at Thanksgiving?!? *This recipe is just an adaptation of an oldie from Mommypotamus. There are times when you have to call uncle and realize there's no point in reinventing the wheel. And if you don't follow her, you should. She's a great resource for pretty much everything related to functional nutrition.
Ingredients
2-3

tablespoons

ghee or coconut oil

3 1/2

cups

chopped onion

2 1/2

cups

chopped celery

1

cup

chopped organic apple

4 1/2

tsp

Trader Joe's Herbes de Provence

or poultry seasoning

1/2

tsp

sea salt

1/4

tsp

cracked pepper

2

cups

almond flour

I use Bob's Red Mill super fine

1/4

cup

dried cranberries

unsweetened

3

beaten eggs
Instructions
Preheat oven to 350 degrees.

Heat ghee or coconut oil over medium heat in large saute pan.

Add onion, celery, apple, and spices. Stir until veggies and fruit are coated with ghee and spices.

Saute for about 5-7 minutes. You'll know when to stop because the herbs will smell AMAZING.

Remove from heat and add almond flour, cranberries and beaten eggs. Mix gently to combine.(This can be done in a separate bowl if your saucepan is too small.)

Pour into greased 3 quart casserole dish and bake for about 45 minutes.

Devour.