Paleo Chicken Marsala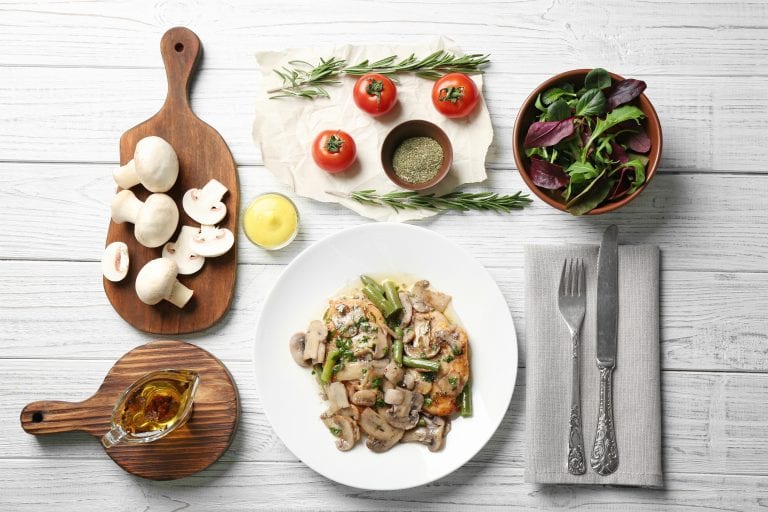 We eat Chicken Marsala on Christmas day. EVERY YEAR. My Mexican mother serves this Italian recipe that we got from our German neighbors every year without fail. And then we eat it over white rice. So. Random. But it's DELICIOUS. It only happens on Christmas because it's time consuming and messy ... lots of dipping in eggs and breadcrumbs and pan searing and simmering. Which is why I LOVE this simple paleo version of my family's favorite! You can literally make it on a weeknight and the mess, prep, and cooking time are minimal. So make sure to keep the cooking wines and almond flour on hand, because this is an easy dinner that is always a crowd pleaser. We serve it over white rice or cauliflower rice, usually with a side of roasted sweet potatoes. YUM. And it's totally better the next day.
Ingredients
4

tablespoons

of oil/fat

I use coconut oil

1

pound

of chicken breasts or thighs

1/2

cup

of almond flour

finely ground is best

1

cup

sliced mushrooms

1/2

tsp

sea salt

1/2

tsp

cracked black pepper

1

tsp

Italian seasoning

1/2

cup

marsala wine

1/4

cooking sherry

Fresh or ground thyme

optional

Arrowroot flour

optional if you choose to thicken the sauce!
Instructions
In a bowl, mix together the almond flour, sea salt, cracked pepper, and Italian seasoning.

Cut large chicken breasts or thighs into a few chunks (I typically cut a chicken breast into three pieces).

Coat chicken pieces in almond flour mixture.

Heat oil in large pan over medium heat.

Once oil is heated through, place chicken in pan and brown lightly.

Turn chicken over to brown other side and add mushrooms.

Sprinkle the rest of leftover almond flour mix over the chicken and mushrooms.

Pour marsala wine and cooking sherry on top and cover skillet.

Turn down the heat a little and simmer for about 10 minutes.

Turn chicken over and cook for another 5 minutes or until no longer pink.

*If you want to thicken up the sauce at all, add about 1/2 tsp of arrowroot flour during the simmer phase ... then let sit for about 10 minutes before serving.

Garnish with a bit of thyme if desired.