Gluten Free Iced Lemon Loaf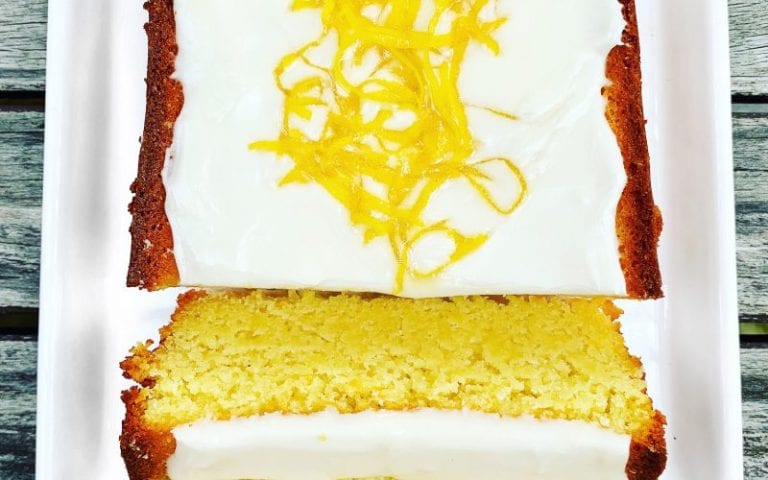 Lemon desserts have always held a special place in my heart because my Grandma Wilma made the BEST lemon meringue pies in the whole wide world. That woman could cook and bake like no one else I've ever known. She grew tons of fruits and vegetables in her own garden, including the lemons for her pies. But she was also hornery and stubborn -- so since she didn't like pumpkin pie, we didn't get it for Thanksgiving. Nope. But she did make two lemon meringue pies for me and my mom (we would make ourselves sick on it) and one chocolate meringue pie for my Dad. She also didn't like turkey so she made a roast ... but I digress ...
Back to lemon desserts. Who loves the iced lemon loaf at Starbucks? My 15-year-old loves lemon ANYTHING, and this is his favorite Starbucks treat. He also loves the lemon tarts from La Madeleine, so that's next on my list.
I LOVE making healthier and cleaner versions of mainstream favorites. Because we should all get to enjoy that goodness without the yucky ingredients and/or sensitivities! And yes, we have eaten a lot of Starbucks baked goods over the years, so consider us connoisseurs. I've already tackled the Pumpkin Loaf and the Double Chocolate Loaf, so it was about time I gave this one a try.
This is gluten-free, grain-free, and it can be dairy-free. If you can tolerate butter, I do recommend using it because this legit tastes like pound cake. I mean, YUM. But if not, I think ghee or coconut oil will work.
When you read the ingredients and directions, I have a few things to point out:
*If you really like a lot of lemon flavor, add more lemon zest.
*Make sure to chop your lemon zest EXTRA FINE — you don't want big pieces of it in your cake.
*You really really REALLY need to let this cake cool completely before trying to remove it from the pan. I usually use parchment paper and let mine sit in the refrigerator for a while before attempting to remove it! You can even add the glaze while it's still in the pan to be extra cautious.
*There are two versions of the glaze — thin and thick. Totally personal preference, they're both yummy.
*Don't be alarmed if your glaze isn't stark white. The lemon juice has a slight yellow color so it's not supposed to be super white.
*This cake will taste more lemon-ey (is that a word??) the next day.
Hope you guys enjoy it! I think even my Grandma Wilma would approve.
Ingredients
1/2

cup

butter

softened to room temp

1

cup

organic sugar

3

large eggs

1-2

tablespoons

of lemon zest

very finely chopped

2

tablespoons

fresh lemon juice

Dash of vanilla extract

1 1/2

cups

fine almond flour

2

tablespoons

coconut flour

1/2

teaspoon

baking powder

1/4

tsp

sea salt

1/3

cup

full fat coconut milk

I always whip my coconut milk before using to make sure all the lumps smooth out!
Lemon Glaze:

1

cup

powdered sugar

2

tablespoons

fresh lemon juice for thinner glaze

1

tablepoon + 1 teaspoon lemon juice for thicker glaze
Instructions
Preheat oven to 325 degrees. Grease an 8x4 inch loaf pan with butter or melted coconut oil. My personal preference is lining the pan with parchment paper for easier removal!

In large bowl, combine butter and sugar and beat until smooth. Add the eggs and beat until well blended. Add lemon juice, lemon zest, and vanilla and mix again until batter is smooth.

In separate bowl, combine dry ingredients: almond flour, coconut flour, baking powder, and sea salt.

Add dry ingredients to butter mixture and beat to combine.

Add coconut milk and beat again until batter is very smooth.

Pour batter into greased loaf pan and bake for about 60-70 minutes. Toothpick inserted in center should come out smooth, and sides should begin to pull away from sides. Top will be very golden.

Let cool for about 30 minutes, preferably longer. Loosen loaf around sides and flip onto cooking rack or serving tray to cool completely. Or lift out of pan by holding onto parchment paper. (You can even refrigerate it for a while to make sure it's set! Or you can ice it while still in the pan.)
Prepare glaze of your choice by mixing powdered sugar and lemon juice together. Beat until smooth.

Pour thinner glaze over loaf, and let it drip down the sides. Texture will be somewhat runny but will harden as it cools.

Spread thicker glaze over loaf, using a spreader or spatula to fully cover cake.

Garnish with lemon zest if you choose and store in refrigerator to keep icing intact.