Chicken Salsa Verde with Sautéed Veggies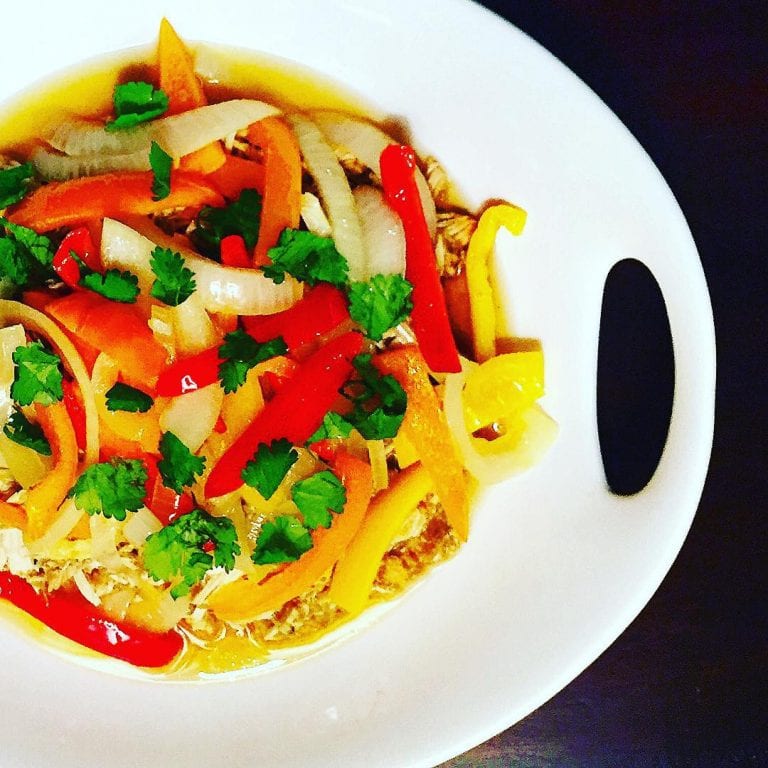 You can literally prep this meal for the slow cooker in two minutes. Add in some minor chopping and sautéing right before serving, and you're done. DONE. This is by far THE EASIEST MEAL I cook ... and I use the word "cook" very loosely because that would imply actual effort. And I can assure you, none of that is happening. This is a great one to keep in the refrigerator for easy lunches! Or just throw a fried egg on top and call it breakfast 🙂
Ingredients
1-1.5

pounds

free range chicken breast

12

oz.

jar of salsa verde

I use Trader Joe's

2

bell peppers

1

onion

Coconut Oil

Sea salt & pepper

Fresh cilantro

Avocado
Instructions
Get out your slow cooker and put the chicken in it. Pour the jar of salsa on top of the chicken. Set it on low for 7-8 hours, or high for about 4 hours. (Seriously, that's all you have to do.)

About 20 minutes before you're ready to eat, cut up the bell peppers and onion. Place them in a pan with the coconut oil, top with sea salt and pepper, and lightly saute them over medium heat. (Try not to overcook them! Keeping them on the raw side will retain more of those good nutrients and enzymes.)

Shred the chicken in the slow cooker with two forks. At this point, the chicken is falling apart so this takes about one minute. Then stir to mix with all the yummy salsa.

That's it, you guys. Eat it however you want. We serve it over fresh spinach, in paleo wraps, or on top of fresh corn tortillas. I love to top mine with fresh cilantro and avocado.