Garlic & Herb Roasted Turkey Breast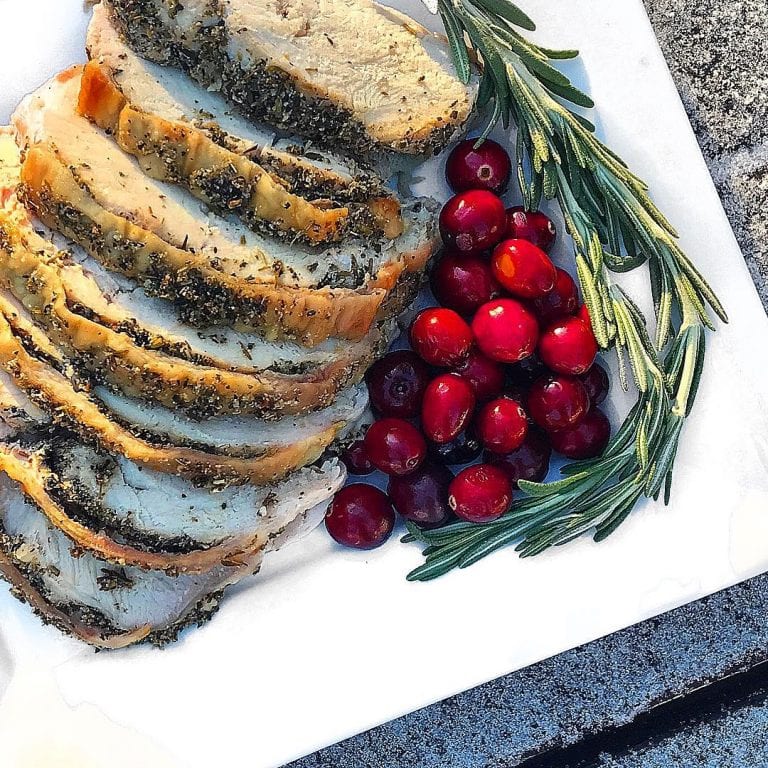 So when I was growing up, we always spent Thanksgiving at my paternal grandmother's house. She lived on a big piece of property near Hemphill, TX, which in my young kid's opinion was the middle of nowhere. But I loved it there. She had a catfish pond and a huge garden where she grew all of her own vegetables, and we spent our days living the country life. Fishing in the pond, picking vegetables, playing in the leaves, and lounging on the porch swing. She even had an old dirt bike which I rode on with my daddy down all the little dirt roads around the property. But one of the best parts -- she had an old jukebox in her house! Be still my dancer's heart. My favorite song on it was Sugar Shack, and I would sing and dance around while she fried catfish on the stove. Sweet, sweet memories. In all honesty, she wasn't the warm and fuzzy kind of grandmother. But she showed love in her own way, spending all her time in the kitchen making our favorites for a big Thanksgiving feast. But the one thing she didn't make was turkey, She didn't like it, so she didn't make it. And that was that. Instead we had roast, and it was weird. Who in the world doesn't eat turkey on Thanksgiving??? The Kares family, that's who. For a whole lot of years. Nowadays we eat turkey for Thanksgiving, but one day I'm going to make a roast just for the heck of it. Maybe play a little Sugar Shack. Dance around the kitchen. This is just a simple roasted turkey recipe, dressed up with a little garlic and herbs to give it that extra burst of flavor. Hope you guys enjoy it.
Ingredients
1 3-

pound

turkey breast

1/4

cup

butter

softened (you can also use ghee, avocado oil, or olive oil)

1

tablespoon

Trader Joe's Herbes de Provence

or poultry seasoning

1

teaspoon

garlic powder

1/2

teaspoon

sea salt

1/2

teaspoon

cracked pepper

*If using a full turkey

just double or triple the butter and seasoning!
Instructions
Preheat oven to 400 degrees.

Drizzle baking pan with oil or fat of choice.

Place turkey breast skin side up in the pan.

Combine softened butter or oil with all the spices.

Loosen skin from top of turkey breast and spread half of spice mixture underneath.

Bake for one hour in oven with a very loose aluminum foil tent.

Remove from oven and spread the rest of the spice mixture on top of turkey.

Bake for another 30ish minutes or until internal temperature reaches 165 degrees.

Remove from oven and let sit for at least 10 minutes before slicing.