Banana bread… Is there anything more comforting and yummy? Not in my house.
I always buy too many bananas. I don't know why, because I know for a fact my kids aren't going to eat them. They're those kind of kiddos who have a fit about food texture, especially with fruits. And no matter how many times I try to convince them that bananas are delicious and such a great on-the-go snack, they just won't buy in. One bite and they make faces. Sigh.
But how can I NOT buy bananas? Every self-respecting mother and nutritional therapist should have bananas in her kitchen. Plus, they're so happy and bright in color. I just can't say no.
So this is why I end up with a ton of overripe and brown bananas. Like every week.
And that, my friends, is why my house smells like banana bread a lot of the time. But I'm definitely not gonna complain about that.
Hope you enjoy this recipe as much as my family does!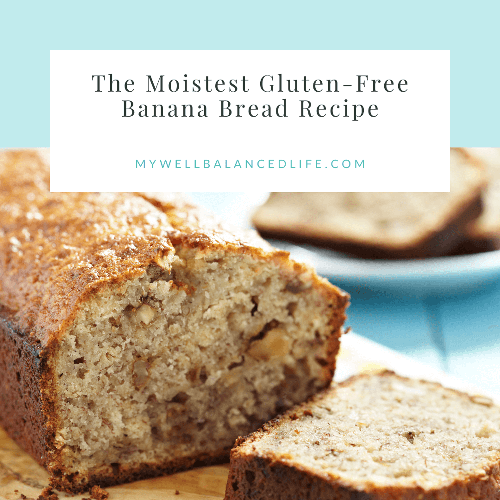 7 Proven Health Benefits of Bananas
1.  Packed with fiber and nutrients
One medium banana (118 grams) is about 105 calories and contains almost no fat. Percentage of the Recommended Daily Allowance (RDA) for these vitamins and minerals in each banana:
Vitamin B6 – 33%
Manganese – 14%
Vitamin C – 11%
Copper – 10%
Potassium – 9%
Magnesium – 8%
Other nutritional information:
Net Carbs – 24 grams

Fiber – 3.1 grams

Protein – 1.3 grams

Fat – 0.4 grams
2.  Promote a healthy gut
Bananas contain:
Pectin

which may help protect against colon cancer 

Resistant starch

which nourishes the healthy bacteria in your gut

Fiber

which is linked to better digestion
Sources: National Institutes of Health (NIH) Article 1, Article 2, Article 3, Article 4, Article 5
3.  Help to control blood pressure
Bananas are a great source of potassium which can help lower blood pressure and reduce the risk of heart disease. They also contain magnesium which is important for a healthy heart.
4.  Contain powerful antioxidants
Antioxidants help reduce damage from disease-causing free radicals and lower your risk of heart disease and degenerative illnesses. (Sources: NIH Article 6, Article 7)
5.  Help you feel full
Bananas contain pectin and resistant starch which are known to reduce appetite and increase the feeling of fullness after meals.
6.  May reduce your risk of kidney disease by up to 40%
Eating bananas 2 or more times a week can reduce your risk for kidney disease between 33% to 40%, depending on how many bananas you eat.
7.  Excellent source of fuel before exercise
Bananas are a quick and easy way to fuel up before, during, and after exercising. They contain easily digested carbohydrates as well as important minerals and antioxidants to help performance and endurance.
So if you're looking for yummy banana recipes the whole family will love, you'll want to try this gluten-free banana bread recipe.
A Couple More Things You'll Want To Know
Busy moms know that batch cooking and preparing meals ahead is the only way to go! So you'll definitely want to know…
Does Banana Bread Need to Be Refrigerated?
In a word, No! Banana bread can be kept at room temperature for up to four days. Otherwise, you might prefer to freeze it in individual slices so it's easy to thaw and serve.
How To Store Banana Bread
This banana bread is best when stored at room temperature.
Wrap the fully cooled loaf tightly in plastic wrap, aluminum foil, or place in an airtight Ziploc® bag.

Store at room temperature for up to three days.

If you notice moisture accumulating in the package, add a paper towel to help keep your loaf dry.
To store it for a longer period of time:
Cool the bread completely.

Wrap snugly in plastic wrap.

Place the wrapped loaf in a freezer bag.

Store in the freezer for up to 4 months.

To serve, place on the counter and allow to thaw to room temperature. Individual slices will thaw in about 30 minutes. Whole loaves may take 2 to 4 hours.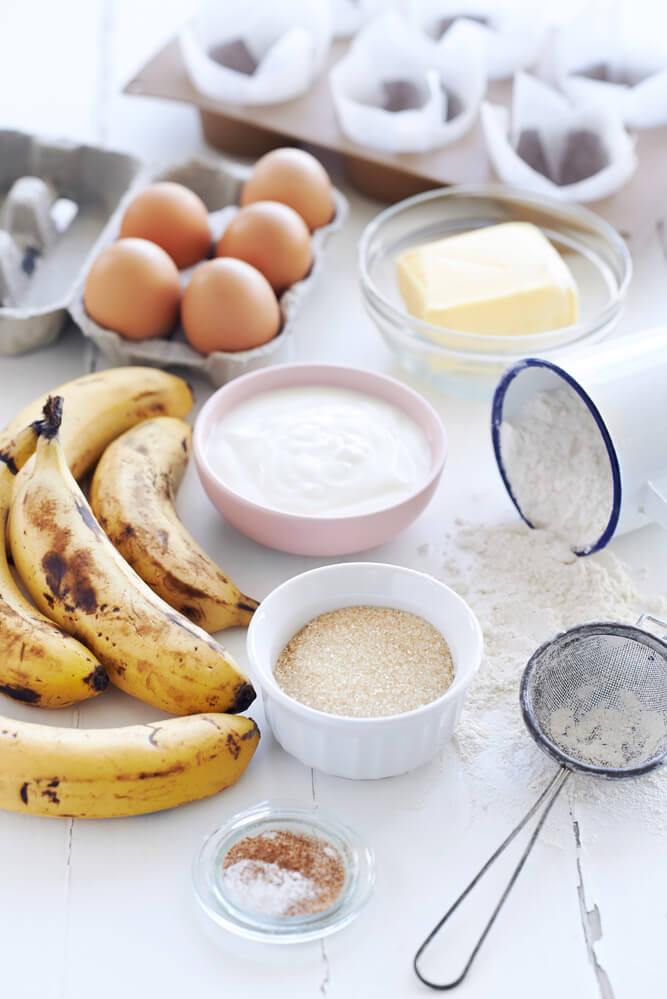 Ingredients
butter
sour cream
eggs
vanilla extract
organic sugar
fine almond flour
coconut flour
baking soda
salt
chopped walnuts
ripe bananas
Moistest Gluten Free Banana Bread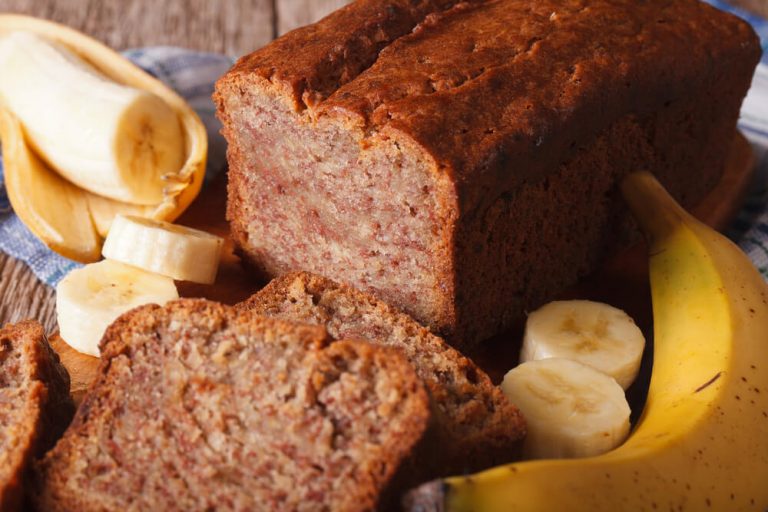 What could be better than banana bread? Moist, gluten-free banana bread that's melt-in-your-mouth delicious on its own.
Ingredients
1/2

cup

butter, melted

1/2

cup

sour cream

1

cup

organic sugar

3

large eggs

1

tsp

vanilla extract

1-1/2

cups

fine almond flour

2

tbsp

coconut flour

1

tsp

baking soda

1/2

tsp

salt

1/2

cup

walnuts, chopped

2

medium ripe bananas, sliced
Instructions
Preheat oven to 350 degrees F (175 degrees C). Grease a 9x5 inch loaf pan. My personal preference is lining the pan with parchment paper for easier removal!

In a large bowl, stir together the melted butter and sugar.

Add the eggs and vanilla, mix well.

Combine the flour, baking soda and salt, stir into the butter mixture until smooth.

Finally, fold in the sour cream, walnuts and bananas.

Spread evenly into the prepared pan.

Bake at 350 degrees F (175 degrees C) for 60 minutes, or until a toothpick inserted into the center of the loaf comes out clean.

Let cool for about 30 minutes, preferably longer.

Loosen loaf around sides and flip onto a cooking rack or serving tray to cool completely. Or lift out of the pan by holding onto parchment paper. (You can even refrigerate it for a while to make sure it's set!)
Nutrition
Calories:
350
kcal
Carbohydrates:
34
g
Protein:
5.9
g
Fat:
23
g
Saturated Fat:
10.2
g
Cholesterol:
107
mg
Sodium:
423
mg
Potassium:
219
mg
Fiber:
1.7
g
Sugar:
29.1
g
Calcium:
44
mg
Iron:
1
mg
Other Recipes You Might Enjoy:
Grain Free Double Chocolate Loaf Cake