July 14 is a day for pasta lovers to get excited about. It's National Macaroni and Cheese Day. And we've found 7 of the most amazing gluten-free macaroni and cheese recipes that everyone will enjoy… even those who are gluten intolerant or have to eat dairy-free!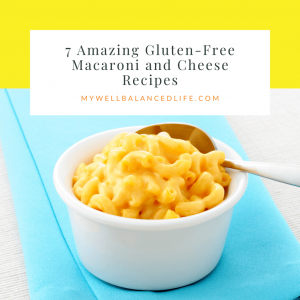 There was a time when eating a gluten-free diet was much more challenging than it is today. Back then, you had to go to a health food store to find gluten-free and dairy-free options. But not any more! You'll be happy to learn that many wonderful gluten-free and dairy-free brands are carried by most grocery stores. So sourcing ingredients is as easy as checking your local Target or Walmart!
And, no one will ever know you've substituted gluten-free or dairy-free ingredients… especially if you follow these pro tips for making the ultimate homemade mac and cheese: 
Select a reliable pasta brand. Barilla is a great choice because it's widely available at most local grocery stores and a favorite among those who eat gluten-free. It stays firm and doesn't get mushy like some other brands. 
You'll want to be sure to use elbow macaroni (as opposed to other pastas) because it holds up well in the thick cheese sauce.
It's important that you follow the instructions for cooking the pasta

al dente

. This means it's cooked but still firm so it has a nice texture. You can avoid overcooking pasta by running it under cool water once it's done. This stops the cooking process and ensures your pasta doesn't come out mushy.
Add a little bit of oil to the pot of water when you're cooking your pasta–it helps prevent it from sticking together.
For the best taste and texture, shred your own cheese. If you're pressed for time it's fine to use pre-shredded cheese. Just know, however, that pre-shredded cheese has additives to keep it from sticking that may affect the quality of your mac and cheese.
With these pro tips, we're ready to get cooking!
7 Gluten-Free Mac and Cheese Recipes Your Whole Family Will Love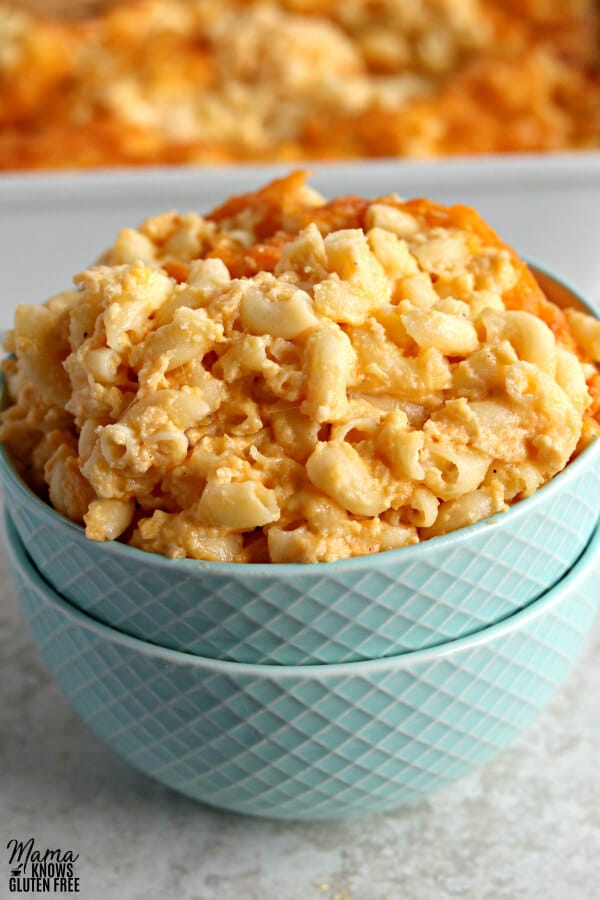 Y'all, to me, the South is synonymous with amazing comfort food. And this dish does not disappoint. It's loaded with three different kinds of cheese and ready, from scratch, in just 30 minutes. A little tabasco and black pepper give it a spicy kick and evaporated milk makes it super creamy. 
Pair it with some collard greens or Swiss chard, cast iron fried chicken, and coleslaw for a perfect Southern meal.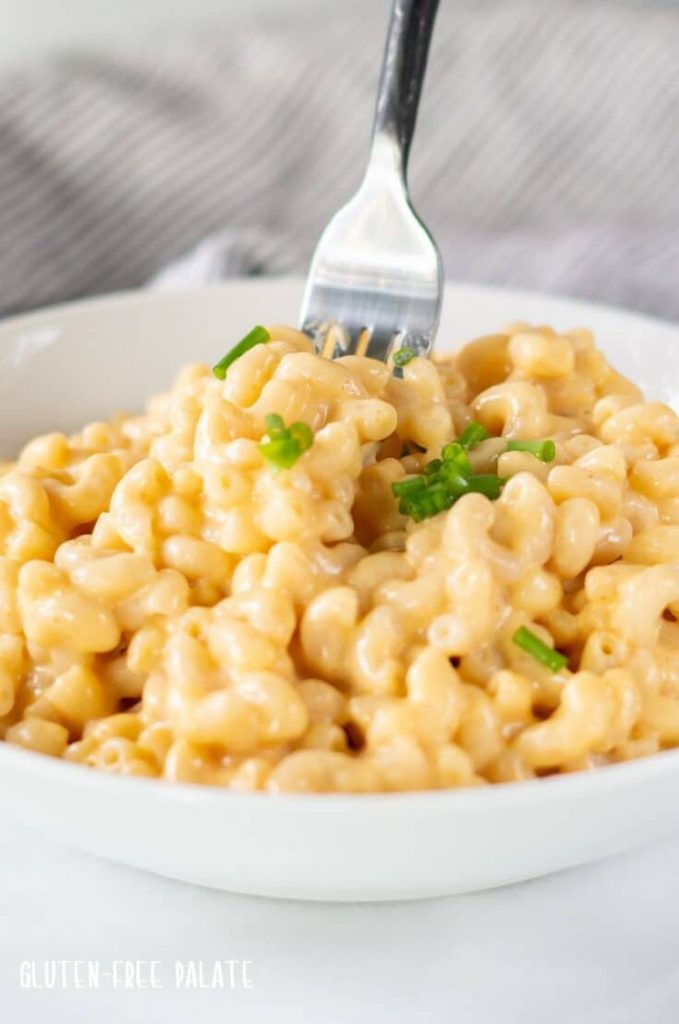 Not a fan of tabasco, but still want some zip in your mac and cheese? We think you'll enjoy this stovetop recipe that gets it's zip from a touch of cayenne pepper and rich, creamy goodness from half and half. Best of all, clean-up is a breeze because this recipe uses just one pot!
Pair it with our gluten-free corndog muffins and berry salad with feta cheese and balsamic vinaigrette for a meal the whole family will love.
Don't let the low fat part fool you! This low-fat recipe is every bit as creamy and rich as recipes that use butter and cream. 
You're going to love how easy it is to create one of the creamiest mac and cheeses you've ever had! Just five ingredients, one pot and about 30 minutes is all it takes to have this creamy goodness on your table.
And, to keep the low-fat healthy goodness going, pair this with a spinach salad topped with honey basil balsamic vinaigrette and berry tart with gluten free shortbread crust for dessert!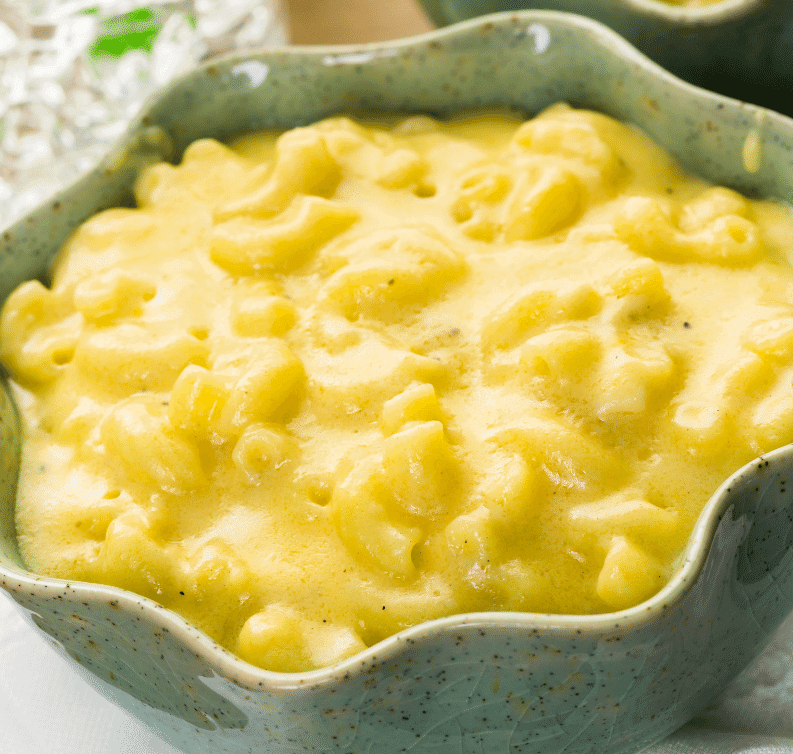 This macaroni and cheese recipe takes a little more time but it's well worth it. A homemade white sauce makes this recipe one of the creamiest we've found. And it can be served from the pot or baked if you prefer those delicious crispy edges.
It pairs perfectly with barbeque ribs, grilled corn, and sliced watermelon for a fabulous summer meal.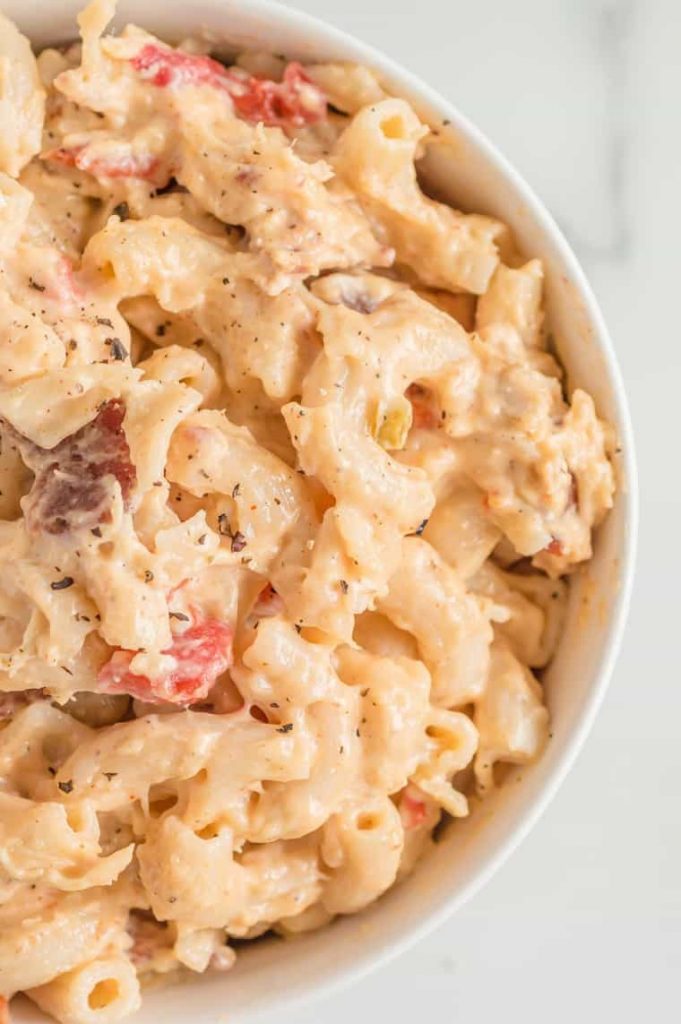 What could be better than warm, creamy mac and cheese? Mac and cheese with BACON!!! We think you'll love this recipe for a heartier meal. I always make a batch of cubed chicken at the beginning of the week for those nights when I just can't bring myself to cook. So this recipe goes together super quick!
Add your favorite tossed green salad or roasted rainbow root vegetables for a satisfying meal.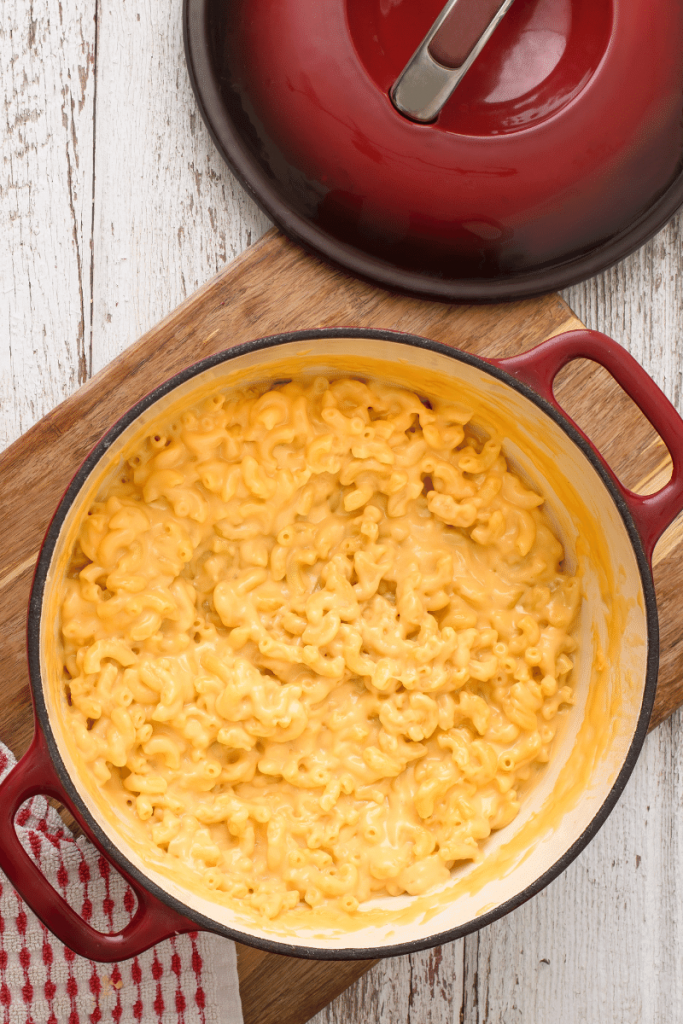 Don't want to dirty a lot of dishes or struggle with straining noodles? Then you'll want to give this recipe a try! We think you'll love this creamy macaroni and cheese that's ready in 15 minutes using just one saucepan.
Pair it with our 30-minute Paleo Chicken Tenders for the ultimate comfort food meal.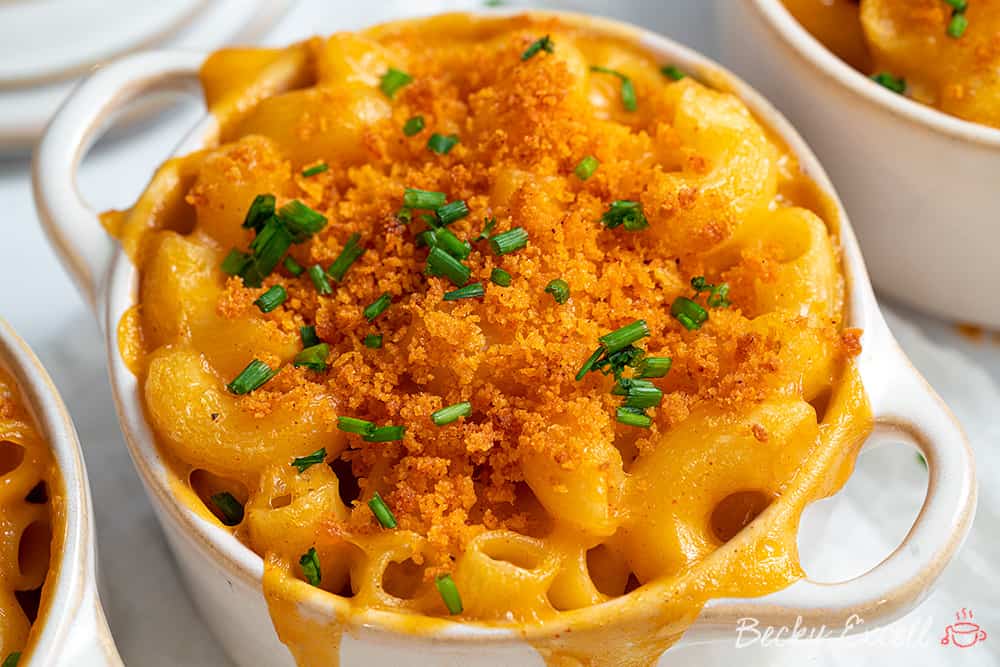 I'll bet you couldn't imagine a gluten-free, dairy-free macaroni and cheese that even vegans could enjoy. Well you've just found it. This vegan-friendly macaroni and cheese recipe gets its goodness from smoked paprika and Applewood smoked vegan cheese.
Pair this with grilled or baked cauliflower and a Spring mix salad for a tasty vegan meal.
How Much Macaroni and Cheese Per Person
Cooking for a crowd is a lot different than cooking for two. So you might be interested to know how much macaroni and cheese you need to make per person to adapt your recipe for additional guests. 
Most of the recipes here serve 6 – 8 people. But if you want to have more servings… or a little less… plan to use 5 ounces of dry macaroni and 2 ounces of cheese per person.
What Goes With Macaroni and Cheese?
It's easy to make macaroni and cheese into a complete and balanced meal. Here are a few ideas of what to serve alongside it.
For a super kid-friendly meal, pair macaroni and cheese with Gluten Free Mini Corndog Muffins.
Or, if you're serving serious meat lovers, consider pairing your mac and cheese with these all-time favorites:
Barbequed chicken, beef, or ribs

Ham

Meatloaf

Sloppy Joes

Smoked sausage

Chili
And, for some awesome desserts for those who want to avoid gluten, try our: