Balsamic Rosemary Chicken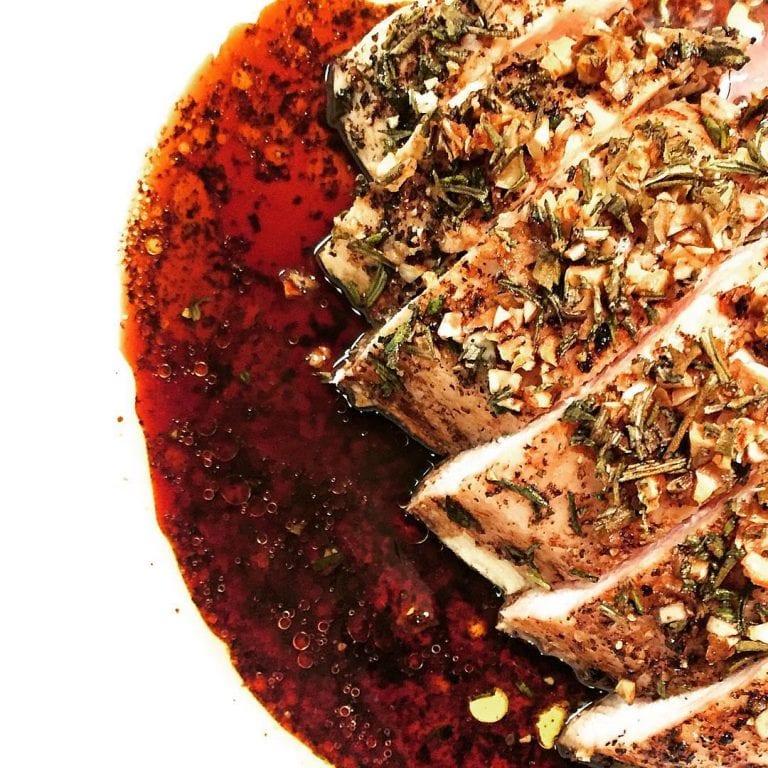 Balsamic Rosemary Chicken. Doesn't that sound fancy??? Well, it's not. This is just one of those crazy easy recipes I stumbled upon a couple of years ago and have adapted a bit over time. It is SO fast and quick, which is basically everything in my world. Feel free to use different herbs to fit your personal tastes ... I typically use rosemary or thyme. And I never ever measure the garlic or herbs! If you like a lot, use a lot. If you don't, use just a little. Same with the salt and pepper. For the record, this chicken definitely is more flavorful the second day. I always make two batches because this stuff is good as a main dish, over salad greens, or in a quick wrap with veggies. It's a perfect thing to have in the fridge for quick lunches or dinners. Balsamic Rosemary Chicken is a staple for us and I hope you guys love it, too! *This dish is both Whole30 and Paleo approved.
Ingredients
1.5

pounds

boneless chicken breasts

Fresh garlic

minced

Fresh rosemary

minced

Sea salt

Cracked pepper

Oil of choice

I use avocado or olive oil

1/4

cup

Balsamic vinegar
Instructions
Place chicken breasts in baking dish.

Drizzle with oil, rubbing it in to make sure chicken is evenly coated.

Grind sea salt and cracked pepper generously over chicken.

Sprinkle fresh garlic and rosemary over chicken breasts. (Amount based on preference)

Roast at 400 degrees for about 20-25 minutes.

Remove chicken from oven and slice into strips.

Pour 1/4 cup balsamic vinegar over fully cooked chicken breasts.

Let sit for 15 minutes before serving to allow balsamic vinegar to soak into chicken, or refrigerate for future use.

Enjoy!