Basic Cauliflower Rice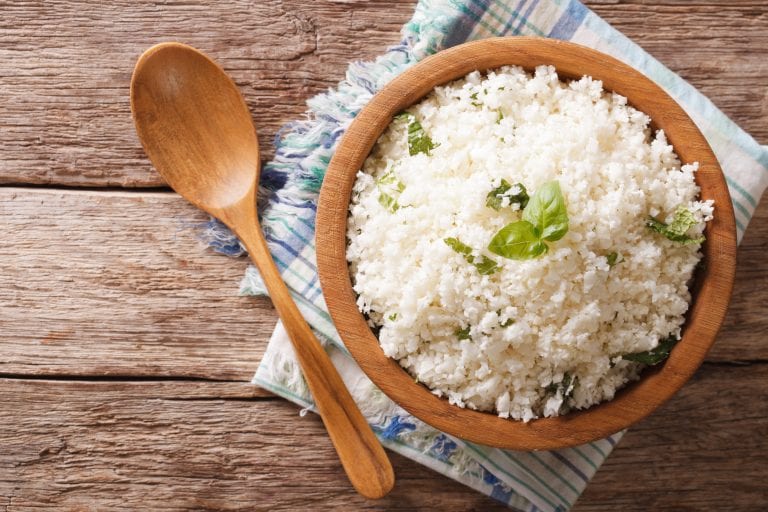 I distinctly remember the first time my husband made cauliflower rice. We were living in Alabama, and he had agreed to do a Whole30 with his sister. Outwardly, I was super supportive! Internally I was rolling my eyes and thinking, "This is going to be totally gross. Gag." Clearly I still have the mind of a 15-year-old girl. Y'all, cauliflower rice is delicious! Okay, it's totally not rice. Like at all. But it's a really yummy seasoned veggie that tricks your body into thinking it's getting a starchy carb. And you can walk away from the table not feeling like you have a brick in your stomach. Fun fact: My 13-year-old prefers cauliflower rice over regular rice. He won't even touch regular rice, not even at a restaurant. BOOM. Be still my nutritional therapist's heart. I'm totally rocking this parenting gig.
Ingredients
1

head of cauliflower head

chopped in food processor or one 16 oz. bag of riced cauliflower (Trader Joe's is the best IMO!)

2-3

tablespoons

ghee

butter, coconut oil, avocado oil, or olive oil

1

small onion

finely chopped

Sea Salt

Cracked pepper

Minced garlic

optional
Instructions
Put cauliflower florets in food processor and chop until course. Avoid using the cauliflower stalk (I think it has a funny taste) and make sure not to chop too finely or your rice will be mushy!

You can totally skip the above step if your lucky self has access to Trader Joe's riced cauliflower.

Heat your fat of choice over medium heat until shimmering, then add the onion (and minced garlic if using). Stir often until onion is soft and translucent.

Add riced cauliflower and stir until well mixed with onions and fat.

Season with sea salt and cracked pepper.

Cover and cook for about 5-10 minutes, stirring occasionally.

Don't overcook because then it's mushy!