Paleo Banana Chocolate Chip Bread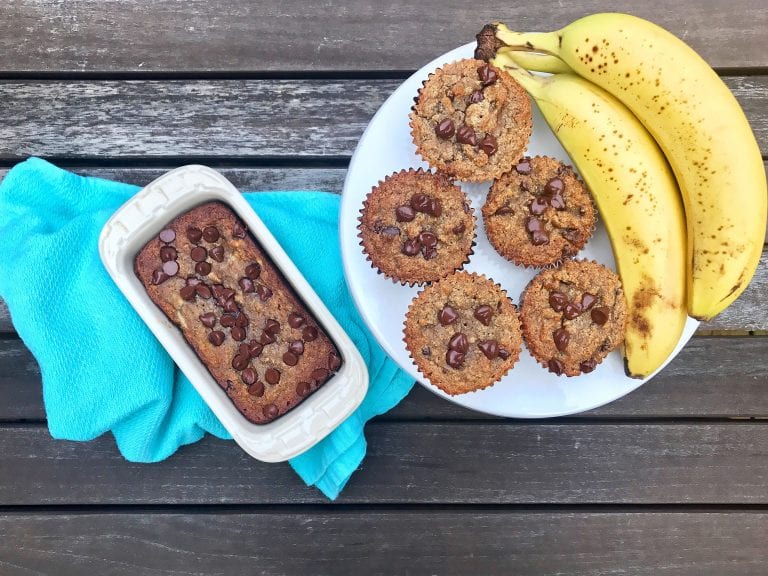 Life has just seemed so heavy lately, you know? So many reminders of how broken our world truly is, and I tend to have a hard time not letting all those emotions weigh me down in my everyday life. And inevitably, I crave comfort food. Eating your feelings is totally a thing. In my Facebook group, I love a good Monday question meme. Recently I asked which banana in the picture represented the perfect ripeness, and the answers were all over the place! But everyone agreed on one thing -- hang on to the super ripe bananas for banana bread. Amen to that. I don't have specific memories of anyone in my family ever baking banana bread (unlike my husband -- his Aunt Katie ALWAYS makes him amazing banana bread with this icing that is TO DIE FOR), but there's something about the smell of this stuff in the oven that makes everything seem right. Give me a fat slice of it slathered with butter and a cup of coffee, and I just feel better about life. Or add chocolate chips. Because seriously ... banana and chocolate really should go together. And what's awesome is you still get to call it "bread" ... hilarious. For the record, I do not like my banana bread dry. At all. So if you prefer it to have a bread-like texture, make sure to leave it in the oven for longer baking time. And even though this stuff tastes yummy right out of the oven, I think it's AMAZING the next day. I like to keep mine in the refrigerator to last longer, then heat it up right before devouring. With a super melty pat of butter on top. Feelings are delicious.
Ingredients
2 1/2 - 3

very ripe bananas

small to medium in size

2

eggs

2

T

melted coconut oil

1/4

cup

maple syrup

1

tsp

cinnamon

1/4

tsp

nutmeg

1/8

teaspoon

ginger

1/8

tsp

sea salt

1

tsp

baking soda

1

cup

almond flour

1/4

cup

coconut flour

1

scoop Vital Proteins Collagen Peptides

totally optional!

Cinnamon and honey crystals on top for decoration

3/4

cup

chocolate chips

I use Enjoy Life!
Instructions
Peel and mash bananas in a bowl.

Add in other wet ingredients and stir.

Stir in dry ingredients and mix by hand or with a hand mixer for about 30 seconds.

Fold in chocolate chips and save a few to sprinkle on top.

Pour into a well greased 9x5 loaf pan (I have the best luck with melted coconut oil!) or muffin cups with liners.

Top with more chocolate chips or topping of your choice!

Bake at 350 degrees for 45-55 minutes for loaf, 20-25 minutes for muffins.

Take out of oven and let cool in pan for at least an hour before removing from pan.

Proceed to eat your feelings.