Simple Paleo Egg Salad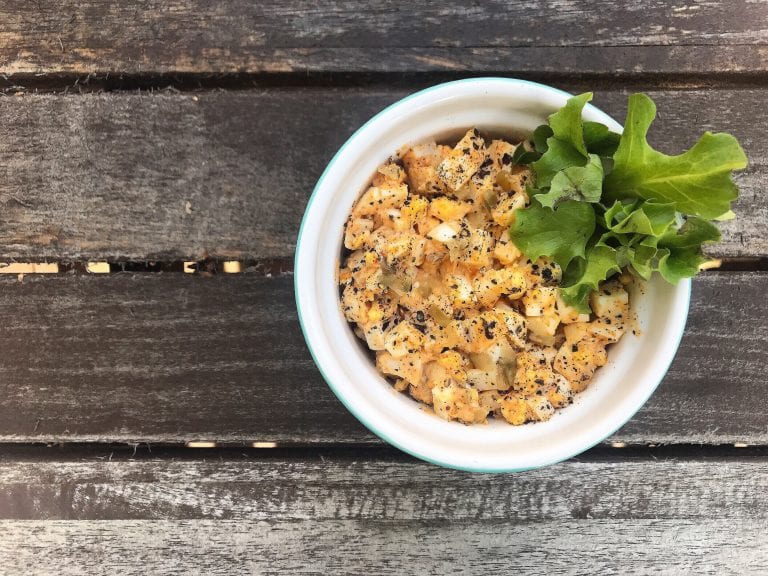 Raise your hand if you grew up eating egg salad sandwiches the week after Easter. And not just regular egg salad, the kind with rainbow colors because the dye seeped through the shells and colored up the whites. Back then I thought it was so cool. Pink egg salad?!? Sign me up. But now I am super grossed out by what kind of weird food dyes and chemicals I ingested post-Easter week. Even though egg salad gets tons of press around Easter, I actually eat this on the regular. We always have hard boiled eggs in our fridge for quick snacks and meals, so I mix up this egg salad almost weekly. I usually eat it with some raw carrots, Siete chips, and a few grapes on the side. YUM. On a side note, this egg salad recipe is a mix of what I grew up with and the kind my husband ate as a kid. Finding an egg salad recipe that worked for both of us was almost as bad as deciding on a church! A Catholic and a Baptist completely at a standstill about egg salad -- sweet or savory? Serious decisions, you guys. So just like church, we compromised and go sweet AND savory. (Yes, I totally compared egg salad to religious faith.) Hope y'all like it! And do me a favor -- don't use the eggs with the food dye. Please.
Ingredients
4

hard boiled eggs

1

tablespoon

paleo approved mayo

I use Chosen Foods Avocado Oil Mayo

1/2

teaspoon

garlic salt

or regular sea salt

1

tsp

finely chopped onion

1

good squirt of regular yellow mustard

think French's

Dash of paprika

1-2

teaspoons

of organic sweet pickle relish

skip for true Paleo or use dill pickle relish
Instructions
Chop up boiled eggs and place in mixing bowl.

Add mayo, pickle relish, garlic salt, paprika, onion, mustard, and cracked pepper.

Mix well.

Y'all, that's it.