Updated: December 10, 2020
Man oh man, this gluten free chicken nacho casserole is Tex-Mex comfort food at its easiest and finest. It's a cross between nachos and chicken enchiladas. So it's also known as the Lazy Person's Enchiladas — because it's just so simple to make but full of tortilla cheesy goodness!
My mom has always made a Mexican casserole that is a huge hit with anyone and everyone. But it's got those canned cream soups … you know the ones. I don't love the ingredients … and they look kinda yucky, too.
So this is my cleaner and gluten-free version! I hope you love it as much as my family does.
When making this casserole, any enchilada sauce will do. You can even make your own! But Siete makes a red enchilada sauce that is my favorite.
Feel free to use grain-free chips or tortillas in place of the corn tortilla chips, if needed.
Not a fan of chicken? No problem! You can substitute ground beef or steak for the meat … or go full vegetarian and just use beans and veggies. Or heck, make it half and half! That's a great way to make everyone happy.
Pro tip: Keep these easy ingredients on hand at all times for those nights when you have to make dinner but YOU CAN'T EVEN. Trust me on this.
Enchilada Sauce
Canned Green Chiles
Leftover Chicken or Beef
Canned Beans (pinto beans, black beans, refried beans)
Shredded Cheese
Tortillas or Tortilla Chips
How To Make Chicken Nacho Casserole
In a 13 x 9 inch casserole dish, layer half of each of the casserole ingredients in this order:
Enchilada sauce
Tortillas or tortilla chips
Meat
Chiles
Beans and/or vegetables
Enchilada sauce
Cheese
Now add a second layer of the ingredients above to the casserole dish.
Bake for 25 to 30 minutes at 350 degrees Fahrenheit.
Slice and serve with your favorite garnishes.
Garnishes
Any garnishes you would enjoy on enchiladas or nachos work well for chicken nacho casserole such as:
Chopped cilantro
Avocado or guacamole
Pico de gallo, diced tomatoes, salsa, or hot sauce
Sour cream
Sliced olives (black or green)
Gluten Free Chicken Nacho Casserole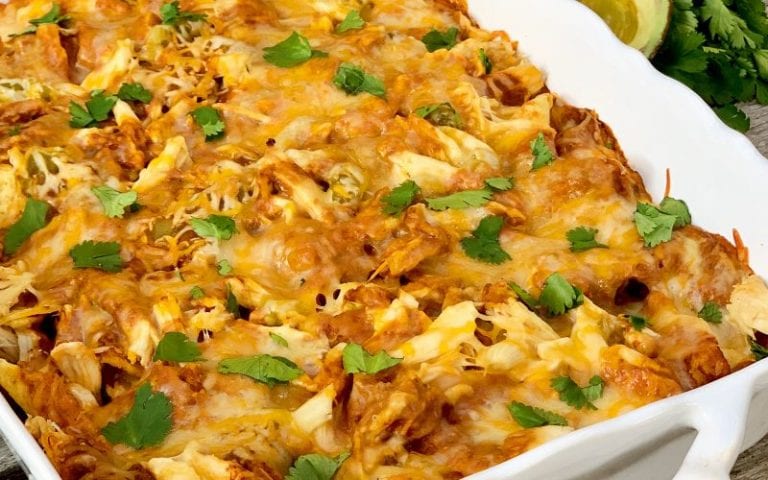 This gluten free chicken nacho casserole is a quick and easy Tex-Mex casserole guaranteed to join your weekly rotation! Mix it up with ground beef or a black bean veggie medley to satisfy all your people.
Ingredients
2

15-oz

jars/cans of enchilada sauce

I use Siete Red Enchilada Sauce!

1

4.5 oz

can of green chilies

Organic tortilla chips

4

cups

shredded chicken

can use ground beef, taco meat, steak, etc.

Organic shredded cheese

at least one bag, but maybe two

Optional: Pinto beans

black beans, refried beans, sauteed veggies
Instructions
Pour 1/3-1/2 of one jar of enchilada sauce on bottom of 9 x 13 casserole dish.

Top with a layer of tortilla chips, gently press down to flatten.

Spread 2 cups of shredded chicken on top.

Spoon out 1/2 can of green chilies on top.

Add any of the optional items (beans, veggies, etc.)

Pour rest of jar of enchilada sauce on top.

Spread a layer of shredded cheese on top.

Repeat steps 1-7 for a second layer.

Bake at 350 degrees for about 25-30 minutes, cheese will be bubbly!

Let sit for a bit and then slice up to serve.

Add personal toppings: avocado, cilantro, sour cream, guacamole, hot sauce, you name it!
Nutrition
Calories:
638
kcal
Carbohydrates:
42.6
g
Protein:
40.4
g
Fat:
34.4
g
Saturated Fat:
14.1
g
Cholesterol:
113
mg
Sodium:
816
mg
Potassium:
386
mg
Fiber:
5.3
g
Sugar:
1.6
g
Calcium:
522
mg
Iron:
3
mg
Related Recipes You Might Enjoy:
Gluten Free (and Super Fast) Migas
Chicken Salsa Verde with Sauteed Vegetables