Paleo Beef Stew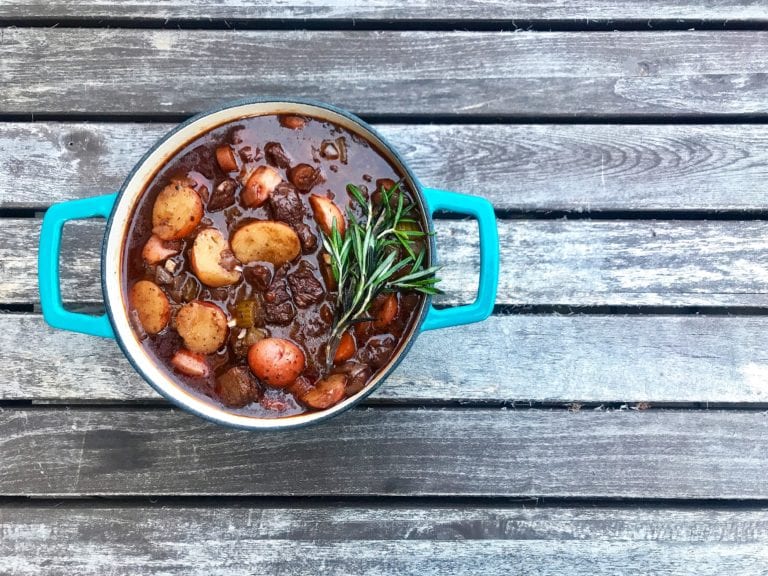 First things first. This is not my recipe ... it's flat out Mel Joulwan's recipe from her amazing blog known as Well Fed. Head there right now and marvel in all the goodness. I've made a lot of beef stews over the years, and this is hands down the best. I switched up the seasoning a bit and made my version a bit thicker and chunkier, but it's that red wine and tomato paste combo that gives it an amazingly rich taste. Everything about this just feels so decadent. Now listen. I know it's spring and everything, but I will eat soup or stew any day of the year. It's just comforting and oh so good! There's just something about letting those flavors simmer for hours on a stove. Did you know digestion actually begins in the brain? We have all that time to see and smell the food, and it stimulates the brain to get ready for this delicious meal. And this recipe is chock full of nutritional goodness. Grass fed beef, lots of root veggies, bone broth, healthy fats .... oh and there's red wine. Did I mention the wine? Y'all, make this. And if you have one of those people in your life that thinks anything paleo is tasteless or boring, serve them this for dinner. I bet they'll be eating their words ... along with a second bowl.
Ingredients
1.5 - 2

pounds

grass fed beef stew meat

Cooking oil/fat of choice

I used ghee

2

tablespoons

+ 1/2 teaspoon arrowroot powder or tapioca starch

1

onion

chopped

2-3

carrots

chopped

3

celery stalks

chopped

1

cup

sliced mushrooms

6

cloves

garlic

minced

2

rounded teaspoons + 1 tablespoon Trader Joe's Herbes de Provence

poultry seasoning can be substituted

3

tablespoons

tomato paste

1

bay leaf

2

cups

bone broth

1

cup

red wine

1

pound

new potatoes

cut into halves or quarters

Sea salt

Cracked pepper
Instructions
In a large bowl, mix arrowroot, 1 1/2 teaspoons sea salt, and 1 teaspoon black pepper. Add the stew meat and toss until well coated.

Heat a soup pot over medium-high heat. Add the cooking fat and allow it to get quite hot, then add the beef and brown on all sides. Let a little crust form each piece. Then remove the meat and set it on a separate plate. (If the meat sticks to the pan, the oil is not hot enough!)

Once the meat is browned and set aside, add the onion, carrot, celery, mushrooms, and garlic to the same pan. (I usually add a bit more cooking fat to the pan for this). Sauté the vegetables until they're soft and golden, about 8-10 minutes. Add the tomato paste, 1 teaspoon salt, 1/2 teaspoon black pepper, bay leaf, and 2 teaspoons of herbes de provence. Cook, stirring often, about 2 minutes.

Pour in the wine and broth and stir to combine. Lastly, add the beef and accumulated juices to the pot. Cover and simmer 1 hour.

Cut the new potatoes and toss them with 1 tablespoon of the herbes de provence. Once the stew has simmered for one hour, add the potatoes to the pot and simmer for another hour. Beef and potatoes should be fork tender.

Uncover and stir 1/2 tsp of arrowroot powder into the stew. Let simmer uncovered for 5-10 minutes.

By this point, your kitchen smells like heaven! Serve in soup bowls and enjoy that amazing flavor. It's seriously so delicious.