Paleo Pumpkin Soup with Spicy Roasted Pepitas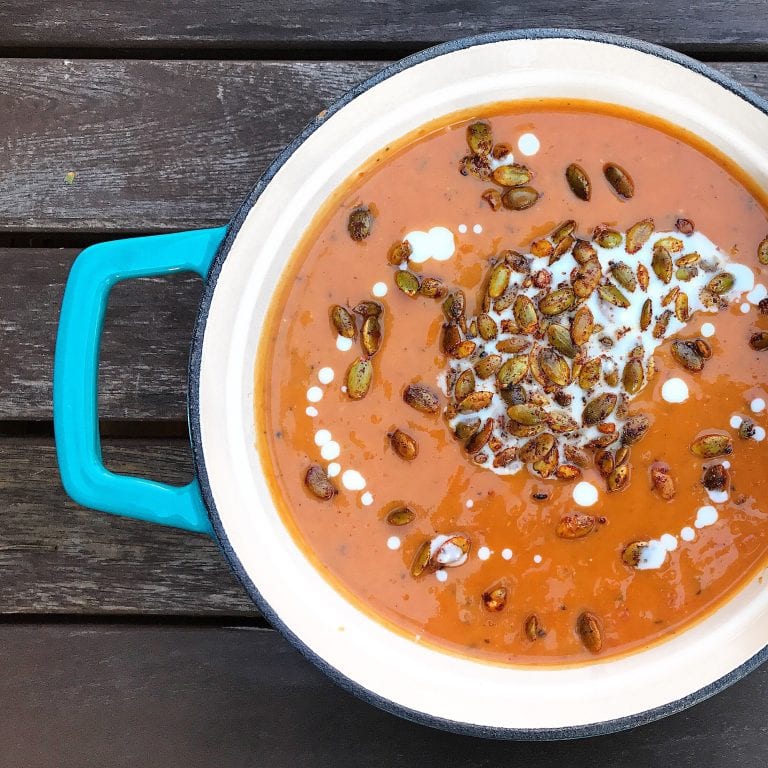 Frost on my windshield in the morning means two things: I need to clean out my heated garage so I can park my car in the warmth AND it's time to bust out all things pumpkin spice. While pumpkin spice is usually associated with sweet coffee drinks and baked goods, I'm here to tell you that it can also swing the other way. I used to turn my nose up at the savory pumpkin and sweet potato dishes, because I love me some sugary pumpkin everything. But then I tried to be polite by taking a few bites of a spicy pumpkin soup at some bridal shower back in the day ... and realized that I've been missing out on a lot of delicious food! Holy cow. YUM. So if you're like me, ignorantly ignoring the savory pumpkin spice goodness, give this recipe a try. Or if you're one of the few people out there who has nothing for the sweet pumpkin spice craze, this might just bring you over to the dark side with the rest of us. It's easy, it's healthy, it's delicious. It can even be Whole30 if you skip the honey. And let's face it -- this soup is a lot sweeter to your adrenals and blood sugar than that Pumpkin Spice Latte at Starbucks.
Ingredients
For the soup:
3

T

ghee or butter

3/4

cup

finely chopped onion

1/2-1

tsp

sea salt

1/2

tsp

dried thyme

1/2

tsp

oregano

1/2

tsp

garlic powder

1/2

tsp

cracked pepper

1

& 1/2 cup bone broth or chicken broth

1 15

oz

can of organic pumpkin

1 14.5

oz

can of fire roasted diced tomatoes

1/8

cup

honey

1

cup

of full fat coconut milk
For the spicy pepitas:
1/2

cup

pepitas

pumpkin seeds

Avocado or olive oil

Smoked paprika

Garlic Powder

Sea Salt & Cracked Pepper
Instructions
Melt ghee or butter in pan over medium heat.

Add onion and spices. Saute until onions are translucent and spices are smelling delicious!

Stir in pumpkin, tomatoes, and chicken broth and bring to a boil.

Simmer for about 15 minutes.

Add honey and coconut milk and heat thoroughly. Remove from heat.

Puree with immersion blender if desired. (Just depends on your desired soup consistency!)

While soup is simmering, toss the pepitas with the oil and spices. (I just sprinkle a little of each on top and toss until they are coated with the spice mixture.)

Toast in the oven at 325 degrees for about 12-15 minutes. Make sure to stir them around a couple of times while cooking.

Serve soup with a drizzle of coconut milk and top with spicy pepitas.