Roasted Rosemary Sausage & Potatoes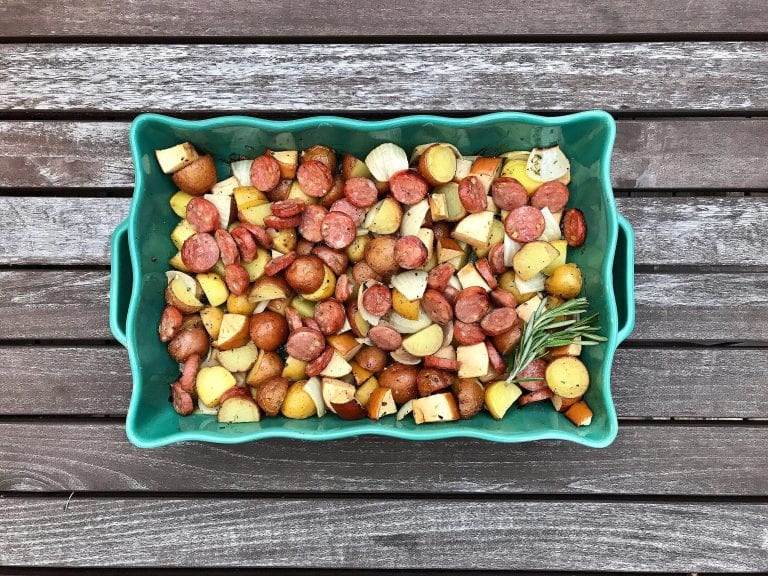 So my husband is doing a Whole30, which is awesome. He asked me if I wanted to do it with him, but yeah ... I don't. Because one of my most favorite things in life is my morning coffee with heavy cream and maple syrup. Two strikes before the day has really even started! But I'm more than happy to cook Whole30 meals and reap some not too shabby health benefits at the same time. Things that make me happy during Whole30 season include potatoes, sausage, and meals that only require one pan. Because if you've ever done a Whole30, you know that you spend most of your time prepping food and washing a crazy amount of dishes. And unless it's a special occasion or holiday, I really don't do fancy meals that contain a zillion ingredients and require a hundred steps. Because this is real life, not a Pinterest board. I've seen dozens of variations of one pan meals incorporating sausage and potatoes. So I just used what I had on hand and BAM -- easy, flavorful, satisfying, and minimal clean up. I think the apple gives a nice hint of sweetness to this dish. And I live with three boys, so any variation of sausage and potatoes is a winner. We serve this over fresh spinach to check off the green and raw requirements, and Travis and John always go for the fried egg on top. And this makes for a nice bit of leftovers, which is also a Whole30 requirement in my book. Again, real life.
Ingredients
1 - 1.5

pounds

of small potatoes

red and/or yellow

3 - 4

chicken apple sausage links

I use Aidells

1

medium onion

cut into large pieces

1

large apple

cut into large chunks

4

garlic cloves

chopped finely

1-2

T

fresh rosemary

chopped finely

Sea salt

Cracked pepper

Oil of choice

I use avocado oil
Instructions
Preheat oven to 400 degrees.

Wash and quarter potatoes, then place them in 9x11 baking dish.

Place onion pieces in dish with potatoes.

Sprinkle rosemary and garlic on top of potatoes and onions.

Season generously with sea salt and pepper.

Drizzle oil over mixture, then toss until all pieces are coated with the oil.

Chop apple into large pieces and spread out on top.

Roast in oven for 25 minutes.

During this time, cut sausage into rounds.

After 25 minutes of roasting, remove from oven and stir. Then place sausage rounds on top and put back in the oven.

Roast for another 30-35 minutes, or until potatoes and apples are tender.

Enjoy!