Steak, Pepper, & Potato Hash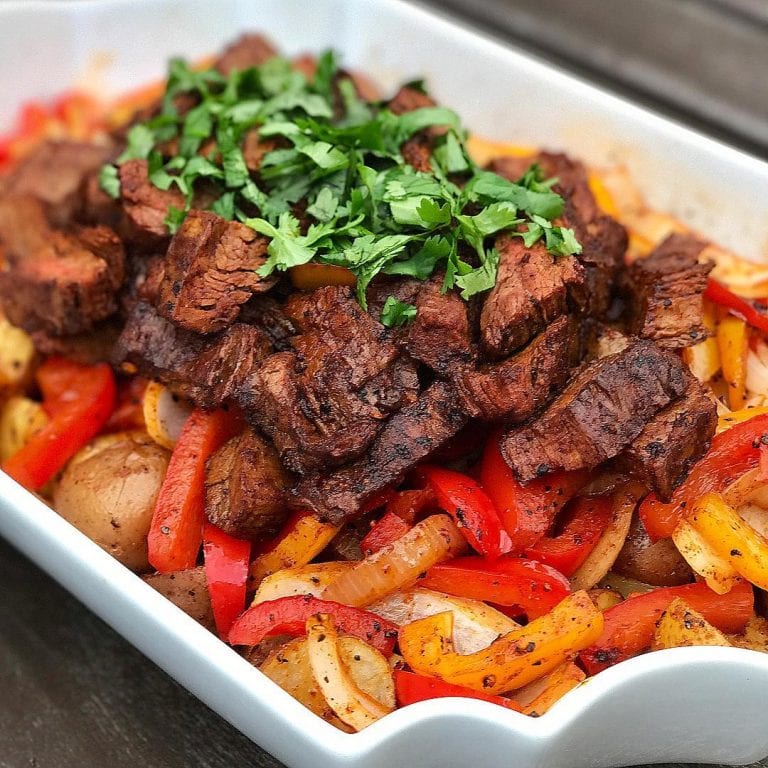 You know how people complain about how hard it is to eat healthy because the food is so blah? Or how people say they could never do a Whole30 or sugar detox because the food is so boring? Well, find a way to make and serve those people THIS meal. Because I'm telling you -- this is one of those dishes that makes you realize REAL FOOD tastes REAL GOOD. And here's the thing. You just can't go wrong with steak and potatoes. Seriously. It just makes everyone happy and looks really tasty. Live I've said before -- I live with a bunch of boys and they don't want fancy. They want hearty food that tastes good. But I'll be honest. What this recipe really shows is how particular I am about each layer of food. Don't be intimidated by the number of instructions! I'm just revealing my Type A personality and being bossy about how I like things done. I like the potatoes baked just right in the oven, I like the peppers and onions sautéed so they are still a bit crunchy, and I like the steak to get some time in the pan with the coconut oil and spices. It just makes the flavors SO MUCH BETTER. So there are a few ways you can make this recipe easier or faster. The potatoes can be cooked in the microwave. Or you can cook the peppers and onions in the oven with the potatoes. And you don't have to give the steak that extra time in the pan. But come on, you guys.
Ingredients
1

flank steak

about 1.5 lbs

2-3

bell peppers

red, orange, or yellow

1

onion

1 to 1.5

lbs

new potatoes

3

T

paprika

2

teaspoons

garlic powder

Sea Salt

Cracked Pepper

Coconut Oil

Avocado Oil

Cilantro for garnish
Instructions
Preheat oven to 400 degrees.

While oven is heating, wash and halve/quarter new potatoes.

Place in baking dish. Drizzle with avocado oil, then toss with sea salt and cracked pepper.

Mix paprika and garlic powder. Pour 1/3 of spices over potatoes and toss.

Put potatoes in oven and bake for 40 minutes or until tender when pierced with fork. Stir halfway through.

While potatoes are baking, drizzle avocado oil on grill pan and heat for a minute or two on high heat.

Salt and pepper each side of the steak, then place on grill pan. Immediately turn heat down to medium and cook on each side for 6-8 minutes. Be careful not to overcook! Steak will cook a bit more in the pan later on.

While steak is cooking, slice peppers and onions into thin slices.

Once steak is finished, put it on a plate and tent with foil to keep warm.

Heat coconut oil in a pan over medium heat. Add peppers and onions, then top with sea salt and pepper. Add another third of the paprika mixture. Stir and saute veggies to desired tenderness then move to a plate.

Slice steak into smaller pieces and put into the pan that just held the veggies. Add the rest of the paprika mixture and move around the pan until coated with spices and cooked to desired wellness.

Remove potatoes from oven.

Top with peppers and onions.

Top with steak.

Top with chopped cilantro.

BOOM.