"Green smoothie? Ugh." "I don't like to drink my meals." "Drink kale and spinach? Oh heck no."
That was 1000% me up until about a year ago. I was up to my eyeballs with candida and leaky gut, so I decided to give the little smoothie hut near my house a try.
And I don't know if I was just ready or if my body was crying out for it, but I am woman enough to admit it — I fell in love with that green smoothie. I even bought a Vitamix, y'all.
I have come to crave and understand the power of this bright green concoction, as there is no easier or faster way to get so much nutrition in one glass. Or mason jar. Because we all know a green smoothie in a mason jar just screams "LOOK AT ME. I am healthy, people!"
And green smoothies are such a fast, easy way to sneak in an extra serving of fruits, vegetables and healthy nutrients into your diet without a lot of hassle. This simple recipe gives you:
2 servings of vegetables
1 serving of fruit
Protein
Vitamins B6, B9, C, E, K, potassium, magnesium, folic acid, iron and calcium (from spinach)
Vitamins A, B6, C, K, calcium, copper, potassium and manganese (from Kale)
Vitamins A, B6, C, E, folate, iron, calcium, zinc, and lots of fiber (from the mango)
What's better is that the vitamins and minerals in this green smoothie drink are highly bioavailable which means that they can enter your bloodstream right away and have an immediate, positive effect on your health and wellbeing.
There are a million smoothie recipes out there, so don't feel tethered to this one. But I will advise you to add more green veggies than you want, less fruit than you want, and make sure to add healthy fats and protein to make it a more balanced meal.
And don't be shy about adding in other stuff — I often add some psyllium husk powder for extra fiber and a scoop of Leaky Gut Revive to help with gut health. Give it a try. You might just surprise yourself. And don't worry, I won't tell anyone.
How to Make A Green Smoothie Taste Good
The first key to a delicious tasting green smoothie is the right ingredients in the right proportions! By mixing delicious fruit flavors you already know and love (like apples, lemons and mangos) with the greens, you may hardly know your smoothie is packed with healthy goodness!
Still not convinced? I get it! Some people have more sensitive taste buds and need to ease their way into dietary changes!
If this sounds like you, then you might start off by making your smoothie with 60% fruits and 40% leafy greens. Then slowly reduce the amount of fruits and increase the amount of greens until you're getting about 2 cups of greens in your smoothie.
The second key to the perfect green smoothie is texture. Let's face it, no one wants to end up with a mouthful of leafy chunks they have to chew their way through.
Using a high powered blender helps ensure smoothie ingredients are blended to the proper consistency and texture!
But, if you want to be extra sure you don't end up with chunks of greens in your green smoothie, blend together the leafy greens and water first! Then add your fruits and blend again until smooth.
If you're on a special diet or counting calories, you may be wondering…
How to Make A Green Smoothie for Weight Loss
Even when on a restricted calorie diet, it's important not to go below 1200 calories per day. Otherwise, your body will begin to think it's starving and will slow your metabolism and conserve energy to protect your vital organs.
A 1200 calorie-a-day diet allows you roughly 400 calories per meal. So at 439 calories per serving, you can still afford to make this healthy green smoothie a part of your daily routine!
Amanda's Favorite Green Smoothie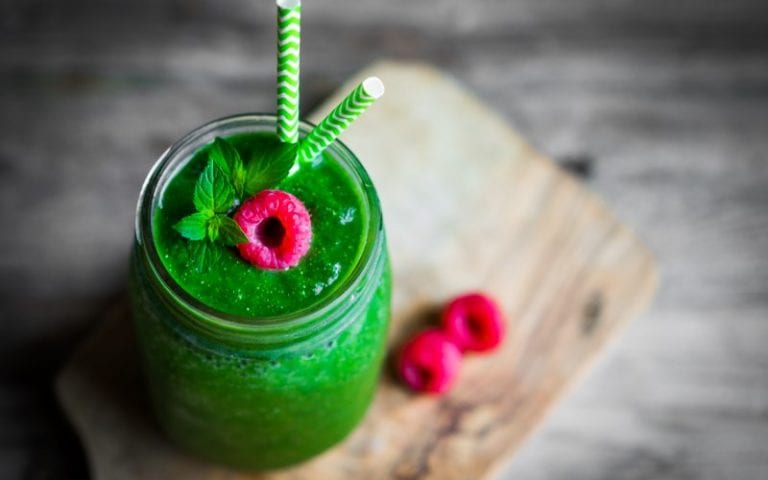 Finally! A green smoothie that tastes as good as it is good for you. You'll love the tropical, fruity flavor and healthful benefits of this delicious green smoothie recipe.
Ingredients
Handful of fresh spinach

Handful of fresh kale

About 2 inches of cucumber slices

1

or 2 celery stalks

1/3 to 1/2

apple

sliced

Generous slice of lemon with rind

1

cup

frozen mango

1

scoop collagen peptides

1

tablespoon

coconut oil

1

tablespoon

MCT oil

1

cup

filtered water

cold
Instructions
Throw all ingredients in a high powered blender.

Blend until smooth, at least one minute.

Pour into a mason jar to appear extra healthy and crunchy.

Sip with a metal or paper straw for added sustainable effect.
Nutrition
Serving:
404
g
Calories:
439
kcal
Protein:
13.8
g
Fat:
28.5
g
Saturated Fat:
26
g
Sodium:
131
mg
Potassium:
923
mg
Fiber:
5.6
g
Sugar:
27.4
g
Vitamin C:
45
mg
Calcium:
162
mg
Iron:
2
mg
Other Recipes You Might Enjoy
Gluten Free Overnight Oats – Fast Heat and Serve Breakfast