I think breakfast egg muffins should be a staple item on every busy mom's menu. Why? Because fixing a healthy breakfast on school mornings is like UGH. Am I right? 
I have great intentions when I go to sleep. But by the next morning, all I can think about is coffee! And, on those cold winter mornings when the sun doesn't even come up until 9:30 am, if at all… it's one MORE reason for COFFEE. 
And then there's the whole "trying to feed a teenager breakfast he will actually eat" thing. Sigh.  But these Breakfast Egg Muffins have gotten the thumbs up from my 7th grader. 
What's really great about these breakfast muffins are they're super easy, you can repurpose your leftovers, and you can sneak in some really healthy ingredients along with stuff like bacon. #momwin 
Seriously, I throw all sorts of stuff into these egg muffins. Potatoes, bacon, sausage, apples, spinach, onions, mushrooms, bell peppers, cheese … maybe I should call these Kitchen Sink Muffins. And remember, you can even add in some collagen peptides for extra protein. Go crazy, moms. The sky is the limit! 
Time to dig through our produce drawers and get some extra nutrients into our kids … and ourselves. Added bonus: You can make these ahead and keep them in the fridge so the kids can heat them up while we sit on the couch with extra large mugs of coffee. #highfive
How To Make Breakfast Egg Muffins
Line muffin tins with parchment paper liners

Beat eggs and milk together until well mixed

Fill muffin cups about half way with meats and veggies

Pour egg mixture over other ingredients in muffin cups until ⅔ full

Bake for 20 minutes or until eggs are set and just starting to brown

Serve with your favorite toppings or accompaniments
Toppings
Shredded cheese or shredded dairy-free cheese substitute

Feta cheese

Sour cream, coconut cream, or cashew cream (soaked cashews blended with vinegar, lemon juice, and salt)

Chives

Avocados or guacamole

Salsa or diced tomatoes
How Long Do Breakfast Egg Muffins Last?
Breakfast egg muffins will keep for 4-5 days when stored in the refrigerator. To reheat, place the muffin on a microwave-safe plate and microwave for 20-30 seconds.
If you want to make a bigger batch ahead and store them longer, egg muffins can be frozen for up to 2 months when properly stored in the freezer. To freeze egg muffins, place them in an airtight freezer bag. Lay flat in the freezer until frozen. To reheat from frozen, transfer muffins to the fridge overnight then microwave for 20-30 seconds on a microwave-safe plate for best results.
No time to wait to thaw your frozen muffins? Remove the breakfast egg muffins from the freezer and wrap in a moist paper towel. Microwave for 60-90 seconds on a microwave-safe plate. Be careful when removing from the microwave as muffins will be hot and steamy.
How Do You Keep Egg Muffins From Getting Soggy When You Reheat Them?
Egg whites and milk have a lot of water that separates when frozen and reheated. If you're finding that your breakfast egg muffins get soggy when you reheat them, here are some options you can try.
Reheat in the microwave at 50% power for double the time. For refrigerated egg muffins you would microwave for 40-60 seconds at 50% power. Frozen egg muffins you would microwave for 90-180 seconds at 50% power.

Use half and half or cream, which have a higher fat content and lower water content, instead of regular milk

Add a bit of gluten free flour to your recipe before baking to absorb some of the liquid
Breakfast Egg Muffins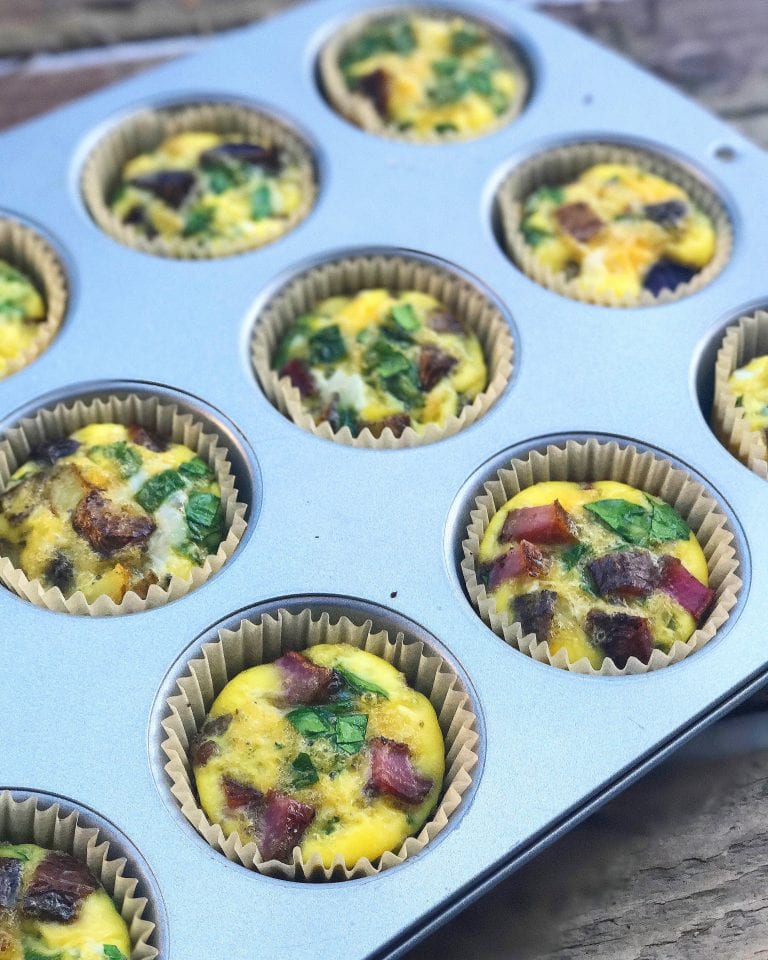 Quick, easy, healthy breakfast for busy school mornings. Added bonus: These Breakfast Egg Muffins can be prepared ahead so your kids can just reheat and eat! #highfive
Ingredients
Muffin filling

bacon, potatoes, sausage, veggies, apples, etc!

8-9

eggs

scrambled

Dash of milk

about 2-3 tablespoons (regular, almond, coconut will work)

Sea salt and pepper to taste
Instructions
Preheat oven to 375 degrees.

Prepare muffin tin with parchment liners (I have better luck with liners than oil spray)

Fill muffin cups about halfway with fillings of choice. (If using meat or potatoes, make sure they are cooked first!)

Scramble eggs in a measuring cup. Add milk and scramble well.

Pour egg mixture into muffin cups until they are about 2/3 full.

Bake at 375 degrees for about 20 minutes, until eggs are set and just starting to brown.

Season with sea salt and pepper if desired.
Nutrition
Calories:
323
kcal
Carbohydrates:
13.7
g
Protein:
19.2
g
Fat:
21.3
g
Saturated Fat:
6.8
g
Cholesterol:
232
mg
Sodium:
517
mg
Potassium:
602
mg
Fiber:
2.5
g
Sugar:
3.5
g
Calcium:
63
mg
Iron:
2
mg
Other Recipes You Might Enjoy:
Gluten Free Mini Corndog Muffins
The Easiest Paleo Muffins Ever!