Updated: November 13, 2020
This Honey Roasted Brussels Sprouts with Bacon and Sweet Potatoes recipe is the easiest thing to make. EVER. We eat a variation of it every week, using whatever vegetables we have on hand… sweet potatoes, carrots, parsnips, Brussel sprouts, beets, broccoli, whatever! It's all super easy, delicious, and healthy too!
And… it's a great way to sneak vegetables into your kids' diets. The little bit of added honey makes the vegetables even more palatable. And then bacon always makes everything taste better, right? Plus it gives you more fat … and I'm always a fan of adding fat to our diets. 
This is a flavorful, healthy twist on a favorite Thanksgiving side dish. Why not ditch the candied yams or sweet potatoes and try this recipe instead? You can make it with just the sweet potatoes if you don't like to mix your veggies. You can even skip the bacon. 
But let me tell you… we love Brussels sprouts, and I insist on sneaking in more green veggies whenever possible. Plus, we do NOT do the traditional green bean casserole because I. CANNOT. Never have, never will like green bean casserole. 
Roasting the bacon with the veggies gives it more of a chewy texture. So if you want crispy bacon, pan fry it on the stove while the veggies are cooking and then just sprinkle it on top of your finished dish! YUM.
If you've never eaten Brussels sprouts, you may be wondering…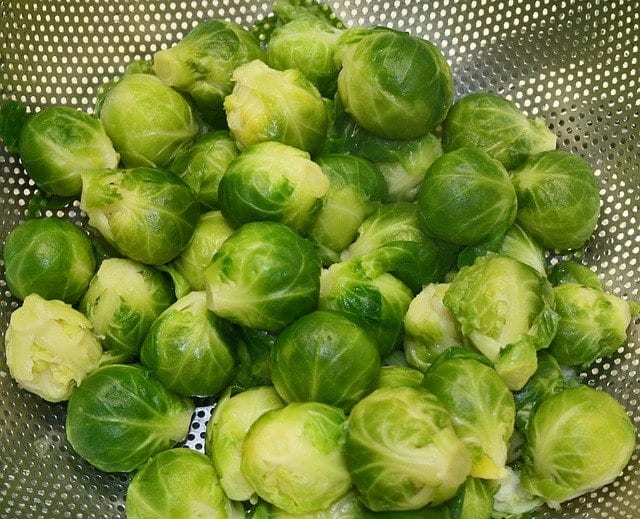 What Do Brussels Sprouts Taste Like?
Brussels sprouts are actually a type of cabbage that gained their popularity and probably their name from Brussels, Belgium. So they taste very similar to other cabbages like those used in coleslaw or sauerkraut. They have a pungent, sometimes bitter, flavor that comes from a chemical (glucosinolates) they produce as part of their natural defense system against insects and animals that might try to eat them. 
Don't worry! They're completely safe for people to eat and packed with all kinds of health benefits.
Did you know that ½ cup of raw Brussels sprouts is only 19 calories? It's true! And look at some of the other nutrients it contains:
1.5 grams of protein

0.1 grams of fat

3.9 grams of carbohydrates

1.7 grams of fiber

ZERO cholesterol

Vitamin K – 87% of the recommended daily allowance (RDA)

Vitamin C – 50% of the RDA

Vitamin A – 14% of the RDA

Manganese – 8% of the RDA

Folate – 7% of the RDA
Vitamin K helps your blood to clot and your muscles and bones to use and retain calcium.
Vitamin C is an important antioxidant that supports your immune system, helps your body repair damaged tissues, and helps you to absorb iron.
Manganese is an essential nutrient that helps our bodies process cholesterol, carbohydrates, and protein.
Folate is used to make red and white blood cells, convert carbohydrates into energy, and produce DNA and RNA.
Brussels sprouts also contain small amounts of vitamins B-1 (Thiamin), B-2 (Riboflavin), B-3 (Niacin), B-5 (Pantothenic acid), B-6, E, and minerals like calcium, magnesium, phosphorus, iron, potassium, zinc, copper, and selenium.
How Long Do Brussels Sprouts Last?
If you buy or harvest your Brussels sprouts when they are green and very firm, they will last up to 2 weeks in the refrigerator.  To extend their useful life, they can be blanched and stored in the freezer for up to 16 months.
Avoid Brussels sprouts that have yellow or brown leaves or are mushy or moldy.
Of course, the big question when you're planning to serve a new recipe is…
How Many Brussel Sprouts Per Person?
The average serving size is ½ cup of raw Brussel sprouts, ⅔ cup for big eaters. Because Brussel sprouts vary in size, the number of sprouts will vary too. So, when shopping for Brussel sprouts, I always like to err on the side of having a little too much (rather than not enough) and buy ½ pound of Brussel sprouts per person I'll be serving if Brussel sprouts will be the only vegetable I'm serving!
As I was preparing this article, I came across this handy resource from Michigan State University Extension called "How Much Should I Buy?". It's a guide that tells you how much fruit or vegetables to buy for cooking.
How To Cook Brussels Sprouts
Brussels sprouts can be sauteed, roasted, steamed, braised, or grilled on the barbeque. My personal favorites are roasted or grilled Brussels sprouts.
To be fair, I do need to give you a little forewarning here. Similar to cabbage, cauliflower, and broccoli, Brussel sprouts can cause smelly gas (toots and burps) for those who aren't accustomed to eating them. So you may want to ensure that your guests have a good sense of humor about such things, your home is well ventilated, and offer peppermint tea after the meal.
Honey Roasted Brussel Sprouts with Bacon & Sweet Potatoes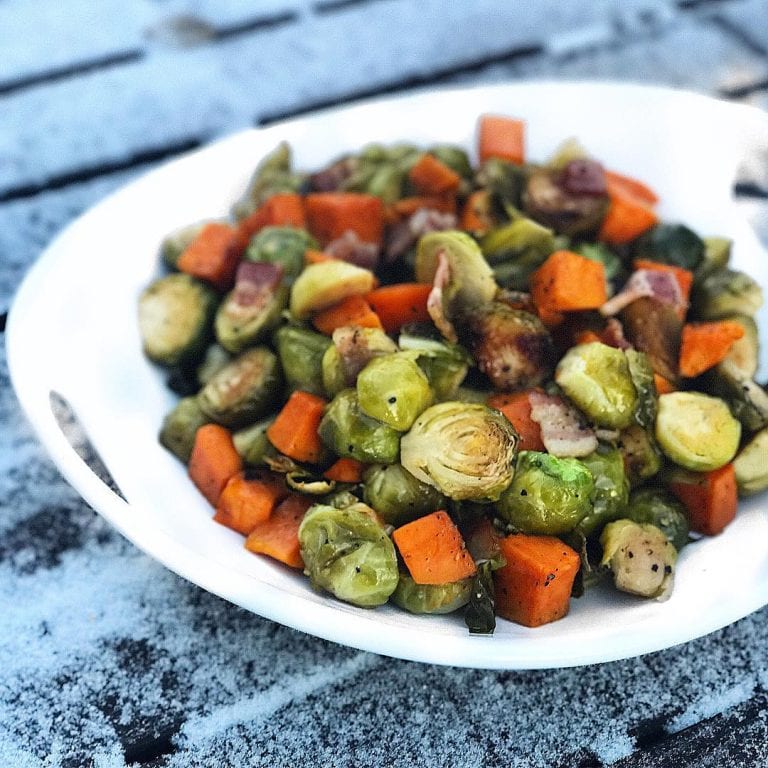 This Honey Roasted Brussel Sprouts with Bacon and Sweet Potatoes is so delicious even picky eaters will love it. It's the easiest recipe EVER and cleanup is a breeze!
Ingredients
1 1/2

pounds

brussel sprouts

trimmed and halved

2

medium sweet potatoes

cubed

5

slices

bacon

cut into small pieces

Raw honey

Oil of choice

I use avocado

Sea salt

Cracked pepper
Instructions
Preheat oven to 400 degrees.

Combine brussel sprouts and sweet potatoes together in baking pan. (I use a jelly roll pan so veggies can spread out and cook more evenly.)

Drizzle with oil and raw honey, and top generously with sea salt and pepper.

Stir to combine.

Place bacon pieces on top. (If you prefer your bacon crispy, I would pay fry it and sprinkle it on top after veggies are roasted.)

Roast for 40ish minutes, stirring halfway through. Vegetables should be fork tender.
Nutrition
Serving:
1
cup
Calories:
239
kcal
Carbohydrates:
25.33
g
Protein:
7.31
g
Fat:
13.6
g
Saturated Fat:
0.632
g
Polyunsaturated Fat:
0.838
g
Monounsaturated Fat:
3.322
g
Sodium:
532
mg
Potassium:
677
mg
Fiber:
5.7
g
Sugar:
11.32
g
Vitamin A:
8780
IU
Vitamin C:
102.9
mg
Calcium:
65
mg
Iron:
2.12
mg
Other Recipes You Might Enjoy:
Roasted Rainbow Root Vegetables
Roasted Rosemary Sausage and Potatoes