Paleo Strawberry Rhubarb Almond Muffins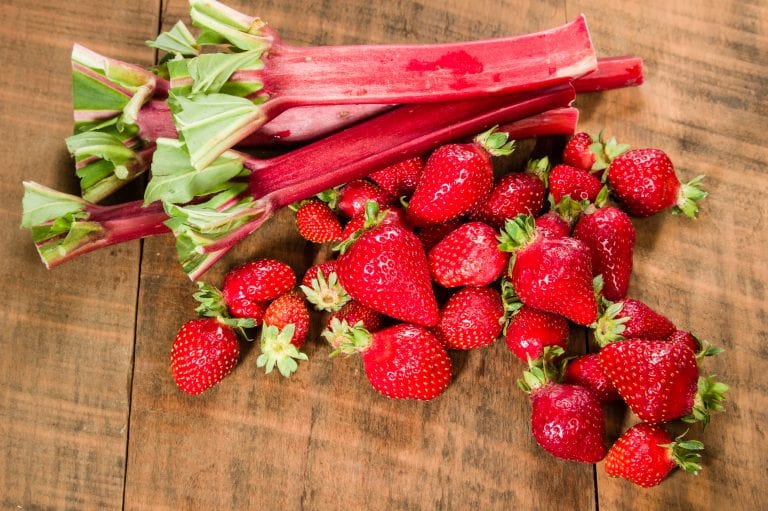 If you don't follow me on Facebook or Instagram (please do!), then you missed the big news that our new backyard is full of rhubarb. Like more rhubarb than one person can possibly use EVER. Considering this new discovery along with the recent Coconutgate of 2017, I felt compelled to experiment with this newfound item and incorporate my favorite so called terrible saturated fat. Don't get me started.. Confession: I've never seen or touched fresh rhubarb before this week. It's so pretty! The leaves are ginormous (and poisonous so keep them away from your pets or adventurous toddlers). You just pull it from the ground, snap off the leaves, wash it and cut it up. It looks like celery, but much girlier with its pretty hot pink color. So anyway, I threw all these ingredients together and hoped for the best. And y'all. These suckers came out of the oven delicious on the very first try. I know. I can't believe it either. I am a sucker for anything with almond extract -- SO. MUCH. YUM. These muffins taste like brunch to me. Next time I make them, I'm baking them in individual ramekins and serving some savory eggs and bacon with them. Maybe for dinner tonight. Because breakfast for dinner is always a winner.
Ingredients
2 1/4

cups

finely ground almond flour

1/4

cup

coconut flour

1/2

tsp

sea salt

1/2

tsp

baking soda

1/2

tsp

cinnamon

2

eggs

1/3

cup

coconut oil

1/3

cup

maple syrup

1

tsp

vanilla

1/4

tsp

almond extract

I always add a bit extra!

1

cup

chopped strawberries

1/2

cup

chopped rhubarb
Instructions
Preheat oven to 350 degrees.

Combine almond flour, coconut flour, sea salt, baking soda, and cinnamon in large mixing bowl. Set aside.

Put coconut oil in a glass bowl and microwave until melted. (Or melt over stovetop)

Add maple syrup, eggs, vanilla, and almond extract. Stir until combined.

Pour wet ingredients into dry mixture. Just use a large spoon to gently combine mixture.

Fold in the strawberries and rhubarb.

Pour mixture into paper muffin cups of a regular sized 12-cup muffin pan.

*I sprinkled a bit of raw cane sugar on top! 'Cause it's pretty.

Bake for 15-20 minutes or until a toothpick inserted comes out clean.

Let sit for a bit and then dig in!
Nutrition
Serving:
54
g
Calories:
115
kcal
Carbohydrates:
10.39
g
Protein:
1.71
g
Fat:
7.78
g
Saturated Fat:
5.64
g
Polyunsaturated Fat:
0.39
g
Monounsaturated Fat:
1.2
g
Trans Fat:
0.01
g
Cholesterol:
103
mg
Sodium:
120
mg
Potassium:
88
mg
Vitamin A:
88
IU
Vitamin C:
7.5
mg
Calcium:
36
mg
Iron:
0.57
mg