Maybe you think like I used to… that you can't enjoy chicken thighs and maintain a healthy, lean body.
Can we just take a minute and mourn all the chicken skin I avoided for at least 15 years of my adult life? Sigh. 
All those years of boneless, skinless chicken breasts because heaven forbid I actually eat fat. It's seriously SO sad. But don't worry, I'm making up for a lot of lost time. 
There's this grocery store pretty close to my house. I live on the military base up here in Alaska, but the closest store where I can get high quality meat is in a shady neighborhood right outside the gate. 
(Military peeps — why oh why are the areas outside of every base so incredibly sketchy???) 
Anyway, it doesn't draw the most affluent clientele, but it carries really great stuff. And that's where I pretty much get all my organic, free range and grass fed meats for 50% off because they have to get rid of it before it goes bad. Y'all — I buy ALL of it because hello, it's cheaper than Costco! My freezer is ridiculous.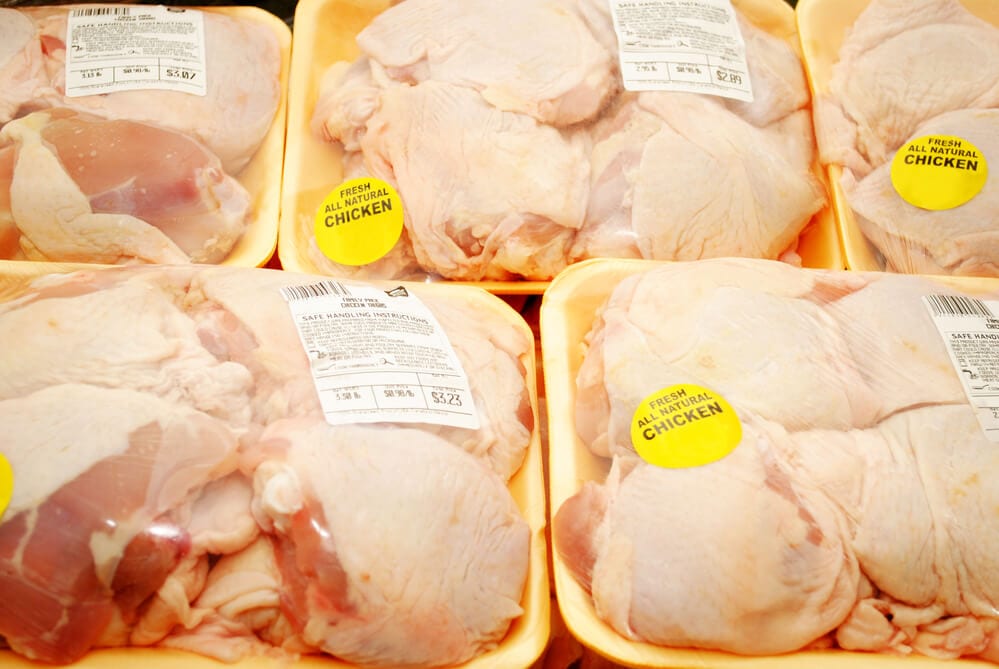 So that's how I ended up with a bunch of bone-in chicken thighs with the skin. And I was determined to make that skin crispy! Because if you're going to eat chicken with the bones, then you want it to feel like awesome fried chicken, AMIRIGHT?! 
 
Why Choose Thighs With Bone In and Skin On?
The bones and skin actually keep the thigh meat from drying out during cooking and improve its flavor and texture, according to the posh cooking magazine Food and Wine. It means you'll have to cook the meat a little longer than the boneless, skinless version. But I think it's totally worth it for moist, tender chicken.
The big dilemma a lot of people have when it comes to cooking chicken thighs is…
 
What to Season Chicken Thighs With
Unfamiliar with what seasonings to use, a lot of people chicken out and opt to just use salt and pepper. But there are a surprising array of spices that make chicken taste wonderful including:
Garlic

Onions

Lemon

Oregano

Rosemary

Sage

Thyme

Lemongrass

Ginger

Tarragon

Paprika
Even the oil you choose to marinate or fry your chicken in can enhance the taste. If you're in the mood for Asian inspiration, consider using sesame oil. Want to turn up the heat? Consider some Mongolian hot oil!
For this recipe, I chose to use Rosemary which is a stronger spice with a lemony-pine flavor.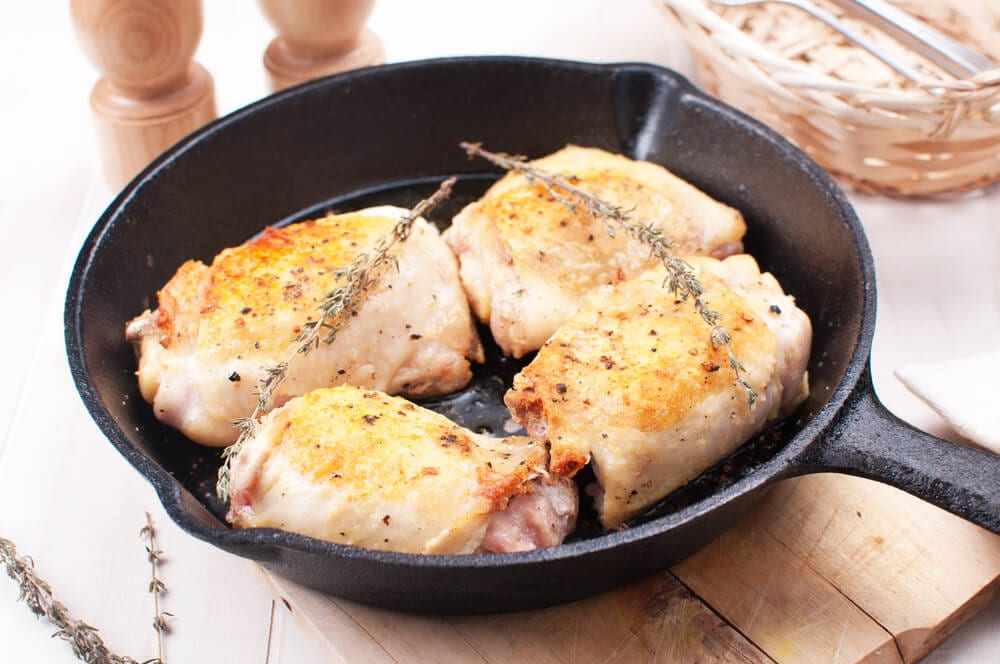 And, when cooking any chicken, it's always important to ensure it's thoroughly cooked. So you're probably wondering…
 
Cooking Times For Chicken Thighs
Bone in, skin on chicken thighs should cook 12 to 15 minutes per side, depending on the size of the thighs.
Boneless chicken thighs cook much quicker and should cook 7 to 10 minutes per side, depending on the size of the thighs.
Regardless of whether you cook bone-in or boneless chicken thighs, you want to ensure your meat is thoroughly cooked.
At What Temp Are Chicken Thighs Done?
Dark chicken meat, like the thighs and drumsticks, contain a lot of connective tissue (rich in collagen) which tends to make the meat kind of rubbery… until… it's heated to the proper temperature.
When the internal temperature reaches 175 to 180 degrees, something magical happens to dark chicken meat. The collagen in the meat breaks down and the thighs become tender and juicy!
Even if the meat still looks a little pink… trust me… at 175 to 180 degrees, your chicken thighs will be done to perfection!
I worried about two things with this pan fried chicken recipe — burning the garlic and dodging the splattering hot oil. But, that garlic just turns into crispy goodness, and I ordered a splatter screen on Amazon while the chicken was cooking. Because it was either that or miraculously grow longer arms before I cook this again.
At this point, you're probably thinking about shopping and wondering about serving sizes like…
How Many Chicken Thighs Per Person and How Much Should I Buy?
If you're like me, you prefer having leftovers instead of not cooking enough. So, because the size of chicken thighs can vary a lot, I usually plan on two thighs per person.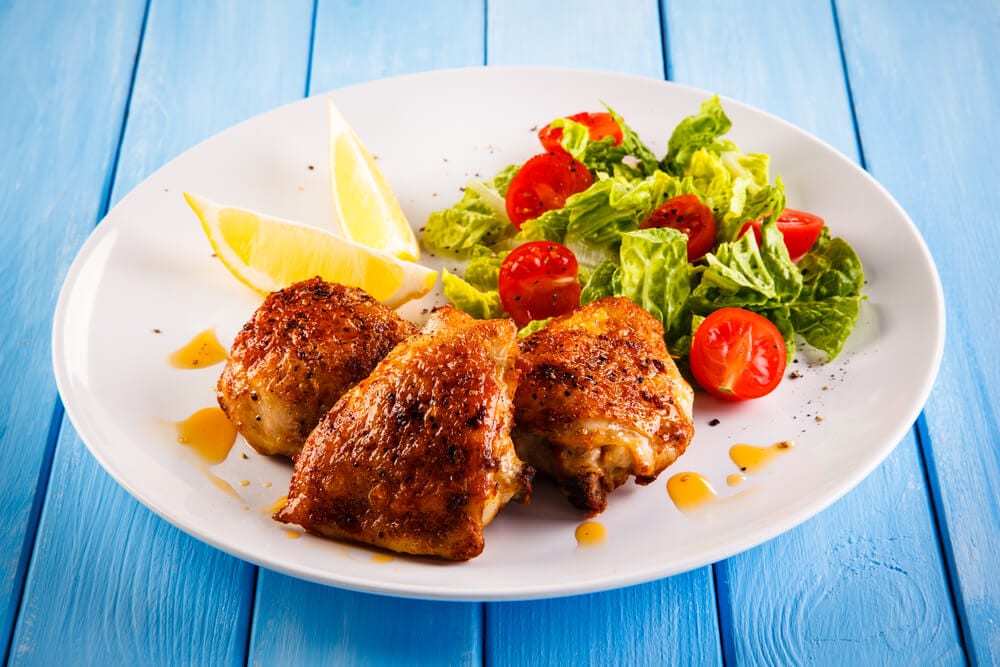 According to The Spruce, "The average package of four chicken thighs will weigh approximately 1 1/2 pounds." And they recommend planning on one chicken thigh for kids and light eaters, and two chicken thighs for bigger appetites.
Crispy Garlic Rosemary Cast Iron Chicken Thighs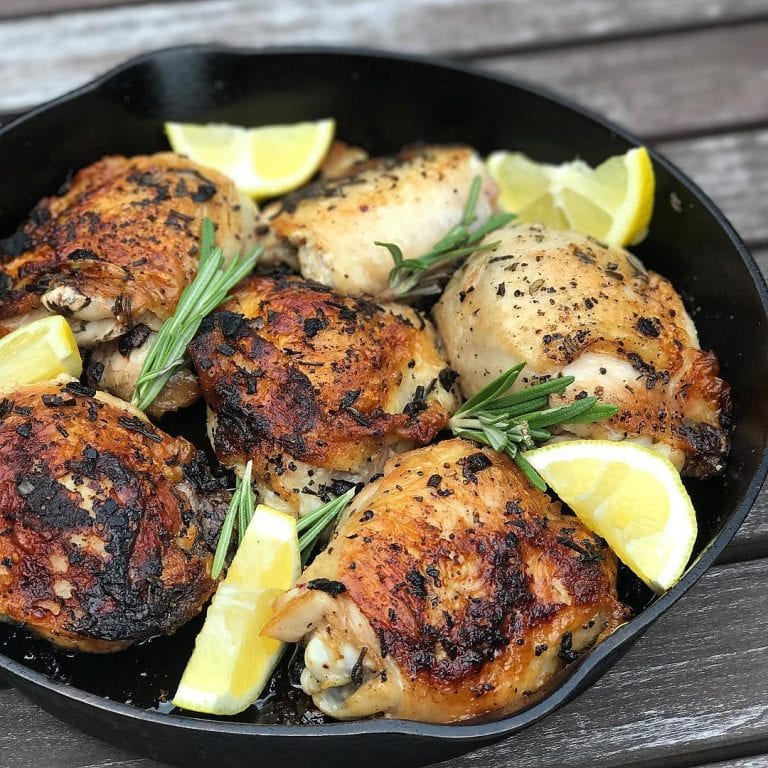 This stove top fried chicken recipe is a dream if you're doing Whole30! Crispy chicken that has a ton of flavor and makes you feel like you're diving into a bucket of Colonel Sanders' specialty. Serve it up with some roasted new potatoes and something green. And make sure to have extra napkins on hand because this chicken is SO juicy!
Ingredients
6-8

bone-in chicken thighs with skin

Oil

I use avocado oil or coconut oil

6-8

garlic cloves

chopped (one per chicken thigh)

3-4

Tbsp

of fresh rosemary

chopped

Sea salt

Cracked pepper

1

Fresh lemon

cut into slices
Instructions
Season both sides of chicken thighs generously with sea salt and pepper. Set aside.

Place chicken in a bowl with some of the oil and all of the garlic and rosemary. Stir to coat.

Drizzle and heat oil in cast iron skillet or pan over medium high heat.

Place chicken thighs, skin side down, in the skillet. Leave and let cook for 15 minutes. (This would be a really good time to use a splatter screen!) This ensures you have perfect, golden brown chicken with delicious crispy skin.

Turn chicken thighs over and cook for an additional 10-15 minutes. (I'm a cut into it and make sure it's done kind of girl so I want to be sure the juices run clear, but you're looking for an internal temp of 175 to 180 degrees.)

Remove from heat and squeeze lemon juice on top of chicken.

Let sit for about 5 minutes and then serve.
Nutrition
Serving:
2
thighs
Calories:
158
kcal
Carbohydrates:
3.7
g
Protein:
15.6
g
Fat:
8.7
g
Saturated Fat:
2.4
g
Cholesterol:
55
mg
Sodium:
342
mg
Potassium:
165
mg
Calcium:
22
mg
Iron:
1
mg
Other Recipes You Might Enjoy:
Gluten Free Chicken Nacho Casserole
Paleo Chicken Marsala
Balsamic Rosemary Chicken