Updated on November 12, 2020
Well, apparently I've been making Paleo stuff before I even knew Paleo was a thing. And if you're looking for a tasty, Paleo, gluten-free salad dressing, you're gonna love this Honey Basil Balsamic Vinaigrette recipe!
I think this started out as a marinade recipe I stumbled upon in my first year of marriage, but I just thought it would be better as a salad dressing. I made a few tweaks, and now I've been making it for about 16 years! 
I love, love, love fresh basil. And the combination of fresh basil with the tangy balsamic vinegar plus a little bit of sweetness from the honey makes this a family favorite. Pour it over salad greens, fresh tomatoes and mozzarella, or grilled chicken and it just bursts with flavor. I think it tastes best fresh out of the blender, but it will keep for up to a week in the refrigerator. And yeah, you can use it as a marinade, too. 
If you've never cooked with basil, you may be wondering…
What Does Fresh Basil Look Like?
Fresh basil is a tender, green, leafy herb in the mint family that is used in a number of cuisines from Africa, Asia, and Europe. But you're probably most familiar with Italian pesto sauce or Thai basil chicken.
There are more than 60 varieties of basil, and each one looks and tastes a little different. But the two most common varieties you'll find in the U.S. are sweet basil and Thai basil.
Sweet Basil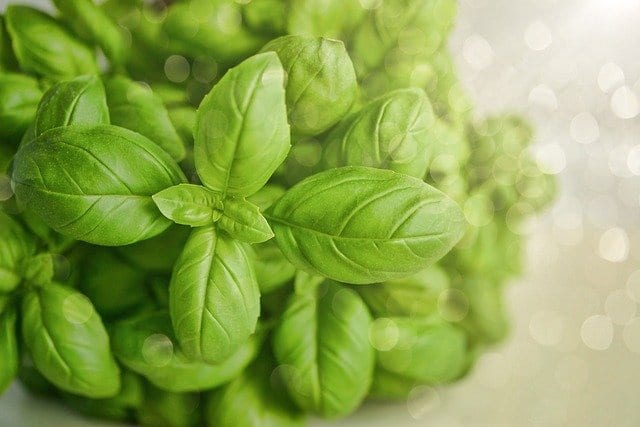 Sweet basil is the most common variety found in the U.S,. and it's the variety used in this recipe. The slightly sweet flavor of this variety of basil makes it a favorite ingredient in sauces, soups, dressings, and marinades.
Thai Basil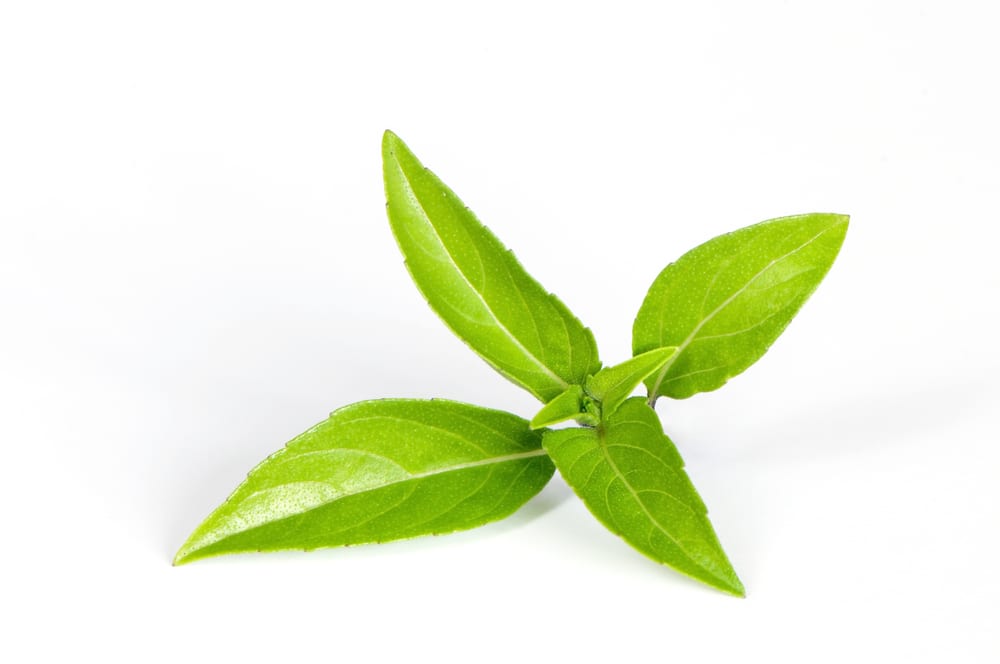 Thai basil has elongated leaves with serrated edges, purple stems, and a distinctive spicy flavor similar to anise or cloves which is probably why it's a staple ingredient in many Asian dishes.
Where To Buy Fresh Basil
You can typically find fresh Sweet Basil in the produce section of most grocery stores, year-round, where the fresh herbs are displayed (often near fresh lettuce). You might also check Asian or Italian markets, or farmers' markets in your area.
If you live in colder climates or remote areas where it's difficult to find fresh herbs, you might want to consider starting your own indoor herb garden from one of these gardening kits recommended by chefs and gardeners.
Or, you can substitute dried basil for the fresh stuff. Just be aware that dried basil is much more concentrated and will have less of the minty flavor that's characteristic of fresh basil, so your recipe will taste different.
How Much Dried Basil Equals Fresh Basil?
When substituting dried basil for fresh, use ⅔ of what the recipe calls for. So, if the recipe calls for ½ cup of fresh basil, like this one does, you will use ⅓ cup of dried basil instead.
If you buy fresh basil, you're probably wondering how long it will last and how to store it.
How Long Does Fresh Basil Last?
Fresh basil will last about 2 days when refrigerated in the plastic produce bag. But it can last much longer depending on how you store it.
How To Store Fresh Basil
If you plan to use the remaining basil fairly quickly, you can:
Wrap the leaves in a paper towel and place them in a plastic bag stored in the refrigerator for about 2 days
If you'd like your leftover basil to last longer, you can:
Place the basil in an airtight container, cover the leaves with olive oil, and store in the refrigerator for up to 2 months

Blanch and freeze

the unused basil for up to 6 months. This method eliminates any added oils.

Rub the leaves with olive oil before placing in a plastic bag and freezing for up to 6 months.
If you've never had any balsamic vinaigrette, you might be wondering…
What Does Balsamic Vinaigrette Taste Like?
Balsamic vinaigrette owes much of its flavor to its two main ingredients: balsamic vinegar and olive oil.
Before you get too into that "ewww… vinegar" thought, you should know that balsamic vinegar is made from grapes that have been crushed, boiled down to a syrup, and aged in wooden kegs to make it more concentrated and allow the flavor to develop. It has the tangy zip of a wine vinegar, but is thicker, sweeter, and darker than red wine vinegar and may be an ingredient in your favorite steak sauce or glaze.
If you've ever eaten bread at your favorite Italian restaurant and dipped it into that olive oil dipping sauce with the reddish-brown liquid, you've probably tasted balsamic vinegar and didn't even know it. 
So balsamic vinaigrette has a slightly tangy flavor that is mellowed by the sweet, fruity flavor of aged grapes, the earthy flavor that comes from being aged in wooden barrels, and offsets the slight bitterness of the olive oil.
As you might imagine, balsamic vinaigrette may be a little strong for a child's sensitive tastes. That's why I added a little bit of honey to this recipe, and my kids just love it! 
How To Store Balsamic Vinaigrette
The best way to store balsamic vinaigrette is in an airtight, opaque container in the refrigerator. 
How Long Does Balsamic Vinaigrette Last In The Fridge?
You can store balsamic vinaigrette for up to two weeks in your refrigerator. Be sure to shake it well before serving.
How To Make Honey Basil Balsamic Vinaigrette
2.  Place all ingredients in a blender.
3.  Blend until smooth.
4.  Serve immediately for best flavor.
5.  Store leftovers in an airtight, opaque bottle or jar in the refrigerator for up to 2 weeks.
Hope you love this recipe as much as we do.
Honey Basil Balsamic Vinaigrette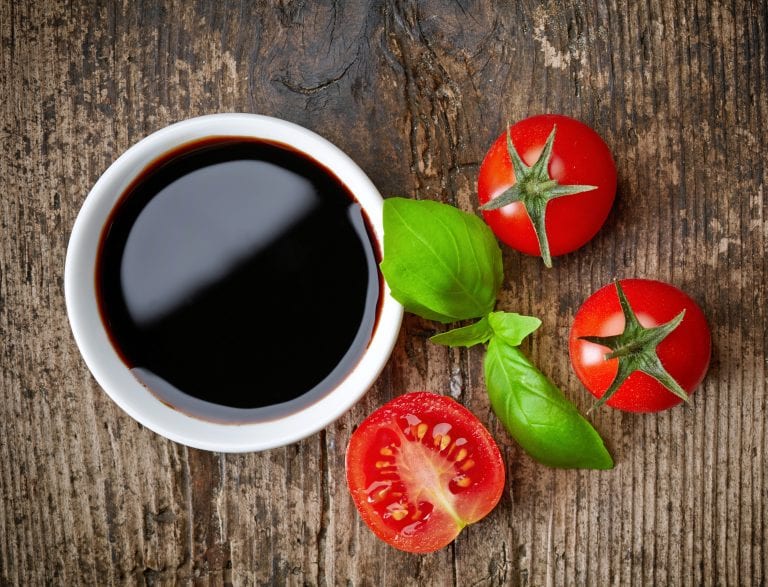 This family-friendly honey basil balsamic vinaigrette is great as a salad dressing and can be used as a marinade for vegetables and meats. What's even better is it's Paleo and gluten free!
Ingredients
1/2

cup

basil leaves

chopped and packed tightly

1/3

cup

balsamic vinegar

1/3

cup

finely chopped shallots

1/4

cup

water

1

tbsp

olive oil

2

tbsp

honey

1/4

tsp

freshly ground black pepper
Instructions
Place all ingredients in a blender.

Serve immediately for best flavor.

Store leftovers in an airtight, opaque bottle or jar in the refrigerator for up to 2 weeks.
Nutrition
Serving:
1
ounce
Calories:
38
kcal
Carbohydrates:
5.6
g
Fat:
1.8
g
Saturated Fat:
0.3
g
Sodium:
2
mg
Potassium:
34
mg
Sugar:
4.4
g
Calcium:
5
mg
Other Recipes You Might Enjoy:
Balsamic Berry Salad
Fruit & Feta Kabobs with Balsamic Glaze
Balsamic Rosemary Chicken