If you don't know me well, you'll soon realize that I believe that "Paleo" and "Gluten-Free" do not equal "deprived." I'm a big fan of desserts and love muffins because they're a perfect, healthy, grab-and-go option for those of us who want to eat healthy in spite of our busy lives. AND… I like to experiment and discover unexpected ways to blend my favorite flavors into delicious treats… like strawberries and rhubarb in this Strawberry Rhubarb Almond Muffins recipe or chocolate and pumpkin.
So… in 2017 when our backyard blossomed with rhubarb (like more rhubarb than one person could possibly use… EVER!), I felt compelled to experiment with this newfound item and incorporate my favorite so-called terrible saturated fat. Don't get me started…
Confession: I had never seen or touched fresh rhubarb before that week in 2017.
What Rhubarb Looks Like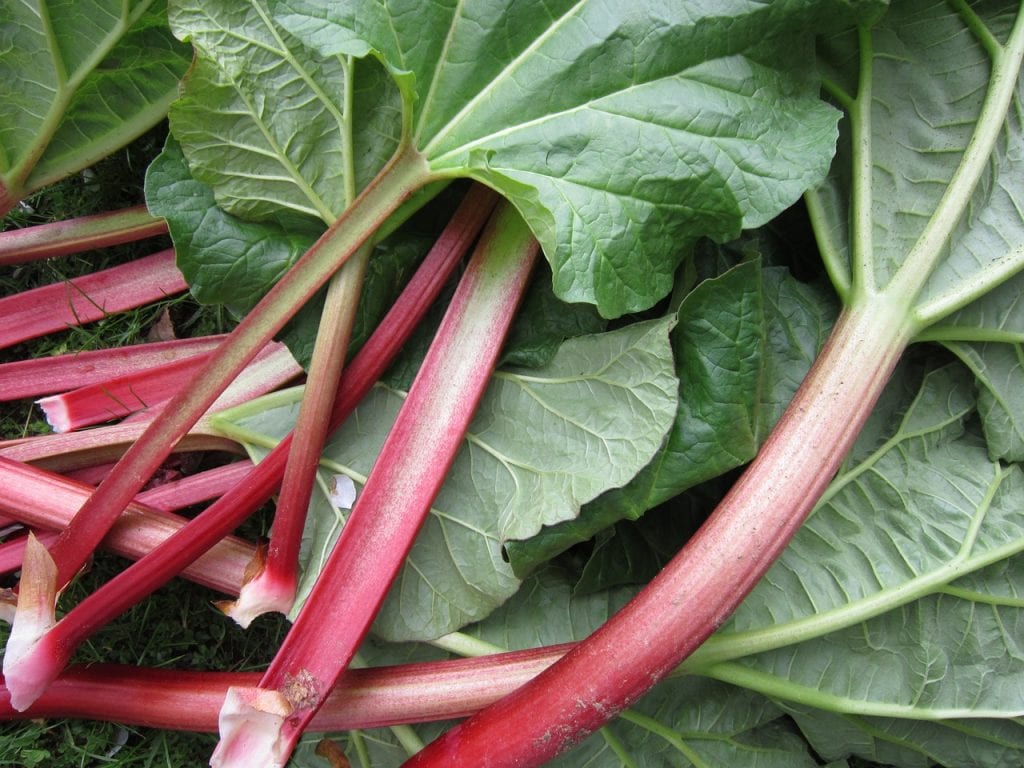 If you're not familiar with rhubarb… It's so pretty! It looks like celery, but much girlier with its pretty hot pink color. The leaves are ginormous (and poisonous so keep them away from your pets or adventurous toddlers).
Rhubarb is a tart, perennial vegetable that is mainly used in desserts. But it can also be used to make chutney, jams, and sweet sauces to pour over your favorite dessert or meat dishes like pork or lamb.
How To Harvest Rhubarb
The Cook's Info blog recommends you, "allow rhubarb to grow for two years untouched before harvesting," and "leave at least ⅓ of the stalks" when you harvest to ensure its roots have enough strength to produce a good crop the next year.
When you're ready to harvest the rhubarb, you just pull it from the ground, snap off the leaves, wash off the stalks and cut them up as you would cut celery.
How Much Rhubarb To Harvest For This Recipe
One large stalk or two small stalks of rhubarb, with leaves and rough ends removed, yields approximately one cup of chopped rhubarb.
Since this recipe calls for ½ cup of chopped rhubarb, one small stalk will do!
What You'll Need To Make These Muffins
Almond Flour
Coconut Flour
Sea Salt
Baking Soda
Cinnamon
Eggs
Coconut Oil
Maple Syrup
Vanilla
Almond Extract
Fresh Strawberries
Fresh Rhubarb
How To Make Paleo Strawberry Rhubarb Almond Muffins
Preheat oven to 350 degrees Fahrenheit
Combine dry ingredients in a large mixing bowl and set aside
Melt coconut oil in a glass bowl in the microwave
Stir in maple syrup, eggs, vanilla, and almond extract until combined
Use a large spoon to gently combine wet ingredients into dry mixture
Fold in strawberries and rhubarb
Line a regular 12-cup muffin tin with paper muffin cups
Fill each muffin cup ¾ of the way with the batter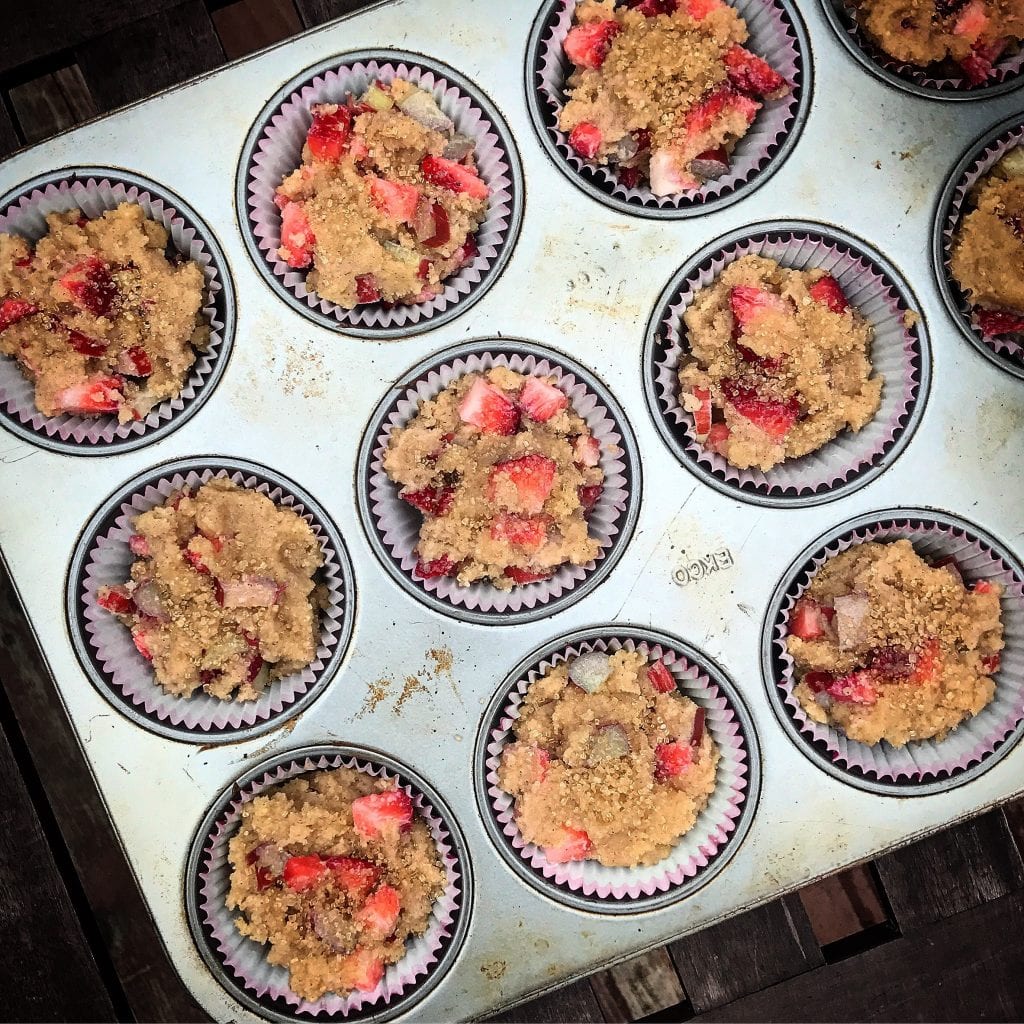 Sprinkle a bit of raw sugar on top of each muffin
Bake for 15-20 minutes, or until a toothpick inserted in the center comes out clean
Place muffins on wire rack for a bit to cool
So anyway, I threw all these ingredients together and hoped for the best.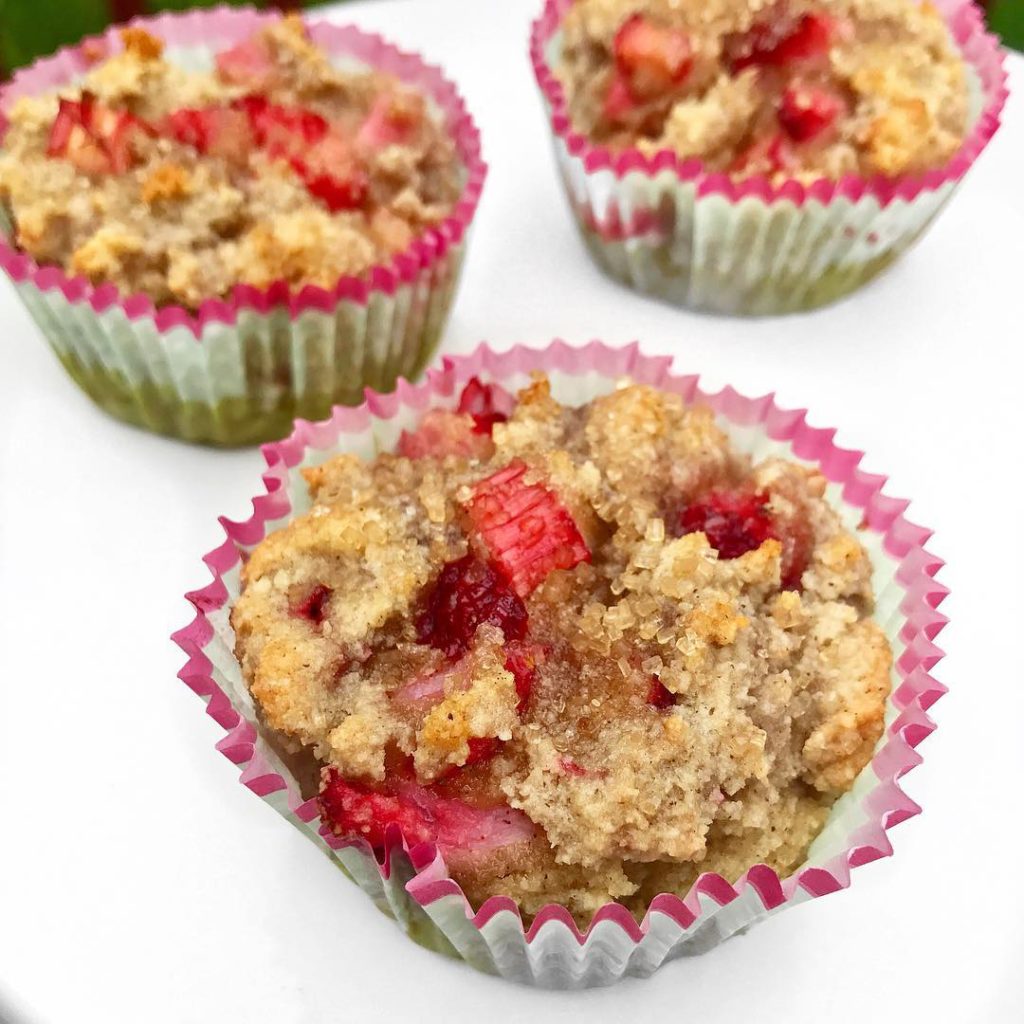 And y'all. These suckers came out of the oven delicious on the very first try.
I know. I can't believe it either. 
I am a sucker for anything with almond extract — SO. MUCH. YUM. 
These muffins taste like brunch to me. Next time I make them, I'm baking them in individual ramekins and serving some savory eggs and bacon with them. Maybe for dinner tonight. Because breakfast for dinner is always a winner.
How To Store Strawberry Rhubarb Muffins
These muffins can be stored, frozen, for up to 3 months. Prepare your muffins for freezing by first ensuring they are completely cooled. For best results, double-wrap each muffin securely with aluminum foil, plastic freezer wrap, a heavy-duty freezer bag, and place it in the freezer.
To serve muffins, remove from the freezer and allow them to thaw overnight on the countertop.
Paleo Strawberry Rhubarb Almond Muffins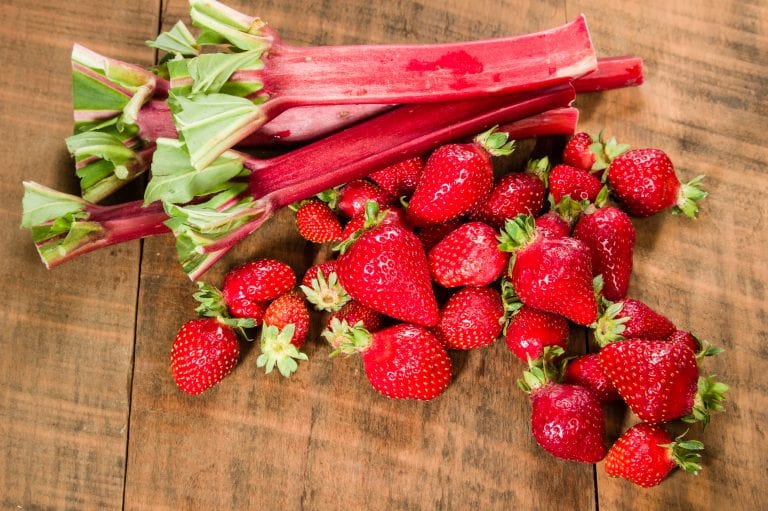 Y'all, these are the best strawberry muffins EVER! They're paleo, gluten-free, super moist because of the rhubarb, and so easy to make.
Ingredients
2 1/4

cups

finely ground almond flour

1/4

cup

coconut flour

1/2

tsp

sea salt

1/2

tsp

baking soda

1/2

tsp

cinnamon

2

eggs

1/3

cup

coconut oil

1/3

cup

maple syrup

1

tsp

vanilla

1/4

tsp

almond extract

I always add a bit extra!

1

cup

chopped strawberries

1/2

cup

chopped rhubarb
Instructions
Preheat oven to 350 degrees.

Combine almond flour, coconut flour, sea salt, baking soda, and cinnamon in large mixing bowl. Set aside.

Put coconut oil in a glass bowl and microwave until melted. (Or melt over stovetop)

Add maple syrup, eggs, vanilla, and almond extract. Stir until combined.

Pour wet ingredients into dry mixture. Just use a large spoon to gently combine mixture.

Fold in the strawberries and rhubarb.

Pour mixture into paper muffin cups of a regular sized 12-cup muffin pan.

*I sprinkled a bit of raw cane sugar on top! 'Cause it's pretty.

Bake for 15-20 minutes or until a toothpick inserted comes out clean.

Let sit for a bit and then dig in!
Nutrition
Serving:
54
g
Calories:
115
kcal
Carbohydrates:
10.39
g
Protein:
1.71
g
Fat:
7.78
g
Saturated Fat:
5.64
g
Polyunsaturated Fat:
0.39
g
Monounsaturated Fat:
1.2
g
Trans Fat:
0.01
g
Cholesterol:
103
mg
Sodium:
120
mg
Potassium:
88
mg
Vitamin A:
88
IU
Vitamin C:
7.5
mg
Calcium:
36
mg
Iron:
0.57
mg
You May Also Like
Gluten-Free Mini Corndog Muffins
Paleo Chocolate Pumpkin Muffins
The Easiest Paleo Muffins Ever