Who doesn't dream of a nice, hot cup of creamy, homemade tomato soup on a cold winter day? This creamy tomato basil soup recipe, made from scratch in less than 30 minutes, just hits the spot.
I love soup… any time of the year! Especially on cold winter days, but even in hot weather! 
Now listen — I get hot weather. I grew up in Houston and have spent most of my adult life in hot and humid climates. In fact, we were just in Texas for a couple of weeks, so I experienced that scorching heat first hand. I just accept the bad hair days and focus on the good food. 
I always make it a point to hit all my favorite restaurants, and I have to admit that I kind of throw the whole "eat healthy" mantra out the window. I mean, I know I still eat better than most people when I'm on vacation, but I feel like a total rebel when I plan my days around Chick-fil-A, Zoe's Kitchen, and about a dozen Tex-Mex restaurants. 
One spot that always makes the list is LaMadeleine. I'm telling you, their Tomato Basil soup is to die for! I order a cup of it along with my medium chicken caesar salad, grab some sourdough bread, and make a beeline for the table by the fireplace. (If you've ever been to Texas in the summer, then you know the AC is cranking and every restaurant is FREEZING!) 
The soup is ridiculously rich, with ingredients that are less than stellar, so I only eat a few bites or dip my bread in it. I can't eat very much because it feels like a giant brick in my stomach, but it is SO worth it. 
You see, many commercially available soups contain MSG, gluten, dairy, or other ingredients that promote inflammation and upset the gut. If you're on a special diet, you know what I mean because, like me, you've probably done extensive research to find out what tomato soup is gluten free. 
All that to say, I wanted to make a yummy Creamy Tomato Basil Soup full of good, nutrient-dense ingredients. And I wanna be able to eat more than a few bites of it! So here you go … a Paleo, Whole30 (if you omit the honey), gluten free, grain free, dairy free soup that is homemade in less than 30 minutes and full of nutrients, minerals, and healthy fat. 
And if you still think it's too hot for soup, just crank your AC and turn on the fireplace.
How To Make Tomato Basil Soup From Scratch
Saute minced garlic, finely chopped shallots, and Italian seasoning in a stock pot or Dutch oven to release the aroma, being careful not to burn the garlic.

Add tomatoes, bone broth, sea salt, pepper, honey, and chopped basil.

Cover and simmer for 20 minutes.

Remove from heat and blend soup with an immersion blender until smooth.

Stir in coconut milk, to give soup a creamier texture, and arrowroot powder as a thickener.

Return to heat and simmer, uncovered, for about 5 more minutes.

Garnish and serve.
How Many Carbs in Tomato Basil Soup?
If you're diabetic or on a diet where you're counting carbs, you'll be happy to know that each serving of this creamy tomato basil soup has just 19.5 grams of carbohydrates, 2.7 grams of fiber and 304 calories.
What Goes With Tomato Basil Soup?
Tomato soup is such a versatile accompaniment to any meal it can be paired with lots of appetizers and entrees, or garnished and enjoyed by itself. Here are some ideas to spur your creativity.
Garnishes
Ribboned Basil

Goat Cheese

Bacon Bits

Chives
Accompaniments
Chicken Caesar Salad

Cobb Salad

Chef Salad

Grilled Cheese Sandwich on Hemp Hemp Hooray Bread

Chicken Salad Lettuce Wraps

Egg Salad Lettuce Wraps
How Long Can You Store Creamy Tomato Soup?
Stored in an airtight container in the refrigerator, this creamy tomato basil soup will keep for up to 4 days.
If you want to make a larger batch to freeze ahead, this soup can be stored in the freezer for 4 to 6 months but you want to be careful when reheating because creamy soup can curdle when reheated.
Creamy Tomato Basil Soup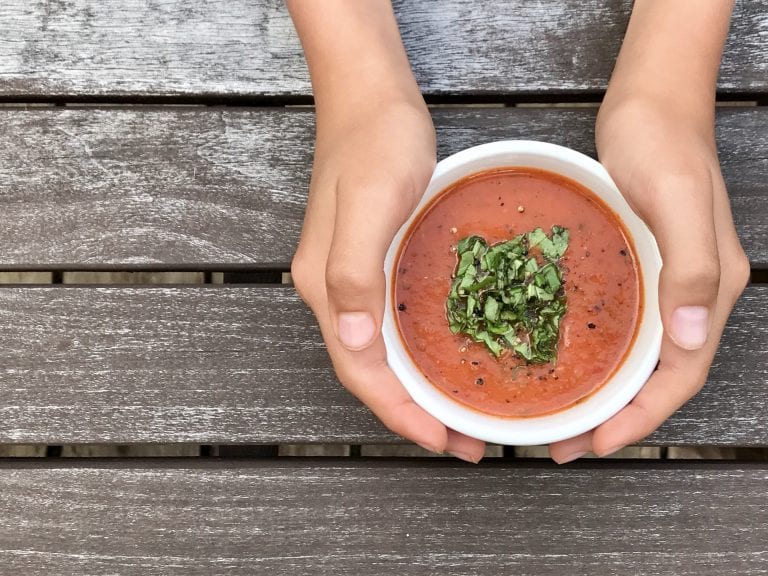 This creamy tomato basil soup is rich, savory and filled with healthy, nutrient-dense ingredients appropriate for Paleo, Whole30, gluten free, grain free, and dairy free diets.
Ingredients
2 14.5

oz

cans of fire roasted diced tomatoes

I use Muir Glen Organic

1

can of full fat coconut milk

1

cup

of bone broth

I use Bare Bones Tomato & Spice

Olive oil or avocado oil

4

garlic cloves

chopped finely

1-2

shallots

finely chopped (you can use onion if you don't have shallots)

1

tsp

Italian seasoning

1

tsp

sea salt

1/2

tsp

cracked pepper

1/4

cup

chopped basil

plus more for garnish

1

T

honey

omit for Whole30

1

tsp

arrowroot powder

optional -- just if you want to thicken the soup!
Instructions
Drizzle olive or avocado oil into a soup pot or Dutch oven.

Add garlic, shallots, and Italian seasoning. Saute at medium heat for a few minutes until mixture makes your kitchen smell delicious. (Just be careful not to burn the garlic!)

Add the tomatoes, bone broth, sea salt, pepper, honey, and chopped basil. Stir to combine. Cover and let simmer for 20ish minutes.

Remove from heat and blend soup with an immersion blender.

Stir in the can of coconut milk (and arrowroot powder if you choose). Put back on heat and simmer uncovered for about 5 more minutes.

Garnish with more cracked pepper and some ribboned basil. Or if you're me, a big dollop of goat cheese.
Nutrition
Serving:
1
cup
Calories:
304
kcal
Carbohydrates:
19.5
g
Protein:
9.2
g
Fat:
22.4
g
Saturated Fat:
14.4
g
Cholesterol:
1
mg
Sodium:
974
mg
Fiber:
2.7
g
Sugar:
11.7
g
Calcium:
52
mg
Iron:
4
mg
Other Recipes You Might Enjoy
Quick and Easy Paleo Chicken Soup
Paleo Pumpkin Soup with Spicy Roasted Pepitas